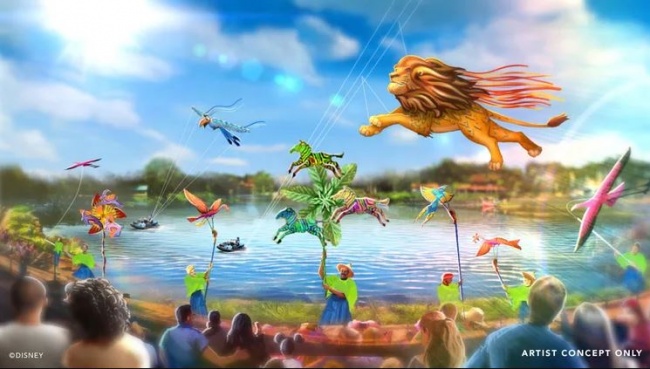 When Disney announced what was new for the Walt Disney World Resort 50th Anniversary, one of the new shows kind of fell under the radar. (Kind of easy to happen when they also discussed two new fireworks shows.
Disney KiteTails will be a brand new daytime show that will take place at the Discovery River Theater at Disney's Animal Kingdom. This show will kick off on October 1.
Disney KiteTails will take place several times a day. The show will feature a team of performers with oversized props and kites that feature some of your favorite Disney animal friends from your favorite films, like The Little Mermaid, a bug's life, and Finding Nemo.
In addition, the show will also include watercraft pulling dynamic kite trains and huge, three-dimensional kites that look like characters from films like The Lion King and The Jungle Book. These kites, some as large as 30 feet in length, will be inflated as they move through the air. This will allow favorite characters to soar.
As Guests watch, they will be treated to original, worldbeat arrangements of favorite Disney tunes.
Disney shared a preview video of what Guests will be able to experience:
Disney also said that there will be different performanes that take place. One time you may see Baloo in the sky and then the next time, you may see Zazu!
Currently, there is no word on how long each show will be. Disney has also not shared details on how many times a day this show will take place. We'll make sure to share more details, as we learn them.
For vacation planning information, please visit our
Walt Disney World
planning section.