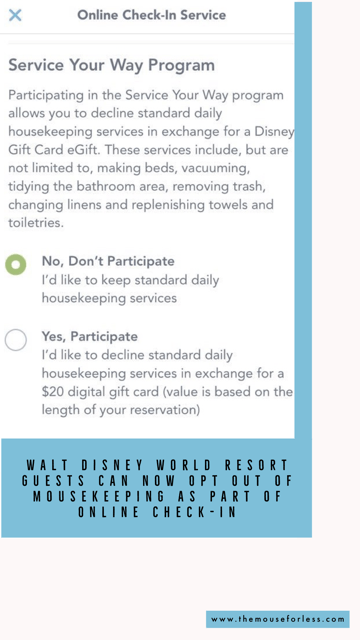 One of the big perks of staying at any hotel is the daily housekeeping, or in Disney's case, Mousekeeping. However, not everyone wants housekeeping to come during their stay. So, Disney has introduced the Service Your Way option. Service Your Way allows you to elect out of Mousekeeping for those staying at the Walt Disney World Resort and those who do so, will receive a Disney gift card.
Only Guests staying at one of Disney's Value and Moderate Resort Hotels can participate in the Service Your Way program. In exchange to declining the daily housekeeping, Guests will receive a gift card in the amount of $10 per resort night minus one night. (The minus one accounts for the team cleaning your room upon check-out.) that means that Guests staying five nights would receive a $40 gift card, those staying seven nights would get a $60, etc. (Do keep in mind that Guests staying at Deluxe or Deluxe Villa Resorts can't opt out of housekeeping.)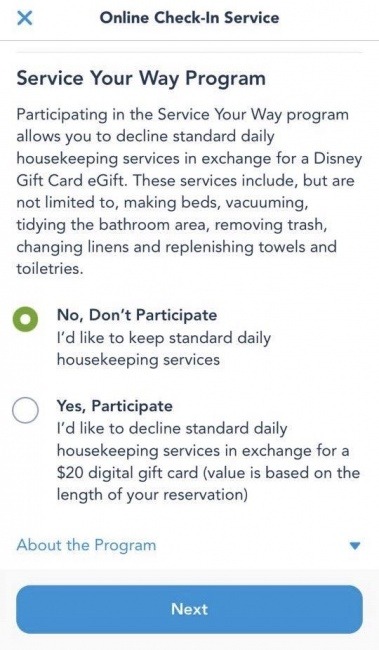 For those who elect to receive the gift card, keep in mind that your room won't be vacuumed, your trash won't be emptied,  the sheets won't be changed, your bed won't be made, the bathroom won't be cleaned, etc. Anything that would traditionally be done by housekeeping/Mousekeeping won't occur during your stay.
Before, Guests who would like to opt-in for this offer would only be able to do so at check-in and those who had done online check-in would also need to stop at the front desk, however now, that is longer the case. Now, Guests can choose to opt out of Mousekeeping via Online Check-In.
The gift card will be an eGift card sent to your email address.
Of course, Guests can still opt to receive Mousekeeping during their vacation, if they so choose.
For vacation planning information, please visit our
Walt Disney World
planning section.