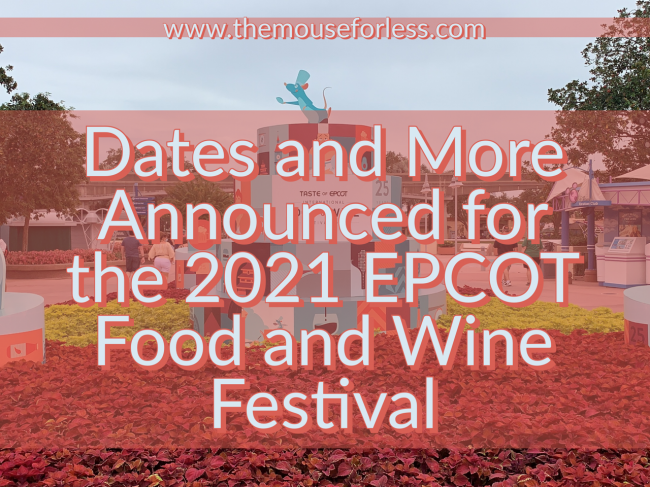 Who is hungry? This year, the EPCOT Food and Wine Festival will kick off on July 15 and will run through November 20, 2021!
What can Guests look forward to experiencing during this Taste? Well, returning for 2021, of course, are the Global Marketplace food booths. Many favorites will be back for the festival including Canada, Greece, Germany, Hops and Barley, Appleseed Orchard and more. Oh and additional marketplaces may pop up as the festival continues.
The unique foodie scavenger hunt will be returning – Emile's Fromage Montage. Guests will be able to sample a variety of delicious cheeses. Those who purchase any 5 cheese dishes from select Global Marketplaces that can be found listed in the Festival Passport and collect a stamp for each purchased dish will be able to bring stamped Festival Passport to Shimmering Sips. Here they will receive a specialty prize unique to the EPCOT Food & Wine Festival.
Looking for family fun? Try searching for Remy with Remy's Ratatouille Hide & Squeak. This scavenger hunt has Guests looking for Remy statuettes hidden all over EPCOT. Guests will need to purchase a map and stickers from select Festival merchandise locations – Port of Entry, Mouse Gear, and World Traveler (located at International Gateway). When Guests Remy hidden throughout World Showcase, they'll need to match the ingredient stickers to the map. Once you've found Remy in all the locations, you can bring your completed map to Disney Traders and choose a surprise!
There will also be fantastic live music for Guests to enjoy. The JAMMin' Chefs will be found at the Canada Mill Stage, Mariachi Cobre will be performing at the America Gardens Theatre, and the Voices of Liberty will also sing at the America Gardens Theatre.
Merchandise is such a big part of these festivals. This year, Guests will be able to pick up things like a spirit jersey, baseball cap and so much more.
As more morsels of details come out, we'll share them with you here!
For vacation planning information, please visit our
Walt Disney World
planning section.