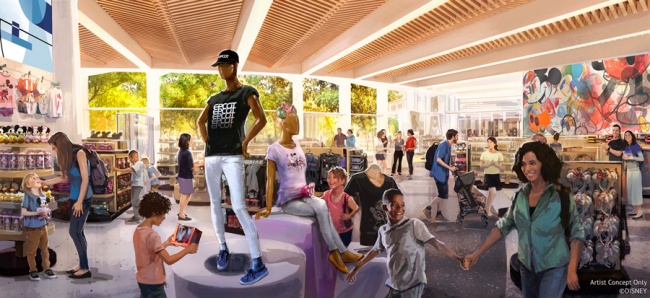 A brand new shopping experience will be opening at EPCOT this summer! The Creations Shop will be replacing MouseGear and it will offer a large amount of EPCOT merchandise, as well as more great Walt Disney World souvenirs.
The shop will feature a sleek design that will be open, bright, and welcoming. In addition, there will be a large Mickey Mouse mural, as well as homages Mikey throughout. The shop will also include dynamic murals and new artist expressions.  The shop will also have large windows to let the light in! Take a look at what the shop will look like in the concept art found above.
In other awesome news, this summer….CLUB COOL IS RETURNING!!!  This will be a revitalized Club Cool Hosted by Coca-Cola. (Oh how we have missed you….) This new shop will celebrate Coca-Cola in a fresh new way. Oh and yes, we knew you were going to ask….you'll still be able to sample beverages that can be found from around the world. The original Club Cool closed back in mid-2019.
The Creations Shop and Club Cool will both be a part of the new World Celebration neighborhood that will be found at the entrance and center of the park when all is said and done with the EPCOT transformation.
We'll be sure to share additional details about these two locations as we learn them.
For vacation planning information, please visit our
Walt Disney World
planning section.