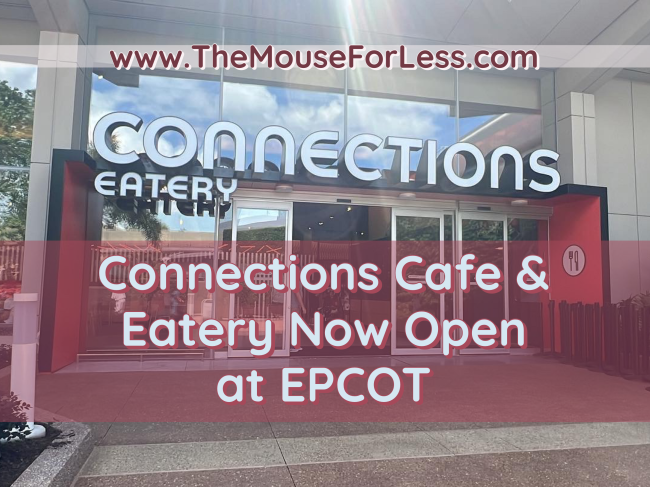 A brand new quick-service spot is now open at EPCOT. Actually, if we are being honest, it's technically TWO dining establishments, all rolled into one!
Connections Cafe & Eatery is located in World Celebration. The Connections Cafe is the side that offers up delicious Starbucks drinks and treats and the Connections Eatery side provides Guests with traditional theme park style dishes, with a flair of flavors from around the world.
Connections Cafe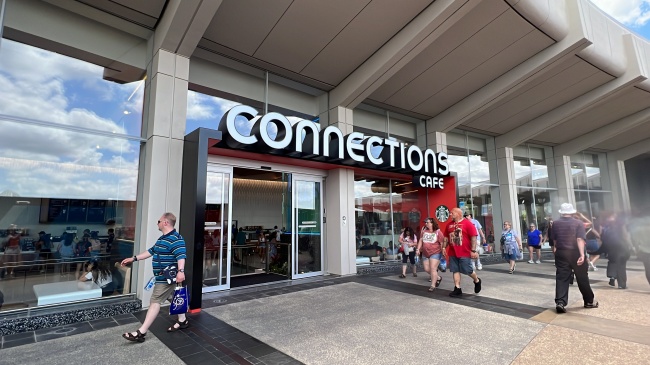 As mentioned, the Connections Cafe is where Guests can go to get their favorite Starbucks beverage. This large space offers up a number of great seating areas that are indoors. (yay for air conditioning!) There are tables, couches, riser-style seating and more here. Guests place their order at one of two walk up counters.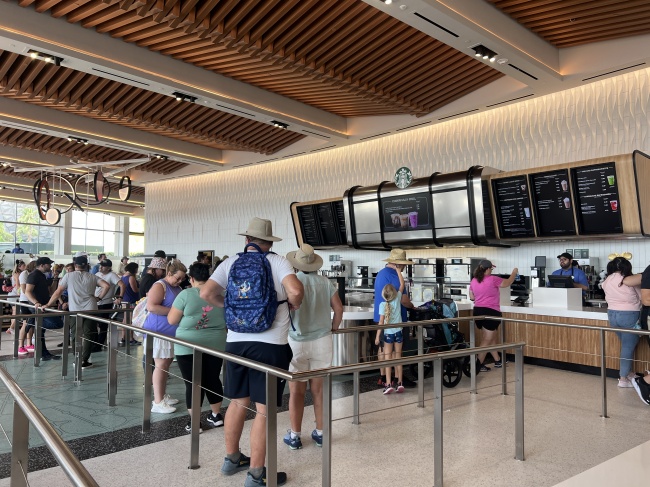 Oh by the way, how great are these EPCOT signs?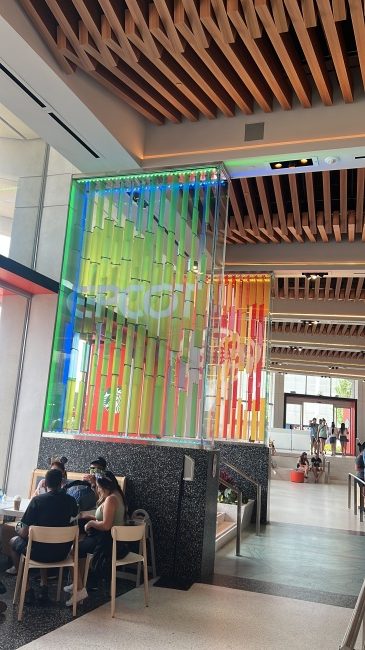 All your favorite Starbucks drinks and treats are here! Plus, they do have one unique option of a Leige Waffle. (More on that in a minute at Connections Eatery.)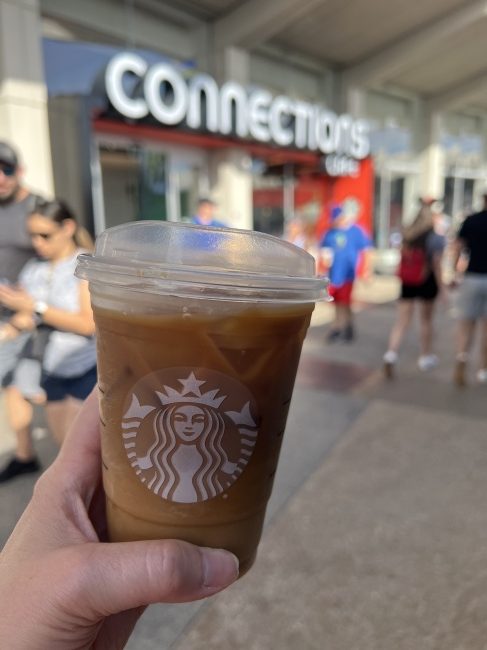 If you're looking for your caffeine jolt while walking around EPCOT or you're looking for a space to relax for a little bit, this is the place to do it.
Connections Eatery
Connected to Connections Cafe is the fast casual dining establishment, Connections Eatery. (The locations are part of a giant circle.)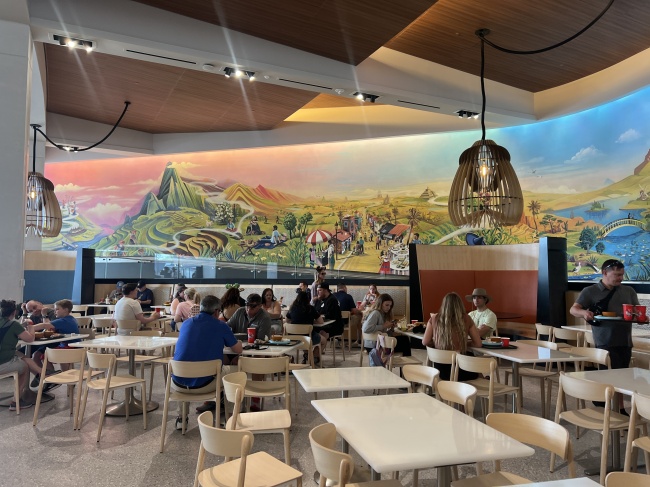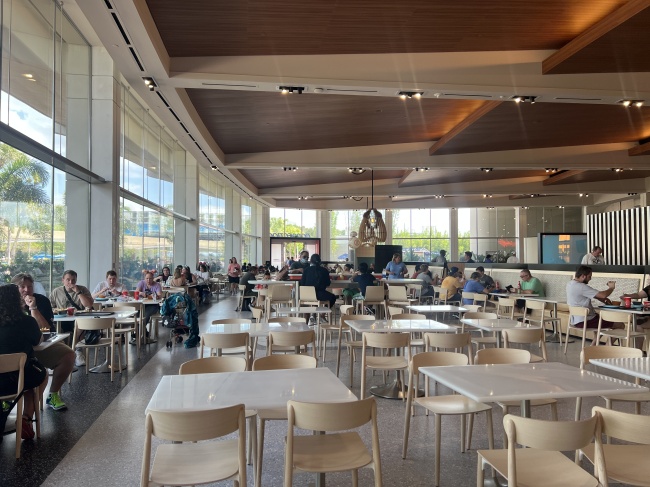 Here, Guests will enter and find a number of areas where you can place your order with Cast Members. There is also the ability to place your order via Mobile Order. Also, look at the FANASTIC mural that's in the background!
As mentioned, this location brings together dishes from all cultures, but they are based in traditional theme park fair, so things like hamburgers, chicken, salads, and pizzas.
We had the option to try a number of things here and we had thoughts.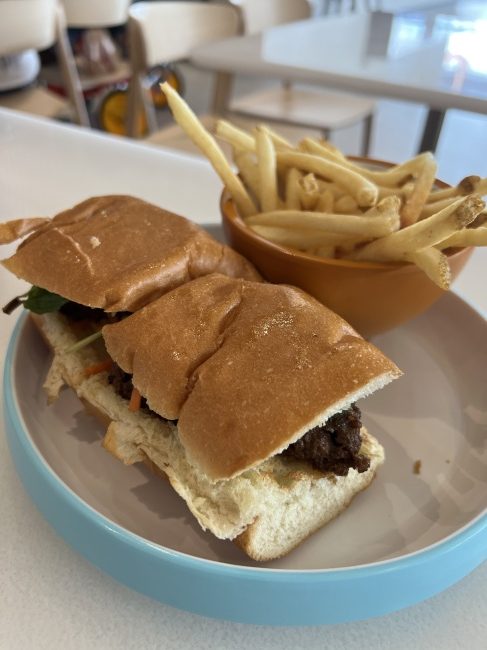 The first thing we tried was the Banh Mi Burger. This was a Miso-marinated Gourmet Beef Blend, Pickled Vegetables, Sriracha Mayonnaise, Soft Sub Roll. We really liked this one. The meat had a lot of flavor.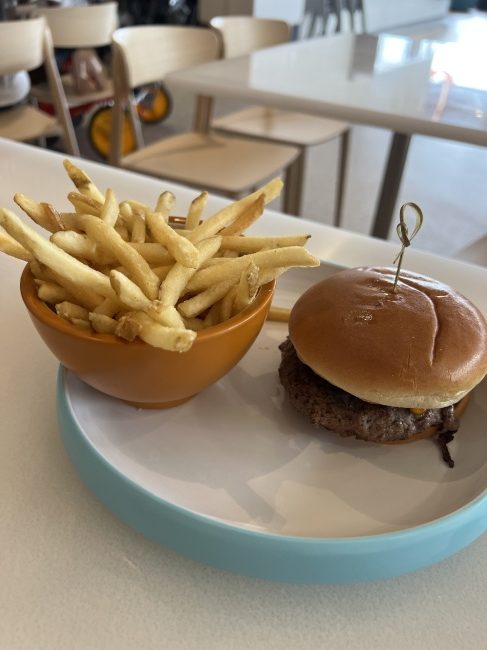 Next we decided to go with the Southwestern Burger. This was a Gourmet Beef Blend, Roasted Corn-Chipotle Salsa, Oaxaca Cheese Crema, Chamoy, Guacamole Spread, Toasted Bun. The burger wasn't over-cooked – there was even some pink. However, I don't know if it was just my burger, but I found the flavors to be a little bland and truthfully, if this burger had cheese on it, I couldn't find it. (And trust me….it needed cheese.)
PS: How great are the plates here! Everything is all reusable. When you are finished, you put dishes in bins, not trash cans.
Two dishes that I've heard that were quite excellent, but didn't yet get a chance to try are the Hand-breaded Chicken Sandwich with House-made Pickles, Signature Sauce, Toasted Brioche Bun and the General Tso Chicken Salad which is made up of Petite Kale Blend, Broccoli Slaw, Red Bell Pepper, Mandarin Oranges, Edamame, Crispy Wontons, Warm Fried Chicken, General Tso's Dressing. (Trust me when I say that the salad is HUGE!)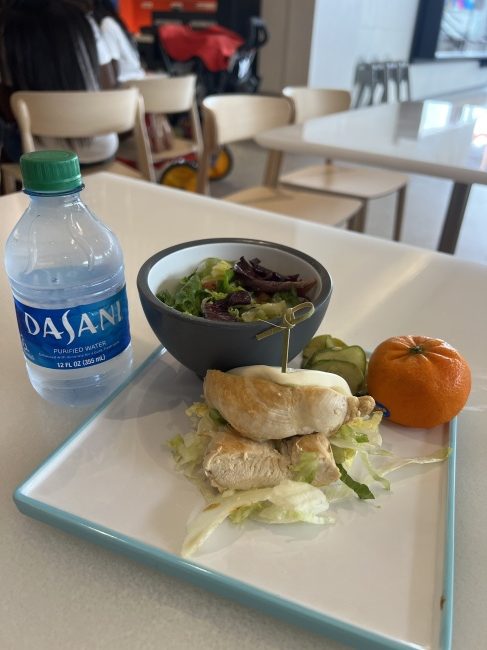 I also decided to try one of the kids meals. I got the Grilled Chicken Bao. It comes with a choice of two Sides and choice of beverage. It came with Cuties and the Side Salad. The salad was pretty good. Very fresh. As far as the bao….it was dry. Which I get….this is a meal for kids, so it wouldn't have a lot of flavor. It was two pieces of cut up chicken breast on a bed of lettuce inside a bao bun. As you can see, it was extremely plain. Truthfully, I added some ranch dressing to mine to make it a little more moist.
Moving on to desserts, I tried two of them. Both the desserts were excellent!
First was the Liege Waffle. This is a little different than the version that's served in the Connections Cafe. The one is the Cafe appears to be served plain. I would strongly suggest running over to the Eatery for their version as it is Brioche Dough with Pearl Sugar, Strawberries, Whipped Cream, Chocolate Sauce. This was incredible. I think this will be my new breakfast choice when visiting here now. (Hey….waffles are breakfast, right? #Justification)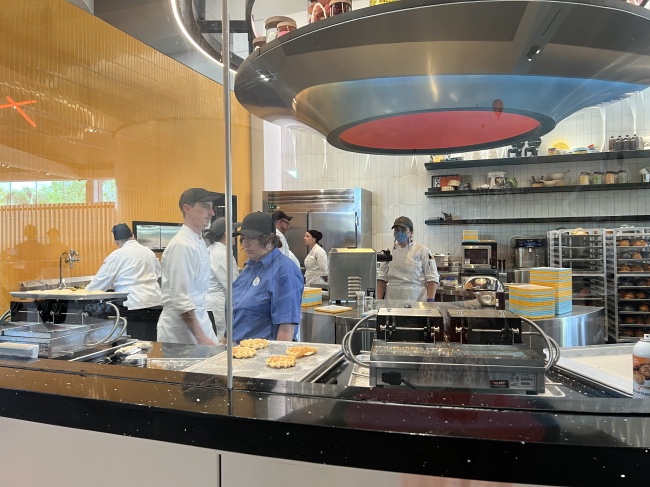 Oh AND you can even watch them make the waffles in their on-stage kitchen!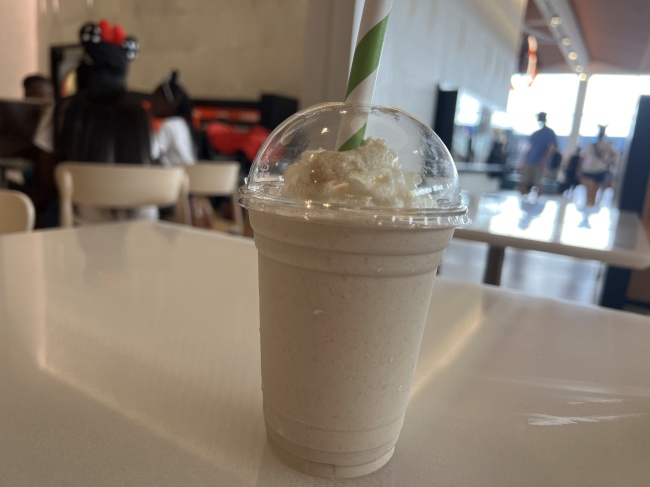 The next thing I tried was the Apple Pie Gelato Shake. This was another home run! Note….you have to like cinnamon to enjoy this dessert because trust me….it's very cinnamony. This is an apple pie lovers dream! And it was the perfect snack while touring around the park in the hot Florida sun!
This is a great new option for those looking for more traditional quick service, especially since it seemed to replace the former Electric Umbrella.
Follow The Mouse For Less for more Walt Disney World dining information.
For more Disney news and trip planning advice, follow The Mouse For Less on Facebook, Twitter, Instagram, YouTube, or TikTok.
For vacation planning information, please visit our
Walt Disney World
planning section.