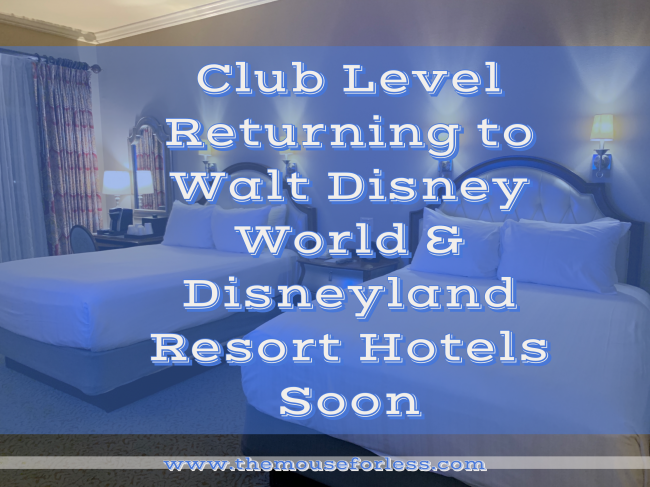 It's going to be returning! Club Level will be back soon for Guests staying at both the Disneyland Resort, as well as at the Walt Disney World Resort. And even better – Guests can begin booking Club Level rooms and suites beginning on June 4.
Walt Disney World
At Walt Disney World, all the resorts that offer club level will not reopen at once though. Instead it will be a gradual reopening starting in September. Here's the current schedule for the Walt Disney World Resort:
At Walt Disney World, each lounge will follow physical distancing measures, as well as indoor face covering requirements. When the lounges return, they will continue to offer food and beverage options throughout the day, as well as other special Disney touches.
For those who are curious, a few lounges will reopen later. They are at Disney's Animal Kingdom Lodge, Disney's Polynesian Village Resort and Disney's Yacht & Beach Club Resort.
Disneyland
For Disneyland, Guests will be able to stay in Club Level rooms at Disney's Grand Californian Hotel & Spa beginning June 4. Reservations can be made now.
At Disneyland, all Club Level rooms feature amenities included in Guest rooms. In addition, Guests can bypass the Front Desk and check in on the Club Level. They can also access the online check-in service up to five days prior to arrival via their Disney account. In addition, Club Level Guests will be able to enjoy exclusive access to Disney's Grand Californian Hotel & Spa's Concierge Club. Called The Veranda, this spot includes a dedicated concierge desk and complimentary refreshments offered throughout the day.
Guests with reservations at Disney's Grand Californian Hotel & Spa who are arriving June 4 and beyond, will receive a letter directing them that if they would like, they will now be able to modify their stay.