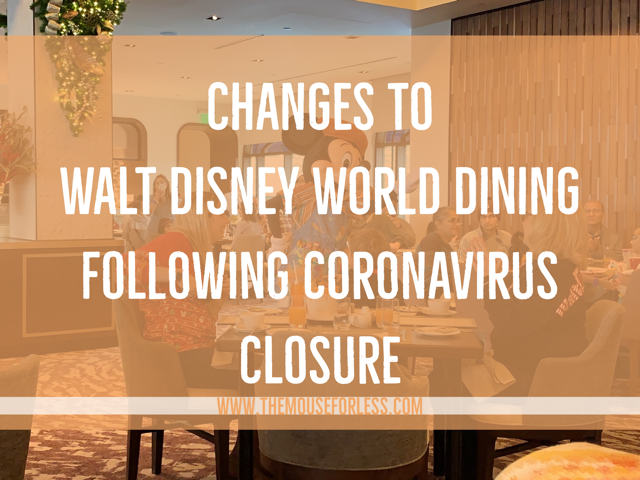 Guests who are looking to dine at the Walt Disney World Resort when things reopen following the coronavirus closure will find that things look VERY different. Many changes will need to be in place in order to accommodate guidelines put forth by health authorities, such as the Centers for Disease Control and Prevention (CDC) and appropriate government agencies.
One of these accommodations includes the fact that Guests ages 2 and up will need to wear face coverings in all public areas, including while entering and exiting dining establishments. These coverings can be removed while eating and drinking.
In addition, during the reopening period, many dining experiences may be modified or unavailable in order to promote cleanliness and physical distancing. For those looking to dine in a Walt Disney World Resort hotel, you will need to have a confirmed reservation, particularly if you are a day Guest. In addition, when the parks officially do reopen, in order to dine at table service locations, Guests will need valid park admission, a reservation for park entry and a dining reservation. Dining reservations do not guarantee admission to the park.
When Guests visit a Walt Disney World Resort restaurant moving forward, they will notice that that cleaning in high-traffic areas has been increased. This will include areas such as public elevators and escalators, handrails, benches, tables, handles, restrooms and more. Additionally, seating areas, dining areas and pagers will be cleaned between Guests.
For those eating at quick-service restaurants,Guests will find that menus will be displayed on signage. At table-service restaurants, you will have the ability to scan a QR code with your mobile device to access the digital menu. (I have done this a number of times at restaurants around my hometown and it is super easy to do!) In addition, items like beverages that were previously self-serve will instead be served by Cast Members. (This would likely also mean temporarily no more fixins bar….sorry Pecos Bill's!)
For those who are fans of character meals, I am sorry to tell you that character dining will initially not be offered. The only character type dining experience Guests will find will be a modified experience at Topolino's Terrace – Flavors of the Riviera. (For those who haven't dined here yet, there is a fun "show" that the characters put on, which can be seen, in part, here:)
View this post on Instagram
Additional changes to Walt Disney World dining experiences include:
Dinner shows will not be offered during the initial reopening.
Restaurants will be limited in capacity. Some locations will remain temporarily closed.
Private dining and in-room delivery will not be offered during the initial reopening window.
Mobile order service will be offered at select quick service locations throughout the Walt Disney World theme parks (when open), Disney Springs and select Disney Resort hotels.
When it's time to pay for your meal, Guests should use cashless payment options, including debit cards, credit cards and Disney Gift Cards. Guests can also opt for contactless payment options like mobile wallets. Disney Resort hotel Guests can also use MagicBands to charge their purchase to their room.
As a reminder, Disney did announce previously that Disney Dining Plans have officially been cancelled. If you had booked the Disney Dining Plan, you will be refunded your money and those who had Free Dining will have that part of their reservation cancelled. In addition, if you did have an Advance Dining Reservation made prior, they have also been cancelled.
If you are staying at a Walt Disney World Resort Hotel, you'll want to make sure you check out this article.
For vacation planning information, please visit our
Walt Disney World
planning section.