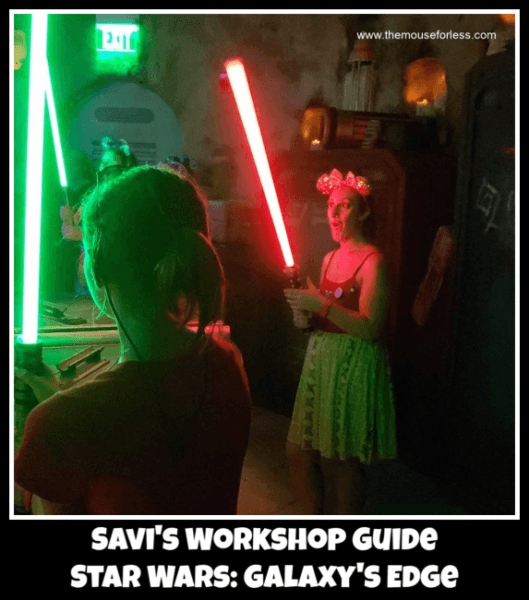 One of the more unique activities that we got to participate in when visiting Star Wars: Galaxy's Edge  was the ability to build a customized lightsaber in Savi's Workshop.
Now building a lightsaber is definitely a popular experience. Matter of fact, you have to make a reservation in order to be able to build one. (Though you may be able to put your name on a waiting list when visiting the land and we did encounter some who had attempted to do so.)
In order to participate in building a lightsaber, Guests will enter an unmarked courtyard. This courtyard can be found next to the Droid Depot. Once you enter the area, you will encounter the Gatherers. These individuals are your guide in the experience overall. Here you will be given a card which indicates that you have a reservation, as well as a pin that will signify which kind of lightsaber you will be building. There are four options to choose from, which are:
Peace and Justice: Salvaged scraps from fallen Jedi temples and crashed starships in these Republic-era designs honor the galaxy's former guardians.
Power and Control: Originally forged by dark side warriors, this style features rumored remnants from the Sith homeworld and abandoned temples.
Elemental Nature: This theme embodies the Force—an energy created by all living things, like Brylark trees, Cartusion whale bones and Rancor teeth.
Protection and Defense: Hilt materials bear mysterious motifs and inscriptions that reconnect users with the ancient wellspring of the Force.
When you have picked the theme you want for your hilt, the Gatherers will now help you select your kyber crystal, which signifies what color lightsaber you will have. You can choose from the following colors: red, blue, green or violet.
You will then assemble your hilt using the parts that are provided to you, choosing from options on a tray, based on the theme of lightsaber you chose to build.
The Gathers are there to assist you throughout the process of building your lightsaber. (Some may need more help than others….pointing at myself.)  The best part is, you get to choose what your lightsaber looks like, so it will be unique to you.
Upon completion of your hilt, the unused parts will be collected by the Gatherers. From there, the Gathers create a bit of magic to attach the lightsaber blade. The reveal is truly magical.
If you want to see what it's like to build a lightsaber, we have a great video showcasing the whole process.
Lightsabers cost $199.99 plus tax and include a carrying case. The Savi's Workshop building experience lasts about 15 minutes.
For vacation planning information, please visit our
Walt Disney World
planning section.