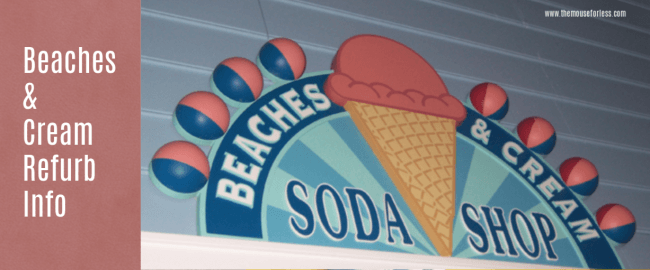 Beaches and Cream at Disney's Beach Club Resort will be seeing an extensive refurbishment that will occur later this summer, but the date for the refurbishment has now been pushed back. Originally slated to begin on August 6, the restaurant is slated to now close on August 26 with a reopening date of sometime in December. During this time, the to-go window at Beaches and Cream will also not be available.
Don't worry! You'll still be able to grab a number of your favorite treats though. There will be a temporary location at the Yacht and Beach Club Resort that offers ice cream, but unfortunately, you won't be able to get the famous Kitchen Sink, which is eight scoops of ice cream smothered in every topping found in the place! (No word if specialty treats like the No Way Jose will be offered during the refurbishment.)
When Beaches and Cream reopens later this year, it will continue to offer fan favorites, but the space you'll be able to enjoy your ice cream or delicious burger in will be much larger. You see, during the refurbishment, the restaurant will be taking over the adjacent arcade.
Beaches and Cream recalls days gone by with malted milkshakes, burgers off the grill, and classic jukeboxes.
For vacation planning information, please visit our
Walt Disney World
planning section.