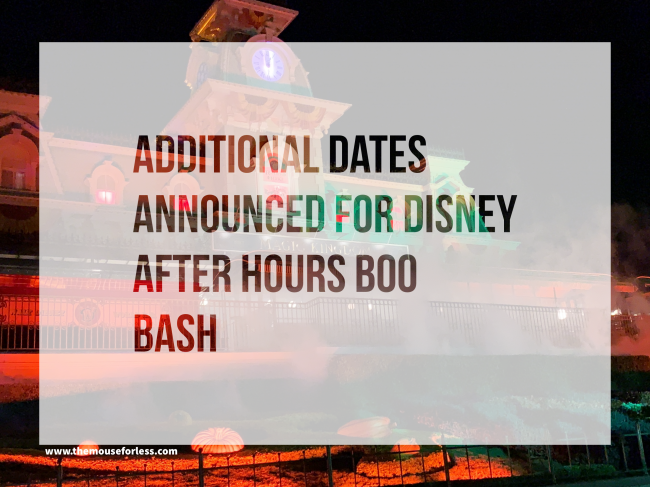 Everyone this week lost their minds over the fact that tickets went on sale for Disney After Hours Boo Bash! With people on hold trying to get tickets for hours, it was only a matter of time before the Walt Disney World Resort decided to add more dates to this seemingly popular event that is replacing Mickey's Not-So-Scary Halloween Party for this year. Dates for the Disney After Hours Boo Bash have been added for both September and October. In total, five dates on Sundays were included in the mix.
The new dates are:
Sunday, September 5
Sunday, September 12
Sunday, September 19
Sunday, October 10
Sunday, October 17
These dates will be available to be purchased when tickets go on sale Tuesday, June 15.
Other dates will include:
Tuesday, Aug. 10
Tuesday, Aug. 17
Friday, Aug. 20
Tuesday, Aug. 2
Friday, Aug. 27
Tuesday, Aug. 31
Friday, Sept. 3
Tuesday, Sept. 7
Friday, Sept. 10
Tuesday, Sept. 14
Friday, Sept. 17
Tuesday, Sept. 21
Friday, Sept. 24
Tuesday, Oct. 5
Friday, Oct. 8
Tuesday, Oct. 12
Friday, Oct. 15
Tuesday, Oct. 19
Friday, Oct. 22
Sunday, Oct. 24
Tuesday, Oct. 26
Friday, Oct. 29
Sunday, Oct. 31
For those who don't know, the Boo Bash will run from August until October, at the Magic Kingdom, taking place on most nights from 9:00 p.m. to midnight. (Some event nights in August and September will be from 9:30 p.m. to 12:30 a.m.)
This will be a limited-capacity event. Tickets range in price from $129 – $139, plus tax for August/September nights and $159 – $169, plus tax for October nights. Unfortunately, it does appear that Halloween night has sold out. Those who are Annual Passholders or Disney Vacation Club Members can take advantage of a $10 discount for event nights in August and September. Guests do not need to buy an additional day theme park ticket or Disney Park Pass theme park reservation to attend the event.
For those who attend the Boo Bash, you'll be able to experience things like special cavalcades that will pop up throughout the night. There will also be favorite characters popping up across the park. Guests can enjoy entertainment from the Cadaver Dans, as well as being able to experience more than 20 attractions. Guests will also be able to go trick or treating.
This event will offer complimentary snacks like ice cream novelties and popcorn, along with select beverages. These items are included in the cost of the event. There will also be a number of treats that will be available for purchase.
Guests who attend this event will be able to dress in costume. Costume masks are not permitted for adults; they can only be worn by children under 14.
More details about the Disney After Hours Boo Bash can be found here.
For vacation planning information, please visit our
Walt Disney World
planning section.