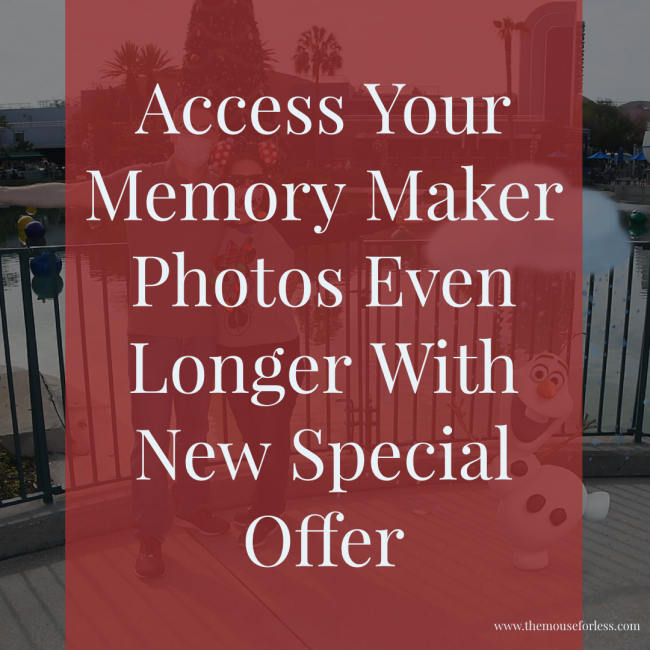 Memory Maker! It's one of my favorite things to take advantage of when taking a Walt Disney World vacation. That's because Memory Maker allows you to take an unlimited number of photos and get videos from Disney PhotoPass to help you remember your vacation. We do this all the time with my family. And we stop and get some incredibly unique photos along the way. (Ask me about my favorite Christmas present I just got the past year that included me, my brother, and a Haunted Mansion on-ride photo. The present actually brought me to tears.)
Disney has released two great specials revolving around Memory Maker.
Extended Time to View Photos
With this new special Memory Maker offer, you'll be granted just a little more time to download your photos. That's because those who activate their Memory Maker purchase from January 4 through May 19, 2021, you will be able to download all of your Disney PhotoPass photos and videos captured through June 18, 2021, at no extra cost (rather than the standard 30-day window). That means that you can get all of your photos through June 18 with one Memory Maker purchase! So if you visit in early February and then again in early April, you'll still be able to get all those photos that were taken! One thing to note though – the standard Disney PhotoPass 45-day photo and video expiration policy remains in effect. So, they photos must be downloaded by the end of the 45 days that they were taken.
Two Days for the Price of One
Did you know that Disney sold an option to only purchase Memory Maker for one day? Well, right now, with the purchase of Memory Maker One Day, you'll actually get Disney PhotoPass photos and videos from two days! If you activate Memory Maker One Day now through March 11, 2021 you can download your Disney PhotoPass photos and videos from the day of your choice PLUS you'll get photos and videos from the following consecutive day too – at no extra cost.
Tips About Purchasing Memory Maker
A couple of things to remember about purchasing Memory Maker. Any photos taken within 3 days of the date of purchase are not included and must be purchased separately. Unless you purchase the option that starts immediately. So, make sure you purchase Memory Maker well in advance. (You get a discount on your purchase, if you purchase ahead of time anyway!)
In addition, a MagicBand is required to receive certain attraction photos. (Like that Haunted Mansion photo I was talking about. Without a MagicBand, I would have never received that image in my My Disney Experience account. And as a reminder, Disney is no longer sending Guests the complimentary MagicBands any longer. They must be purchased. Find out the details about that change here.)
Another thing to keep in mind, during these times, where wearing a mask is required, masks are required in Disney PhotoPass photos, as well. You may not take them off for photos.
One thing is for sure. These special offers make getting Memory Maker an even better option. If you are on the fence, I strongly suggest considering getting it for your vacation.
For vacation planning information, please visit our
Walt Disney World
planning section.