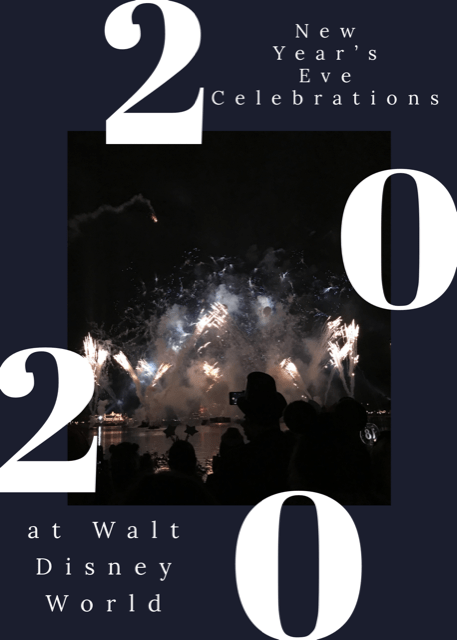 Guests looking to ring 2020 at the Walt Disney World Resort will have, for the first time, four theme park options to choose from. For the first time, Disney's Animal Kingdom will be getting in on the New Year's Eve fun. Here's what you can expect to experience, if you are looking to celebrate while on your vacation!
Magic Kingdom
Guests will be able to experience two nights of New Year's festivities! The fireworks show for the event called "Fantasy in the Sky"will take place at both 6:30 p.m. and 11:50 p.m. on both December 30 and December 31.In addition, in Frontierland and Tomorrowland there will be DJ dance parties.
Epcot
From 7:00 p.m. – 1:00 a.m. there will be DJ dance parties throughout the park including a "Silent Groove" party in Future World. Guests will be able to enjoy two showings of "Epcot Forever" – one at 6:30 p.m. and 11:40 p.m. The second performance will be followed by a countdown and pyrotechnic salute to the New Year.
Disney's Hollywood Studios
There will be a DJ dance party at Center Stage, beginning at 7:00 p.m. Guests will also be able to experience the "Wonderful World of Animation" at 6:05 p.m. and two nighttime spectaculars, with "Jingle Bell, Jingle BAM!" at 6:30 p.m. and "Star Wars: A Galactic Spectacular" just after midnight.
Disney's Animal Kingdom
For the first time, Disney's Animal Kingdom will stay open until midnight. There will be DJs who will start the party at 6:15 p.m. in Discovery Island, Asia and DinoLand, U.S.A. As midnight approaches there will be celebratory moments at each DJ location or you can experience the projection show, "Tree of Life – Awaken the New Year" on Discovery Island.
As someone who's visited Epcot many times for New Year's Eve, here are my tips.
Get to the park early.
Parking will be a nightmare – the best option is to stay at a Walt Disney World Resort. If you're staying off-site, stay as late as possible and wait for the crowds to leave. Do NOT leave after the fireworks.
Pack your patience. There will be a lot of people in the park.
Don't think you're going to do a lot. I mostly go to experience the atmosphere. I definitely don't go for the attractions.
Be kind to Cast Members. They are working long hours and they are getting yelled at by a lot of Guests.
For vacation planning information, please visit our
Walt Disney World
planning section.