Walt Disney World provides a complimentary airport shuttle from Orlando International Airport (MCO) and luggage delivery to eligible guests of the Walt Disney World Resort. To qualify for the service, you must be staying at a Disney hotel at Walt Disney World Resort. The Swan, Dolphin, Shades of Green, and Downtown Disney area hotels do not qualify for this service. Disney's Magical Express began in May 2005 and continues today with improvements that are added continuously.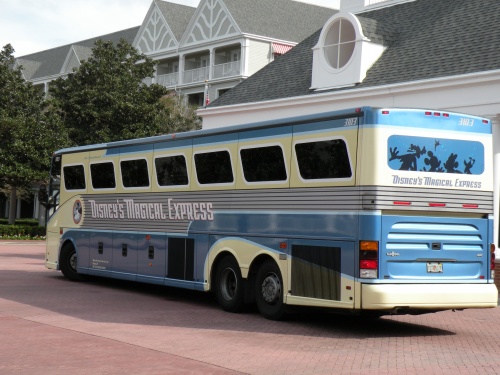 How Disney's Magical Express (DME) Works
Before Leaving Home: Reserve Disney's Magical Express Transportation when you book online, through your travel agent or through Disney by one of the following means:
U.S. and Canada Reservations: call 866-599-0951. You can also add flight information to your itinerary by visiting your My Disney Experience account.
United Kingdom Reservations: call 0800 16 90 730 or online www.disneyworld.co.uk for Walt Disney Travel Company bookings – or contact your travel agent or tour operator.
International Guests: make your reservation through the same travel agent or tour operator used to book your trip. International guest may also view and print special guidelines from Disney.
For U.S. guests who elected to use Disney's Magical Express (DME) Service, an Airport Transportation Booklet containing general information, a map to the Disney's Magical Express Welcome Center at the Orlando International Airport, transportation vouchers and one luggage tag per person will be mailed approximately six (6) weeks prior to the guest's vacation date.
Prior to leaving home for the airport, guests need to attach the provided luggage tags on their luggage. Once the DME tagged luggage is checked at the airport for the flight to Orlando, guests will not see it again until it arrives at the resort. Guests no longer have to worry about picking the luggage up at the Orlando International Airport's baggage claim. DME will pick up the luggage and deliver it to the guest's resort indicated on the DME luggage tag. For arrivals after 10:00 PM, you will need to collect your luggage at baggage claim and bring with you on the motorcoach. If you prefer, you can always collect your luggage from the baggage claim and take it on the bus with you. If you choose this option, do not put the yellow tags on your luggage. Often the bags are retrieved by DME before they are on the luggage carousel.
Guests cannot book luggage transfer only, they must physically be on the motor coach to have luggage transported. Those who have unexpected delays or very late arriving flights should contact call Disney's Magical Express Guest Services as soon as possible.

MouseForLess Tips:


Essential items such as change of clothes, swimsuits, medications, valuables, etc., should be packed in a carry-on bag since it may take up to 3 hours or more for DME to delivers the luggage to guest's resort room. This is particularly important if you have restaurant reservations on the day of arrival that you wish to "dress" for.

Guests who are flying into Orlando International Airport from another country must follow the U.S. Customs and Border Protection process and claim their luggage after disembarking the plane. They can then proceed to Disney's Magical Express Welcome Center located on Side B, Level 1 of Orlando International Airport and have their luggage travel with them on the motor coach to the resort.

There is one luggage tag provided per person on the reservation. If guests need additional tags, they may request the extra tags by calling Disney's Magical Express at 866-599-0951.

To change your flight information before arriving at Walt Disney World Resort, you may call the same number used to make your reservation. While at a Disney Resort hotel, contact your Resort hotel Front Desk for assistance.

If you didn't sign up for DME in advance, you can still take advantage of the service by showing up at the Magical Express welcome desk and providing a DME representative with information from your baggage claim ticket. This is also an option if you lose your DME vouchers that came with your Disney documents or if your flight is delayed. The Welcome Desk can look up any hotel reservation, and as long as you're a registered guest, they'll print you a boarding pass for Disney's Magical Express.
Arriving at Orlando International Airport:
Once guests arrives at Orlando International Airport, they should take the shuttle from the gate to the main terminal on Level 3 and proceed to Disney's Magical Express Welcome Center. The DME Welcome Center is located on Side B, Level 1. For guests residing in U.S. or Canada who have chosen DME Service this instruction is also available in the Airport Transportation Booklet that was mailed approximately 6 weeks prior to the vacation date. Once at DME Welcome Center, a representative will verify the number of bags that the guest had checked and confirm guest's outbound flight information. If the guest had not tagged their luggage prior to leaving home or at the departing airport, they may still utilize the luggage delivery service by providing the DME representative with information from their baggage claim ticket. Lastly, your voucher will be scanned and a representative will direct you to the correct bus waiting area.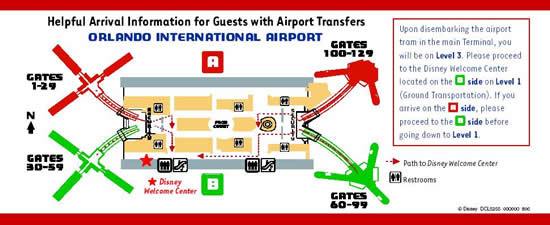 The motor coach carrying the guests may make up to 3 stops before arriving at the guest's resort. The travel time from Orlando International Airport to the guest's resort is approximately 45 – 75 minutes, depending on your stop. Guests arriving after 10:00 p.m. and before 5:00 a.m. must pick up their luggage from the baggage claim and have the luggage travel with them to the resort.

MouseForLess Tips:


Disney Magical Express buses are coach-style and include restrooms. An on-board display features a video covering the basics of DME and vacationing at Walt Disney World. An animated short featuring Mickey Mouse and Donald Duck may also be played.

Tips are not expected for the luggage delivery from the airport to the resort and guests do not need to be in their room to receive their luggage. However, it is customary to tip your bus driver and the bell staff if you request to have your luggage picked up from your room at departure.

Click here to view and print a map of Orlando International Airport, including the location of the Disney's Magical Express Welcome Center.
Departing Walt Disney World
At the end of the guest's vacation, a Transportation Notice envelope from the resort will be delivered to the guest's room the day before departure. The Transportation Notice will include a motor coach pick-up time which should be no sooner than 3 hours prior to the guest's flight departure time for domestic flights, or 4 hours for international flights. Magical Express check-in desks are located in resort lobbies or near the outside front entrance of the resort. To check in, the entire party must be present and have with them government issued photo I.D. (driver's license, passport, Military ID) and their MagicBand as resort identification. At the time of departure, guests can either carry their own luggage to the motor coach for departure or may request the resort Bell Service for luggage assistance. Also, guests flying on participating airlines may take advantage of Resort Airline Check-In to check luggage with their airlines and print boarding passes. Simply visit the Resort Airline Check–In desk no less than 3 hours prior to departure time during operating hours (5:00 a.m. to 1:00 p.m. daily). In most cases only one bag per person can be checked.
Once at the airport, the motor coach will make stops at all four quadrants as needed (gates 1-29, 30-59, 60-99, 100-129).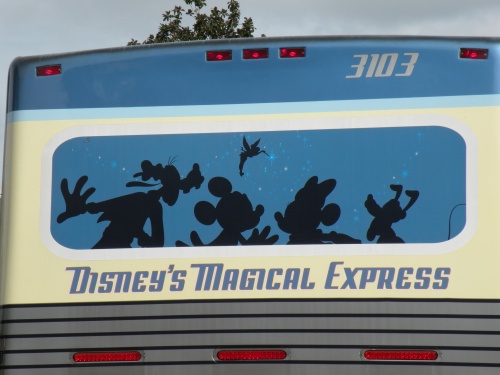 MouseForLess Tips:


If you have a My Disney Experience account through which you made your Disney Resort hotel reservation, you may view your pickup time and location as early as 2 days prior to your arrival at Walt Disney World Resort.

Guests who did not reserve DME service prior to arriving can still take advantage of the DME service for their return trip by calling the DME Service Center at 866-599-0951 to book their return transportation to the Orlando International Airport.

Guests who changed their resort during their stay or extended/shorten their stay at Walt Disney World must contact the DME Service Center at 866-599-0951 prior to their return date.

Car seats must be stowed underneath the motor coach. Children can sit on an adult's lap or occupy their own seat.

Motor coaches can accommodate wheelchairs, but guests should indicate at the time of your booking that you will be traveling with a wheelchair. Magical Express does not provide wheelchairs and arranges for wheelchair assistance upon arrival or departure should be made directly with your individual airlines.

Guests must be 12 or older to travel unaccompanied on DME

No pets may be allowed to ride on the DME motor coaches. The only animals allowed on the DME motor coaches with their owners are service animals.
For more information, visit the Disney's Magical Express FAQ section at www.disney.go.com
Visit our Resort Airline Check-In page for information on using this service at your resort.