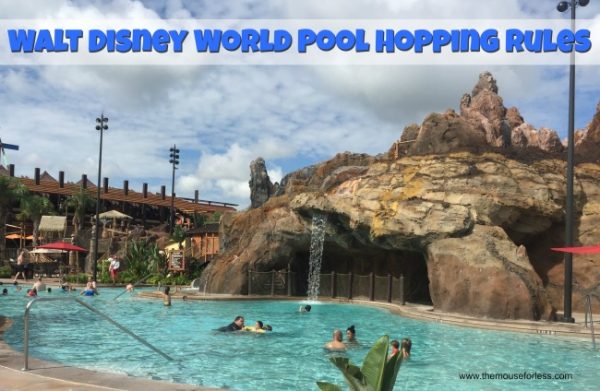 Walt Disney World Pool Hopping Rules
The pools at a resort can influence the decision of which resort to stay at while visiting Disney. The quality of the pool is a big consideration for many when deciding to stay at a value, moderate, or deluxe resort. While all Walt Disney Resort hotels have pools, there is a great deal of variation between the resort pools in way of the amenities, the size, and  the atmosphere at each hotel. Pool can range from basic, like you'll find at Disney's All-Star Resorts, to incredibly elaborate with slides, sandy play areas, and a lazy river at Disney's Beach and Yacht Club Resorts.  Amenities vary as well. Some resorts have hot tubs, some have interactive water play areas, some have quiet pools, and some include zero entry. How do you choose which resort to stay at, especially if the pool is going to be a key factor in your decision making process.
This dilemma could be solved if guests were able to "pool hop," or use the pool at a resort other than the one that they are currently staying at. However, as far was Walt Disney World Pool Hopping rules state, Guests are only allowed the use of the pool at the resort where they are staying for the night. Guests are invited to enjoy the resort pool at the resort they are staying in for as long as it is open during the day. For those who are looking to spend a couple of hours resting, or even half a day on a non-park day, arrival day, or departure day, for spending time at the resort pool is a fantastic way.
There are a couple of exceptions related the no pool hopping rule. Pool hopping IS allowed for the following resorts:
Disney maintains pool security by way of gates that only open with the MagicBand and via a number of cast members and lifeguards surrounding the busy pool areas. It would be quite challenging to use the pool of a resort you are not staying at, particularly a feature pool at a Deluxe resort.