The 2014 Festival of the Masters has been cancelled due to construction at Downtown Disney. There is no official word on future festivals.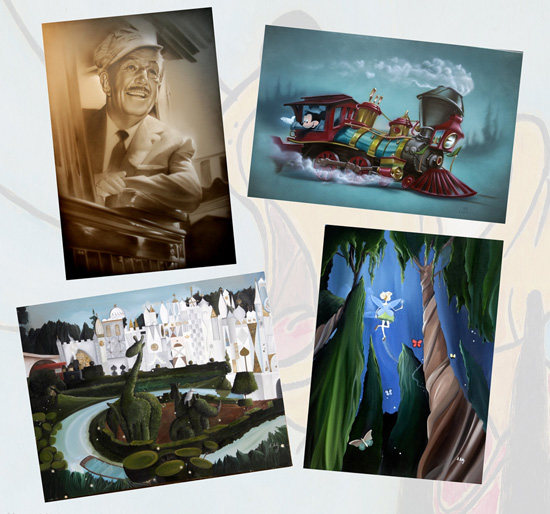 Festival of the Masters is a vibrant open-air art festival in the Downtown Disney area. Featuring nearly 150 award-winning artists, discover why this world-renowned show is a much-anticipated annual event for Guests, artists, collectors and art lovers.
Showcasing one-of-a-kind and limited edition painting, photography, sculpture, jewelry and more, this prestigious show is ranked among the country's finest outdoor art, juried art festivals. There's a lot more to enjoy, too, like amazing chalk art, live music, specialty foods and family-friendly activities.
The 2015 Festival of the Masters has been cancelled due to construction at Downtown Disney. There is no official word on future festivals.
2013 Festival of the Masters Info
A crowd favorite, the Disney Artist Village returned in 2013 with one of the largest displays of official Disney art available for purchase and included meet and greets with the more than 25 artists behind those masterpieces. Located between Cirque du Soleil and House of Blues on Downtown Disney West Side, the Disney Artist Village tent featured Disney character art created by masters from various Disney disciplines. Disney Artists also performed live shows as they create new works of art on stage and will host interactive chats about art and what it can be.
Oswald the Lucky Rabbit Chosen to Represent Festival
In a recent vote on the Disney Parks Blog, readers voted and chose Oswald the Lucky Rabbit to be featured in an original piece of art at this year's Festival of the Masters. Watch as Will Gay,Yellow Shoes Creative Director and Disney Parks Blog author, creates an original piece of art for this year's Festival in this time-lapse video.
New for 2013
For 2013, artistic cocktails take a front seat at Disney Festival of the Masters a with a new twist called "Mixers and Masters." Dining locations will feature specialty drinks for sipping and strolling. To identify which restaurants will be participating Look for the feather banners. Each cocktail will be priced separately. Here's a sampling of what you can expect:
T-Rex Café: Caveman Painters Punch
Paradiso 37: Picasso Punch
Wolfgang Puck Café: Pinkberry Martini
Rainforest Café: Blue Nile
Fulton's Crab House: Sangria
Portobello: Strega-rita (Strega is an orange-flavored Italian liqueur)
Splitsville: Huckleberry Lemonade
Bongos Cuban Café: Pineapple Mojito
Planet Hollywood.: A fruity Planet Feature Presentation
Plus, 3 times a day you can stop by "The Art of Mixology" at the Waterside Stage, with experts showing what goes into making an artfully delicious cocktail during each 10-minute demo.
Guests also can become part of the festival with interactive fun. Various activities presented by Michaels will be available, including "Make It Take It" crafts (design a set of Mickey Ear wood frames or fashion your very own piece of artistic headwear), coloring Disney-inspired masterpieces and the "Michaels Master Mural" where guests can help create a mosaic-like mural. Children are invited to creatively chalk sections of the Marketplace for the Children's Chalk Art display; help build a giant LEGO masterpiece and create an interactive LEGO mural.
Other activities will include:
Live entertainment by performers from La Nouba by Cirque du Soleil
House of Blues 15th year celebration of its Folk Art Festival with more than 30 accomplished artists
Special artist appearances at Hoypoloi and Pop Gallery
Live entertainment at various venues, including House of Blues, Bongos Cuban Café, Raglan Road, and Splitsville.
At Raglan Road restaurant at Downtown Disney guests can enjoy high energy, roof-raising performances from popular house bands Creel, The Farrell Brothers, The Raglan Rebels, The Roundstone Cowboys and Johnny & Justin throughout the 3 days for the festival. The Raglan Road Irish dancers will also be taking to the stage showcasing their amazing talents. The party kicks off Friday Nov 08 at 4pm and continues through midnight Sunday Nov 10. Visit the Raglan Road website to view Festival Showtimes.
Meet House of Blues Folk Artists
You may have known that House of Blues at Downtown Disney West Side was one of the premier venues for live music. But have you ever stopped to notice the Folk Art Collection? House of Blues boasts the largest private collection of American Folk Art on permanent display with roughly 7,000 articles exhibited throughout their venues. At the Orlando location alone, guests can see 637 pieces that represent more than 100 artists, such as Howard Finster, Jimmy Lee Sudduth, Mose Tolliver, Leroy Almon and Archie Bryon, to name a few. A favorite piece is Mr. Imagination's Archway located outside at the back of the restaurant. If you get a chance, stop by and check out the hidden trinkets scattered throughout the sculpture. Many of the artifacts came from employees and guests who happened to be walking by while "Mr. I" was creating it!
Make plans to meet some of the artists at House of Blues Orlando's 15th Annual Folk Art Festival, which coincides with Festival of the Masters, November 8-10, 2013. Festival opens daily at 10 a.m.
Festival Parking and Traffic Update
Guests should expect increased traffic and delays on Walt Disney World's roadways as Downtown Disney hosts Festival of the Masters.
Overflow Parking
Downtown Disney will activate overflow parking at Team Disney, Casting and SunTrust as normal throughout the weekend. On Friday, November 8, overflow parking with shuttle service from Team Disney is expected to begin at 5 p.m. Overflow parking at Typhoon Lagoon with shuttle service may be used as needed during the weekend.
Dedicated Bus Lane on Buena Vista Drive
The right lane of westbound Buena Vista Drive will be a dedicated bus lane from 9 a.m. November 9 to 1 a.m. November 10. The lane is only open to Disney bus traffic and spans from Disney's Saratoga Springs Resort & Spa to the traffic light at Downtown Disney Entrance 1.
Getting to Downtown Disney
The Epcot Center Drive (S.R. 536) exit is the fastest exit to take from I-4 when traveling to Downtown Disney Area. Guests visiting Downtown Disney should follow the electronic signs along Buena Vista Drive that will direct them to available parking.