Disney's Hollywood Studios | Streets of America Area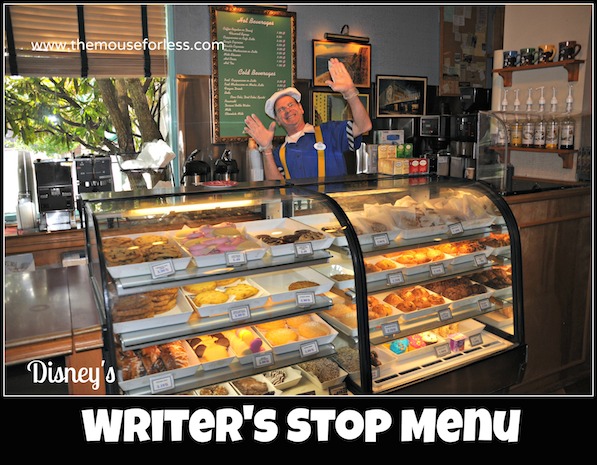 Writer's Stop is a popular stop for souvenirs, camera & media supplies as well as baked goods and drinks.
Restaurant Info: American, Snacks and Beverages, $ – under $14.99 per adult
Find out how you can save money on dining at Walt Disney World by using one of Disney's Dining Plans.
Special Notice: For a limited time beginning April 3, 2016, Writer's Stop will offer pretzels, charcuterie and a cheese plate and alcoholic beverages, along with coffee and pastries. There will also be a new range of home and kitchen merchandise on sale. This location is expected to close permanently at some date in the near future.
Writer's Stop Menu
Menu Date: 04/2016
Pastries and Treats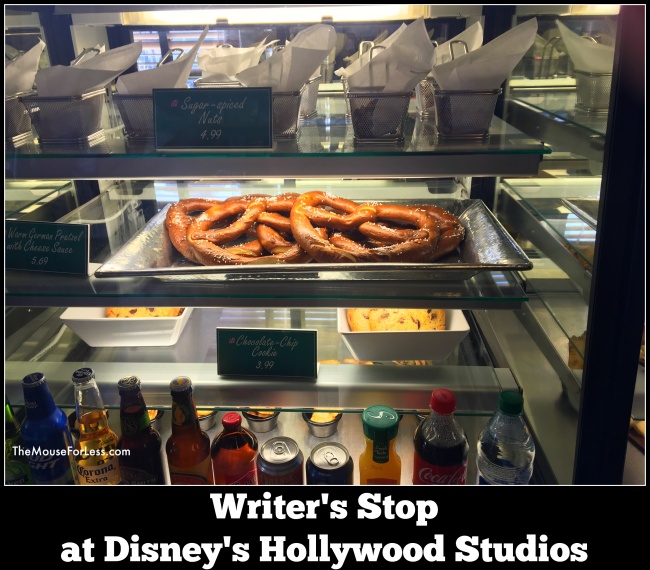 Charcuterie and Cheese Board – $7.49

Sugar-spiced Nuts – $4.99

Warm German Pretzel with Cheese Sauce – $5.69

Carrot Cake Cookie – $3.99

Chocolate-Chip – $3.99

Beverages
Coffee – regular or decaf – $2.49

Bottled Sodas – Coke, Diet Coke, Sprite – $3.29

Dasani Bottled Water – $3.00

Ariel or BuzzLightyear Punch with Glow Clip – $7.00
Alcoholic Beverages
Frozen Margarita – $9.75
Pina Coloda – $10.00
Coffee with Baily's or Kuhlua – $8.50
Irish Coffee – $9.50
Full Sail Session Premium Lager – $8.00
Nape Smith Hapageddon Imperial IPA – $9.00
New Belgium Fat Tire Amber Ale – $8.00
Florida Beer Co. Key West Southernmost Wheat – $8.00
Orange Blossom Pilsner – $8.00
Michelob Ultra – $7.50
BudLight, Heineken, or Corona – $6.75
Placido Pinot Grigio – $9.00
Vista Point Chardonnay – California – $9.00
Canyon Road Merlot – California – $9.00
Louis M Martini Cabernet Sauvignon – Sonoma County – $10.00

= Snack on the Disney Dining Plan
** Menu and Prices are Subject to Change Without Notice **