Disney Springs | West Side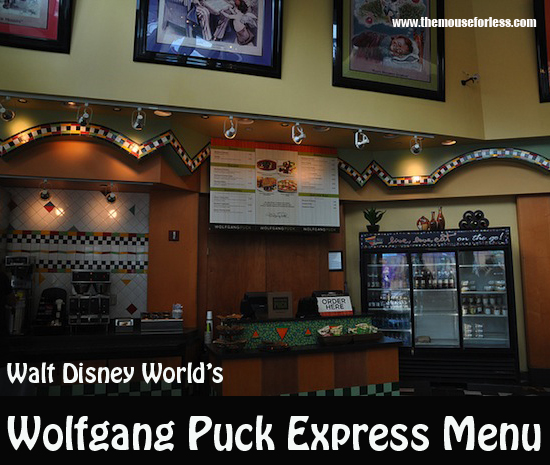 Lunch/Dinner Menu   Kids' Menu   Reviews

This express restaurant offers a more casual take on the signature dishes that made chef Wolfgang Puck famous. Enjoy gourmet on the go with specialty sandwiches, soups, salads, wood-fired pizzas at Wolfgang Puck Express.
Restaurant Info: Californian, Lunch/Dinner, $ – $14.99 and under per adult
Find out how you can save money on dining at Walt Disney World by using one of Disney's Dining Plans.
Wolfgang Puck Express West Side Lunch & Dinner Menu
Menu Date: 04/2017
Soups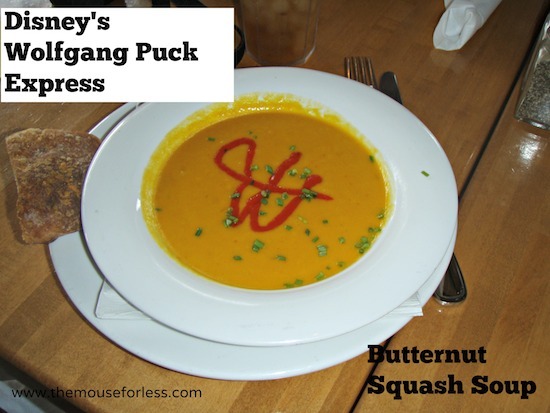 Butternut Squash Soup – Cardamom Cream- $8.00
Classic Chicken Noodle Soup – Chives, Carrots, Egg Noodle – $8.00
Chef's Seasonal Selection – $8.00
Pizzas
BBQ Chicken Pizza – Smoked Mozzarella, Red Onion, Cilantro, Caramelized Onions – $13.00
Margherita Pizza – Fresh Mozzarella, Roasted Tomatoes, Torn Basil – $12.00
Pepperoni Pizza – Caramelized Onions, Torn Basil, Parmesan        – $12.00
Classics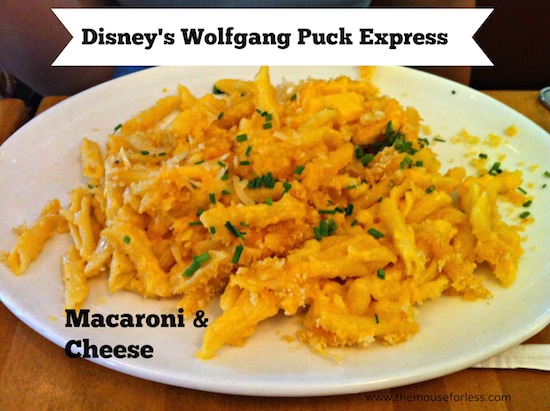 Macaroni & Cheese – Rigatoni, Cheddar, Mozzarella, Parmesan, Toasted Breadcrumbs, Chives- $11.00
Half Rotisserie Chicken – Housemade garlic mashed potatoes, garlic butter sauce – $16.00
Bacon Wrapped Meatloaf Sandwich – Smoked Mozzarella, Garlic Aioli, Crispy Onion Strings – $14.00
Grab and Go
Chicken Caesar Salad – Romaine, Marinated Tomatoes, Crostini, Parmesan – $11.00
Chinois Chicken Salad – Cabbage, Romaine, Baby Greens, Pickled Ginger, Crispy Wontons, Cashews, Ginger Sesame Vinaigrette- $11.00
Caesar Salad – Romaine, Marinated Tomatoes, Crostini, Parmesan – $9.95
Baby Kale and Quinoa Salad – Golden Raisins, Fennel, Marinated Tomatoes, Chili Flakes, Lemon Vinaigrette – $11.00
Turkey Club Sandwich – Baby Greens, Tomatoes, Bacon, Avocado, Jardiniere, Whole Grain Bread – $13.00
Italian Sub – Salami, Soppressata, Mortadella, Provolone, Zucchini Tapenade, Sourdough – $14.00
Hummus Wrap – Arugula, Fennel, Cucumbers, Marinated Tomatoes, Feta, Red Onions, Kalamata Olives – $11.00
Ham and Swiss – Butter Lettuce, Tomatoes, Horseradish Aioli, Whole Grain Bread – $13.00
White Bean Hummus and Veggies – Fresh Cut Seasonal Vegetables – $6.00
California Roll – Kanikama, avocado, cucumber, masago – $9.00
Spicy Tuna Roll – Fresh tuna, Asian spices, cucumber, sesame seeds – $9.00
Grab and Go Desserts
Carrot Cake – $9.00
Key Lime Pie – $9.00
Yogurt Parfait – $5.00
Fresh Fruit Cup – $5.00
Wolfgang Puck Express Kids' Menu
Menu Date: 04/2017
Cheese Pizza – $8.00
Pepperoni Pizza – $9.00
Macaroni and Cheese – $8.00
** Wolfgang Puck Express Menu and Prices are Subject to Change Without Notice **
Save