Disney Springs | West Side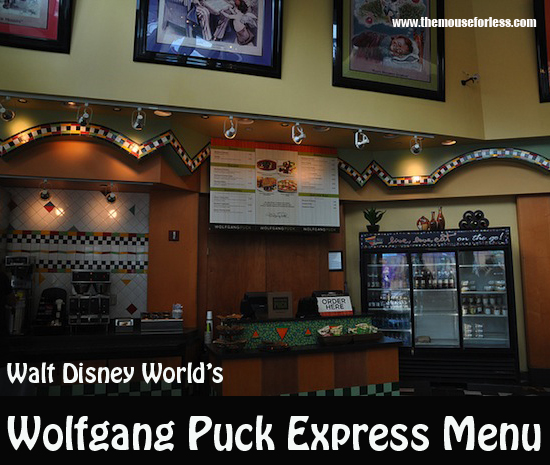 This express restaurant offers a more casual take on the signature dishes that made chef Wolfgang Puck famous. Enjoy gourmet on the go with specialty sandwiches, soups, salads, wood-fired pizzas at Wolfgang Puck Express.
Restaurant Info: Californian, Lunch/Dinner, $ – $14.99 and under per adult
Find out how you can save money on dining at Walt Disney World by using one of Disney's Dining Plans.
This location closed on August 1, 2017 to make way for a new restaurant called Jaleo, a concept by Chef José Andrés, which will open in 2018. A new Wolfgang Puck dining location called Wolfgang Puck Bar & Grill will be added to Disney Springs in 2018. 
Wolfgang Puck Express West Side Breakfast Menu
Updated: 02/2018
Entrées
Classic Breakfast – Scrambled Eggs, Bacon or Sausage, Crispy Potatoes, Sourdough or Whole-Grain Toast – $13.25
Breakfast Pizza – Scrambled Eggs, Bacon, Mozzarella, Cheddar and Caramelized Onions – $14.00
Roasted Mushroom & Spinach Omelet – with Crispy Potatoes – $13.25
Sunrise Sandwich – Scrambled Eggs, Bacon, Mozzarella, Tomatoes and Garlic Aioli – $11.25
Bacon & Cheddar Omelet – with Crispy Potatoes – $13.25
Belgian Waffles – seasonal fresh Fruit, Maple Syrup and Whipped Cream – $10.00
Corn Flakes French Toast – seasonal fresh Fruit and Maple Syrup – $11.00
Classic Breakfast with Egg Whites – Scrambled Egg Whites, Bacon or Sausage, Crispy Potatoes, Sourdough or Whole-Grain Toast – $14.50
Breakfast Pizza with Egg Whites – Scrambled Egg Whites, Bacon, Mozzarella, Cheddar and Caramelized Onions – $14.50
Roasted Mushroom & Spinach Omelet with Egg Whites – Scrambled Egg Whites, Bacon, Mozzarella, Tomatoes and Garlic Aioli – $14.50
Sunrise Sandwich with Egg Whites – Scrambled Egg Whites, Bacon, Mozzarella, Tomatoes and Garlic Aioli – $12.50
Bacon & Cheddar Omelet with Egg Whites – with Crispy Potatoes – $14.50
Chocolate Chip Waffles – Maple Syrup and Whipped Cream – $10.00
Wolfgang Puck Express West Side Lunch & Dinner Menu
Menu Date: 02/2018
Soups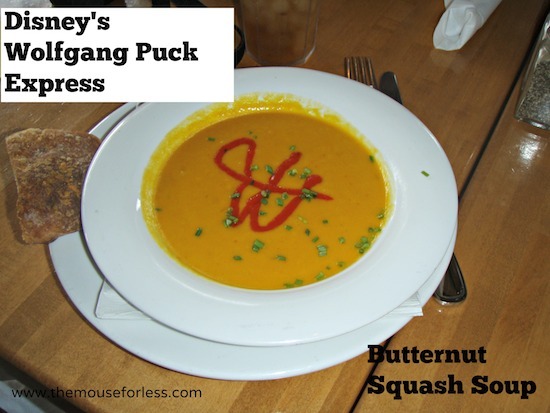 Butternut Squash Soup – Cardamom Cream- $4.00
Classic Chicken Noodle Soup – Chives, Carrots, Egg Noodle – $4.00
Chef's Seasonal Selection – $4.00
Pizzas
BBQ Chicken Pizza – Smoked Mozzarella, Red Onion, Cilantro, Caramelized Onions – $14.50
Margherita Pizza – Fresh Mozzarella, Roasted Tomatoes, Torn Basil – $12.50
Pepperoni Pizza – Caramelized Onions, Torn Basil, Parmesan        – $13.50
Classic Cheese – with Parmesan – $11.50
Roasted Mushroom – Goat Cheese, Arugula and Garlic Cream Sauce – $13.50
Four Cheese – Pesto, Roma Tomatoes and Sun-dried Tomatoes – $13.50
Chicken Meatball – Mushrooms, Red Onions and Ricotta – $13.50
Classics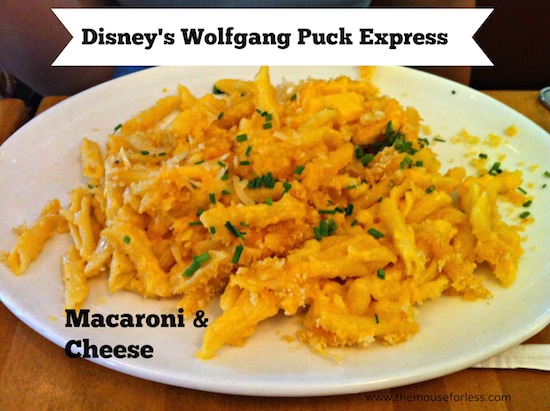 Macaroni & Cheese – Rigatoni, Cheddar, Mozzarella, Parmesan, Toasted Breadcrumbs, Chives- $12.00
Half Rotisserie Chicken – Housemade garlic mashed potatoes, garlic butter sauce – $16.00
Bacon Wrapped Meatloaf Sandwich – Smoked Mozzarella, Garlic Aioli, Crispy Onion Strings – $16.00
Ravioli – Ricotta Cheese, Basil and Tomato Cream Sauce – $15.00
Spaghetti Bolognese – Broccolini and Herbed Ricotta – $18.00
Oven Roasted Salmon – Cauliflower Puree, Marinated Tomatoes and Broccolini – $20.00
Spaghetti and Chicken Meatballs – Torn Basil and Parmesan – $16.00
Cavatappi Chicken Alfredo – Mushrooms, Baby Peas, Goat Cheese – $16.00
Crispy Chicken Tenders – with French Fries – $13.00
Salads
Chicken Caesar Salad – Romaine, Marinated Tomatoes, Crostini, Parmesan – $13.00
Chinois Chicken Salad – Cabbage, Romaine, Baby Greens, Pickled Ginger, Crispy Wontons, Cashews, Ginger Sesame Vinaigrette- $13.00
Caesar Salad – Romaine, Marinated Tomatoes, Crostini, Parmesan – $9.00
Baby Spinach & Quinoa – Golden Raisins, Apples, Shaved Fennel and Lemon Vinaigrette – $10.00; Add chicken – $14.00
Butter Lettuce – Tomato Goat Cheese Crostini and Balsimic Vinaigrette – $8.00
Roasted Turkey Cobb – Romaine, Arugula, Eggs, Green Beans, Tomatoes, Avocado, Bacon, Gorgonzola and Balsamic Vinaigrette – $14.00
Greek – Butter Lettuce, Feta, Tomatoes, Cucumbers, Kalamata Olives, Peppers and Greek Dressing – $11.00; Add chicken – $14.00
Barbecue Chicken – Romaine, Cucumbers, Onions, Tomatoes, Corn, Crispy Tortilla Strips, Poblano Peppers, Black Beans and Ranch Dressing – $13.00
Desserts
Brownie – $3.00
Cookie – $2.00
Vanilla Bean Cheesecake – $6.00
Crème Brulee with Berries – $6.00
Fruit Cup – $4.00
Frozen Yogurt – $4.00
Wolfgang Puck Express Kids' Menu
Menu Date: 02/2018
Cheese Pizza – $8.00
Pepperoni Pizza – $8.00
Macaroni and Cheese – $7.00
Spaghetti – with choice of Butter, Tomato or Meat Sauce – $7.00
Grilled Chicken & Mash – $8.00
Crispy Chicken Fingers – with choice of Green Salad or French Fries – $8.00
** Wolfgang Puck Express Menu and Prices are Subject to Change Without Notice **