Disney's Hollywood Studios | Sunset Blvd. Area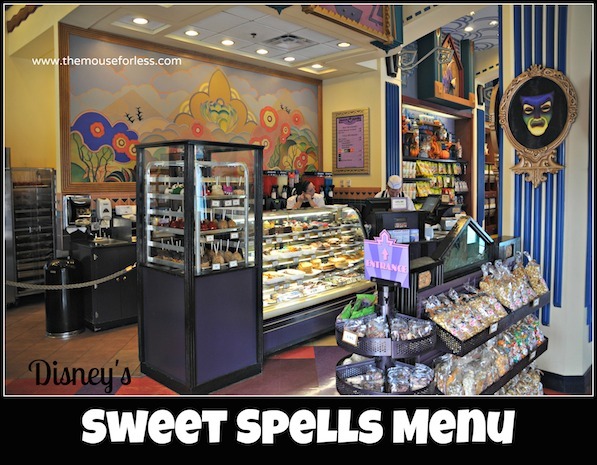 Satisfy your sweet tooth at Sweet Spells, your one-stop shop for everything naughty and nice.
Restaurant Info: American, Snack, $ – under $14.99 per adult
Find out how you can save money on dining at Walt Disney World by using one of Disney's Dining Plans.
Sweet Spells Menu
Menu Date: 03/2018
Sweet Treats
Assorted Danishes – $3.59
Assorted Muffins – $3.29
Fresh Fruit Options:
• Apple – $1.69
• Pineapple Spear – $3.29
• 2 Strawberries – $1.49
• Fruit Kabob – $4.29
Chocolate Dipped Strawberries – $3.99
Chocolate Dipped Pineapple Skewer – $4.29
Chocolate Dipped Fruit Skewer – $4.29
Chocolate Dipped Banana – $3.79
Chocolate Dipped Banana with Topping – $4.29
Mickey Chocolate Dipped Cake Pop – vanilla or chocolate – $4.19
Mickey Sugar Coated Cake Pop – vanilla or chocolate – $4.19
Mickey Red Velvet Cake Pop – $4.19
Assorted Cupcakes – $4.59
Holiday Specialty Cupcakes (seasonal) – $5.59
Mickey Crispy Treats – $5.49
Cinderella Crispy Treats – $5.49
Seasonal Crispy Treats – $5.49
Assorted Crispy Treats – $4.49
Mickey Marshmallow Wand – $4.99
Minnie Marshmallow Wand – $4.99
Chocolate Dipped Marshmallow Wand – $3.99
Chocolate Dipped Marshmallow Wand with Topping – $4.99
Sugar Cookie – $3.99
Oatmeal Raisin Cookie – $3.99
Snickerdoodle Cookie – $3.99
Chocolate Chip Cookie – $3.99
White Chocolate Chip Cookie – $3.99
Raspberry White Chocolate Chip Cookie – $3.99
Peanut Butter Cookie – $3.99
Mickey Gingerbread Cookie – $3.99
Mickey Red Shorts Shortbread Cookie – $3.99
Assorted Decorated Cookie – $3.99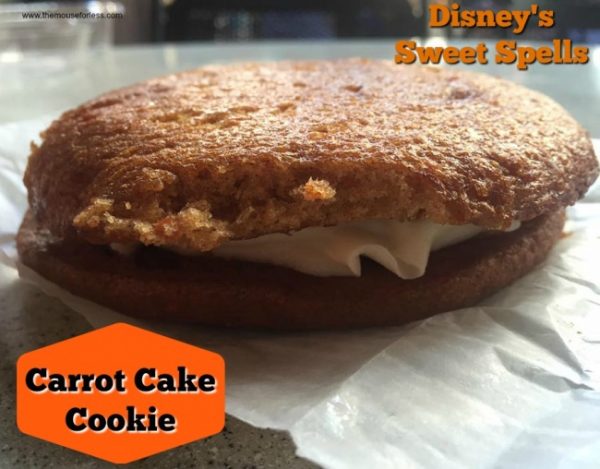 Carrot Cake Cookie with Cream Cheese Filling – $3.99
Large Mickey Chocolate Dipped Ears Sugar Cookie – $5.49
Large Mickey Chocolate Dipped Ears Peanut Butter Cookie – $5.49
Large Mickey Chocolate Dipped Ears Chocolate Chip Cookie – $5.49
English Toffee – $4.99
Mickey Peanut Butter Cup – $4.99
Mickey White Chocolate Peanut Butter Cup – $4.99
M&M Cup – $4.99
Pecan Caramel Roll – $4.99
Gourmet Pecan Cluster – $4.99
Mammoth Pecan Patty – $4.99
Assorted Chocolate Candy – $4.99
Assorted Fudge – chocolate nut, rocky road, cookies & cream, peanut butter, maple nut – $4.39
Assorted Character Inspired Caramel Apples – Mikey, Minnie, Goofy, etc – $10.99
Specialty Apples with Assorted Toppings – $10.99
Carmel or Chocolate Dipped Apple – with or without Nuts – $5.79
Candy Apple – $5.79
Caramel Peanut Apple – $6.29
Whoopie Pie – Banana, Cookies & Cream, or Maple Bacon – $3.99
Goofy's Candy Company Bagged Candy – 8 oz and Under – $5.49
Goofy's Candy Company Bagged Candy – 8 oz and Over – $7.49
Bulk Candy – per 1/4 Pound – $3.25
Cotton Candy – $4.39
Goofy's Glaciers – Strawberry, Blue Raspberry, or Lemonade – $4.79
Hot Beverages
Coffee – regular or decaf – $2.49
Hot Tea – $2.49
Hot Cocoa – $2.49
Cold Beverages
Iced Coffee – $2.49
Soda – Coke, Diet Coke, Coke Zero, Sprite, Fanta Orange – $3.29
Powerade – $3.99
Dasani Bottled Water – $3.00
** Sweet Spells Menu and Prices are Subject to Change Without Notice **