Resort Restaurants | Caribbean Beach Resort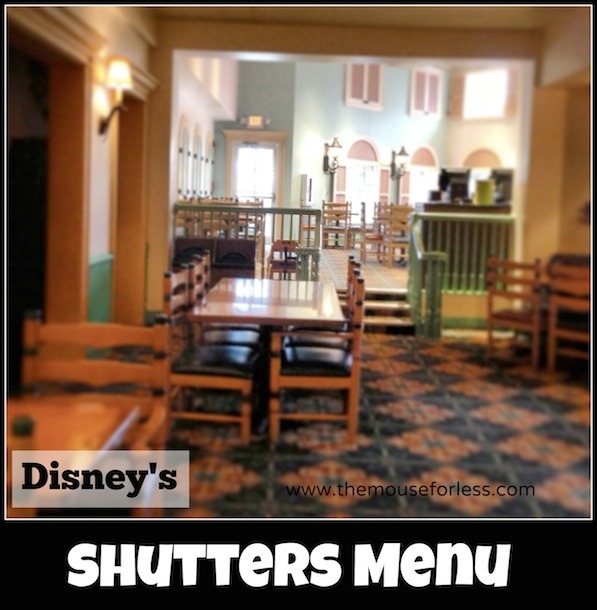 Dinner Menu   Kids' Menu  Reviews

Take a mini tropical vacation at this cool get-away that serves American cuisine with a Caribbean twist. Try Island Wings, smoked prime rib or oven-roasted jerk chicken. "Isle" see you there!
Restaurant Info: American, Dinner, $$
Find out how you can save money on dining at Walt Disney World by using one of Disney's Dining Plans.
Shutter's Dinner Menu
Menu Date: 07/2016
Appetizers
Chicken Wings – crispy Chicken Wings tossed in Habanero-Brown Sugar Glaze served with a side of Blue Cheese – $11.oo
Flash-Fried Rock Shrimp – Sweet Corn Salad, Curry Aioli, and Mango Salsa – $13.00
Pan-Seared Crab Cakes – with Tangy Dipping Sauce – $14.00
Caesar Salad – Romaine Hearts tossed in a House-made Caesar Dressing with Cornbread Croutons – $9.00
Shutters Salad – Mixed greens, Roasted Corn Vinaigrette, Petit Tomatoes, Goat Cheese and Yucca Chips – $7.00
Entrées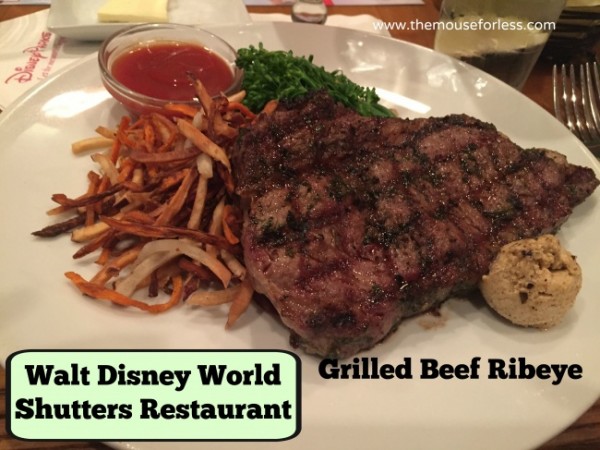 Ancho-grilled Beef Rib-Eye – Sweet Potato Hash, Brocolini, and Roasted Garlic Blue Cheese Butter – $34.99
Grilled Beef Rib-Eye – Fingerling potatoes and Roasted Vegetables with a savory Red Wine Reduction – $36.00
Braised Beef Short Ribs – Garlic Mashed Potatoes, Seasonal Vegetables, and Pan Gravy – $27.99
Today's Sustainable Fish – Yucca Dumplings, Roasted Mushrooms, Peas and Curry-Lemon Butter Sauce – Market Price
Roasted Chicken Breast – with Coconut Rice, Succotash, and Curry Nage – $22.00
Pepperberry-rubbed Caribbean Pork Ribs – Smoked Gouda and Chorizo Mac & Cheese, Collard Green, and Island Barbecue Sauce- $27.00
Seared Sea Scallops – creamy Polenta, Cipollini Onions, Honshimeji Mushrooms, Sweet Pepper Sauce, and a Chive-infused Oil – $34.00
Island Pasta – Chorizo Sausage, Piquillo Pepper Cream Sauce, Spinach, and Goat Cheese:
With Shrimp – $21.00
With Chicken – $20.00
As a Vegetarian Entree (no Chorizo) – $18.00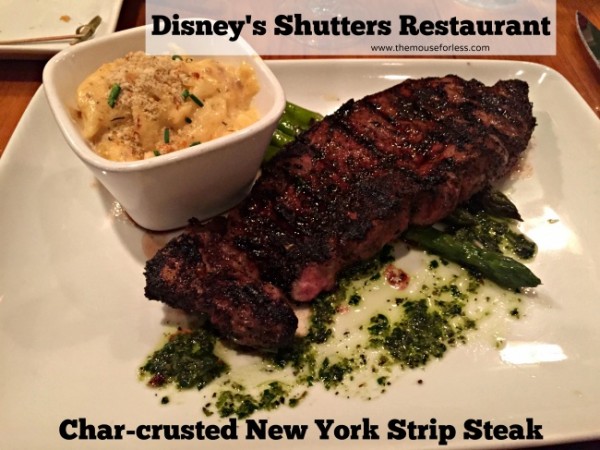 Char-crusted 10-oz New York Strip Steak – Chimichurri, Chickpeas, Potatoes, Spinach, and Herb Demi-glace – $33.00
Desserts
Chocolate-Orange Cake – Moist Chocolate Cake, Grand Mariner Custard, and Blood Orange Sauce – $8.00
Key Lime Cheesecake – with Raspberry Sauce – $8.00
Warm Banana Bread Pudding – with Rum-Caramel Sauce – $8.00
Tres Leches Cake – $6.00
Smoked Strawberry Crème Brûlée – No Sugar Added – $9.00
Beverages
Tinker Bell and Friends or Buzz Lightyear Punch – Minute Maid Light Lemonade Punch served in a souvenir Fairies or Toy Story 3 Cup with a glowing Tinker Bell or Buzz Lightyear Clip-on Light – $7.00
Milk Shakes – Chocolate, Vanilla or Strawberry – $5.50
Lava Smoothie – Raspberry Purée blended with Piña Colada Mix – $6.00
Mega-Berry Smoothie – Raspberry Purée and Nonfat Yogurt blended with Odwalla Berries GoMega (an excellent source of Omega-3) – $5.50
Odwalla All-Natural Lemonade – topped with a Wildberry Foam – $4.50
Assorted Coca-Cola Products – Coca-Cola, Coca-Cola Zero, Sprite, Diet Coke – $3.19
Alcoholic Beverages
Magical Star Cocktail – X-Fusion Organic Mango and Passion Fruit Liqueur, Parrot Bay Coconut Rum, Pineapple Juice, and a souvenir Multicolored Glow Cube – $12.00
Southern Hurricane – Southern Comfort, Orange Juice, Pineapple Juice, and Grenadine – $9.75
Captain Banana – Captain Morgan Original Spiced Rum and Créme de Banana with Coconut and Pineapple Juice, served frozen – $9.75
Shutters Swirl – Bacardi Superior Rum and a frozen blend of Pineapple and Coconut Juices with a Strawberry Swirl topped with Melon Liqueur – $10.25
Caribbean Smuggler – Captain Morgan Original Spiced Rum, Parrot Bay Coconut Rum, Cranberry Juice, and Pineapple Juice – $8.75
Red Stripe – $6.75
Specialty Coffee Drinks
Jamaican Blue Press Port – Serves two – $10.49
Espresso – $3.69
Cappuccino – $4.19
Latte – $4.19
Cafe Mocha – $4.69
Frozen Cappuccino – $4.99
Freshly Brewed Joffrey's Coffee – $2.99
Shutter's Kids' Menu
Menu Date: 07/2016
Appetizers
Garden Salad – $3.00
Chicken Noodle Soup – $3.00
Celery and Carrot Sticks – $3.00
Sliced Apples – $3.00
Mickey Check Meals
All meals served with choice of Small Lowfat Milk or Small Dasani Water

Chicken Breast – Chicken Breast with Whole-Grain Rice Pilaf, Broccolini, and Sliced Apples – $10.00

Fish of the Day – Fish of the Day with Whole-Grain Rice Pilaf, Broccolini, and Sliced Apples – $11.00

Pasta – Pasta with Turkey Marinara and Broccolini and Sliced Apples – $10.00

Meets Disney Nutrition Guidelines for Complete Meals without substitutions.
Kids Choice Meals
All meals served with choice of one (1) Beverage and one (1) Dessert
Grilled Steak – with Whole-Grain Pilaf and Broccolini – $12.00
Cheese Pizza – $9.00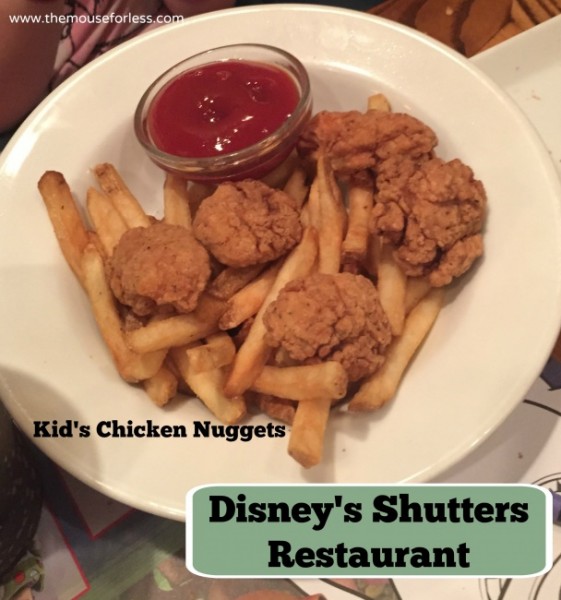 Chicken Nuggets – with French Fries – $10.00
Kids' Desserts (choose one):
Fresh Fruit
Ice Cream Sundae
Yogurt Parfait
Sliced Apples
Kids' Beverages (choose one):
Small Lowfat Milk
Small Dasani Water
Small Minute Maid Apple Juice
** Menu and Prices are Subject to Change Without Notice **