Disney's Hollywood Studios | Streets of America Area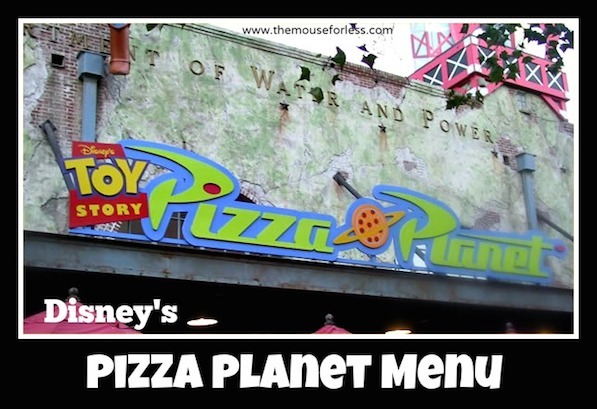 Lunch/Dinner Menu   Kids Menu Reviews
Special Notice: Pizza Planet closed for refurbishment on January 11 and will reopen as "Pizza Risso" on November 18. The restaurant will be re-themed around the Muppets. Movie fans may recall that in the movie The Muppets Take Manhattan, Rizzo the Rat and his family work in food service.
Play to your heart's content in this fun-filled arcade inspired by the Disney/Pixar animated movie "Toy Story." At Pizza Planet, you can munch on pizza, salad and drinks, but watch out for Little Green Men!
Restaurant Info: American, Lunch/Dinner/Snack, $ – under $14.99 per adult
Find out how you can save money on dining at Walt Disney World by using one of Disney's Dining Plans.
Pizza Planet Lunch and Dinner Menu
Menu Date: 02/2016
Entrées
Vegetable Pizza – with Mushrooms, Peppers, Onions, and Tomatoes served with Caesar Salad – $9.99
Pepperoni Pizza – served with Caesar Salad – $9.99
Cheese Pizza – served with Caesar Salad – $9.49
Meat Lovers Pizza – served with Caesar Salad – $10.69
Meatball Sub – served with Caesar Salad – $9.69
served with Chips – $9.49
Salads
Antipasto Salad – Salami, Pepperoni, Kalamata Olives, Mozzarella, Tomatoes, Chopped Romain, and Italian Vinaigrette – $8.49
Snacks and Desserts
Cappucino Cupcake – currently featuring Anna Cupcake, Elsa Cupcake & Olaf Fupcake – $5.19

Chocolate-Chip Cookie – $2.99

Holiday Cupcake (seasonal) – $5.19

Beverages
Assorted Fountain Beverages – Coke, Diet Coke, Coke Zero, Sprite, Fanta Orange, Barq's Root Beer, Minute Maid Light Lemonade, Gold Peak Sweet Ice Tea, Gold Peak Unsweetened Ice Tea – $2.99 Regular | $3.29 Large

Pizza Planet Souvenir Cup – with choice of soda – $4.69
Dasani Bottled Water – $2.75

Coffee – Regular or decaf – $2.49

Hot Tea – $2.49

Nestle Hot Cocoa – $2.59

Minute Maid Apple Juice – $2.79

Milk or Nesquik Chocolate Milk – $2.59

Bud Light Draft – $6.25
Yuengling Draft – $7.00
Beso Del Sol sangria – $6.95
Toy Story Pizza Planet Kids' Menu
Menu Date: 08/2015
For Guests Ages 9 and Under
Kids' Meals
All meals includes Carrot Sticks and Applesauce and Choice of small Lowfat Milk or small Bottled Water
Cheese Pizza – $5.99
Mini Chicken Sub – $5.99
*Juice box, small Nesquik chocolate milk or cookie substituted upon request
Mickey Check Meals

Kid's Power Pack – Strawberry Yogurt, Apple Wedges, Carrot Sticks, Goldfish Crakers, Apple-Cinnamon Snack Bar and choice of small Lowfat Milk or small Dasani Water – $5.49

Mini Chicken Sub – $5.99

Meets Disney Nutrition Guidelines for Complete Meals without substitutions

= Snack on the Disney Dining Plan
** Menu and Prices are Subject to Change Without Notice **