Resort Restaurants | Boardwalk Resort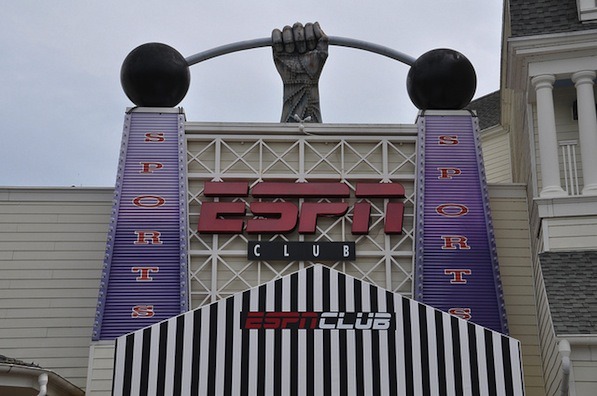 Lunch & Dinner Menu   Kids' Menu  Reviews

Eat, drink, watch and play at ESPN Club, the ultimate sports broadcast entertainment venue.
Restaurant Info: American, Lunch/Dinner/Snack A la carte, $$ – $15 to $34.99 per adult)
Find out how you can save money on dining at Walt Disney World by using one of Disney's Dining Plans.
ESPN Club Lunch & Dinner Menu
Menu Date: 06/2016
Appetizers
Pub Nachos – Corn Tortillas, Barbecued Pulled Pork, Chili, Cheddar Cheese Sauce, Sour Cream, Jalapeños, Pico de Gallo, and Cheddar – $15.00
Crawfish Bites – Crawfish Salad, Marinated Tomatoes, Cucumber-Mango Salsa, and warmed Mini Pitas – $13.00
Pan-fried Potato and Cheese Perogi's – Herb-infused Sour Cream and Caramelized Onions – $10.00
Crispy Fried Florida Pink Shrimp – Cajun Rémoulade, Sherry Aïoli, and Grilled Lemon – $12.00
Tuna Tartare – Cucumber, Pickled Radish, Ginger, Greens, Wasabi Cream, Siracha, and crispy Wonton Ribbons – $14.00
Caramelized Onion Bar Flat – Smoked Bacon, Tomato, Spinach Chiffonade, and Beer-Cheddar Fondue – $14.00
Mediterranean-style Bar Flat – Fennel Sausage, Quattro Formage, Roasted Peppers, and Sweet Pepper Syrup – $14.00
Traditional Margherita Bar Flat – Fresh Mozzarella, Roma Tomato, Marinara Sauce, and Basil – $14.00
Club Fries – ESPN House Chili, Cheddar, and Ale Fondue, Crumbled Blue Cheese, Marinated Tomatoes, crispy Pancetta, and Green Onion – $12.00
ESPN Dingers – Chicken Breast Nuggets tossed in Medium, Hot, Flame, or Barbecue Sauce served with Celery and Blue Cheese Dressing – $10.009
ESPN Wings – Custom Sauce Selections: ESPN Wings: Medium, Hot, Flame, Southern-style Barbecue, Buffalo Blue Cheese, Thai Chili, Sweet Chili, Garlic and Herb Chimichurri – $13.00
Soups and Salads
Clam Chowder – Chopped Bacon, Herb Oil, and Seasoned Oyster Crackers – $8.00
ESPN House Chili – Diced Onions, Shredded Cheddar, Smoked Bacon, Pico de Gallo, and Griddled Cornbread – $9.00
ESPN Caesar Salad – Romaine, Parmesan Crouton Crumbles, Grilled Chicken, and Herbs – $14.00
Hand-crafted Burgers
Old World Bavarian Burger – Grilled Sausage, Potato Pancake, Smoked Bacon Kapusta, and Lager-infused Mustard Emulsion on a Toasted Butter Bun – $18.00
Southwest Burger – Chili, Avocado, Pico de Gallo, Fire-roasted Peppers, Cilantro Cream, and Lettuce – $18.00
Angus Chuck Burger – with Cheddar and Bacon – $16.00
Cuban Burger – Shaved Ham, Swiss, Dijonaise Sauce, and Pickle Chips – $16.00
Caprese Burger – Fresh Mozzarella, Vine-ripened Tomatoes, Arugula, Basil Aïoli, and Balsamic Reduction on Rosemary Focaccia – $18.00
PB & J Burger – Smoked Bacon, creamy Peanut Butter, and Jalapeño Jam on a Toasted Butter Bun – $16.00
Entrees
ESPN Surf and Turf – New York Strip, Shellfish Inspiration, House-made Mac & Cheese, ESPN Steak Butter, and Market Vegetables – $34.00
Chicken and Waffles – Jalapeño-Cornmeal Waffles, Buttermilk Fried Chicken, Angry Maple Chicken Gravy – $15.00
Sustainable Catch – Seasonal Accompaniments – Market Price
Chilled Tuna Niçoise Salad – Seared Tuna, Market Greens, Haricot Verts, warm Potatoes, Grilled Onions, Hard-boiled Egg, Marinated Olives, Tomatoes, and Sherry-Herb Vinaigrette – $15.00
Craft Beer Batter Fish and Chips – with Cajun Tartar Sauce – $15.00
Bourbon-Ale Braised Beef Short Rib – Potato and Roasted Garlic Gratin, Watercress, Pan Gravy, and Market Vegetables – $27.00
Grilled Spice-crusted Pork Chop – Fried Potato Hash, Pickled Vegetables, and Espresso-Barbecue Sauce – $24.00
Grilled Shrimp and Sausage – Marinated Black Tiger Shrimp, Grilled Andouille Sausage, Gumbo-style Risotto, Braised Kale, and Grilled Cornbread – $23.00
Seafood Mac & Cheese – Citrus Gremolata and Seasonal Seafood Selections – $19.00
Pan-roasted Chicken – Bone-In Airline Chicken Breast, Parmesan Risotto, Lemony-Chicken Jus, and Market Vegetables – $22.00
Vegetarian Unplugged – Seasonal Selections – $18.00
Philly Cheesesteak – Traditional-style with choice of Cheese and served with choice of Cucumber Salad or French Fries – $15.00
Pulled Pork Grilled Cheese – Barbecued Pork, Cheddar, Cheese Sauce, and Market Slaw on Texas Toast – $13.00
Hand-breaded Chicken Breast Sandwich – Marinated and Hand-breaded Chicken in Mild Sauce, Pepper Jack Cheese, Tomato, and Leaf Lettuce on a Toasted Bun – $14.00
Turkey Carver Sandwich – Fresh-roasted Turkey, Smoked Gouda, Maple Aïoli, Marinated Tomato, and Seasonal Greens Blend served with choice of Cucumber Salad or French Fries – $14.00
Desserts
Vanilla-Sour Cream Cheesecake and Graham Cracker Crust – with a Salted Caramel – $6.00
The Ultimate Chocolate Fudge Indulgence – Layers of rich Chocolate Cake and Chocolate Fudge Butter Cream with a Raspberry Sauce and fresh Berries – $7.00
Pineapple Upside-Down Cake – Warm Cake served with a Brown Sugar-poached Pineapple Ring, Vanilla-Pineapple reduction, and chilled Vanilla Cream – $7.00
Warm Bourbon-Pecan Brownie – Gooey Bourbon Pecan Brownie topped with Caramel and Vanilla Sauce and Candied Nueske's Bacon – $8.00
Seasonal No Sugar Added Gelato – $6.00
Non-Alcoholic Beverages
Fountain Drinks – Coca-Cola, Diet Coke, Sprite, Barq's Root Beer or Minute Maid Light Pomegranate Lemonade – $3.00
Coffee – Freshly Brewed Joffrey's Coffee – $3.00
Tinker Bell & Friends or Buzz Lightyear Punch – Minute Maid Light Lemonade Punch served in a souvenir Fairies or Cars Cup with a glowing Tinker Bell or Buzz Lightyear Clip-on Light – $7.00
Shake It Off – Chocolate, Vanilla, or Strawberry, Milk Shakes – $5.50
Safety Blitz – Vanilla Ice Milk, Oreo Cookies and Chocolate Syrup – $5.50
Alcoholic Specialties
A selection of bottled and draft domestic, imported and craft beers, as well as cocktails and wines are also available
ESPN Club Kids' Lunch & Dinner Menu
Menu Date: 06/2016
For Guests Ages 9 and Under
Appetizers
Garden Salad – with fat-free Ranch Dressing – $3.00
Baby Carrots – with fat-free Ranch Dressing – $3.00
Mickey Check Meals
All meals include choice of small lowfat milk or small Dasani water.

Seasonal Grilled Fish – with Seasonal Vegetables, Roasted Potatoes, and Fruit Salad – $11.00

Grilled Chicken – with Pico de Gallo, Seasonal Vegetables, Roasted Potatoes, and Fruit Salad – $10.00

Meets Disney Nutrition Guidelines for Complete Meals without substitutions.
Kids' Choice Meals
Choice of one Entree, one Beverage, and one Dessert
Entrees
Cheeseburger – French Fries – $8.25
Hot Dog – French Fries – $7.25
Desserts
Fruit Salad
Worms and Dirt Cupcake
Beverages
Small Lowfat Milk
Small Dasani Water
Small Minute Maid Apple Juice
French fries and soft drinks available upon request.
** Menu and Prices are Subject to Change Without Notice **