Disney's Hollywood Studios | Pixar Place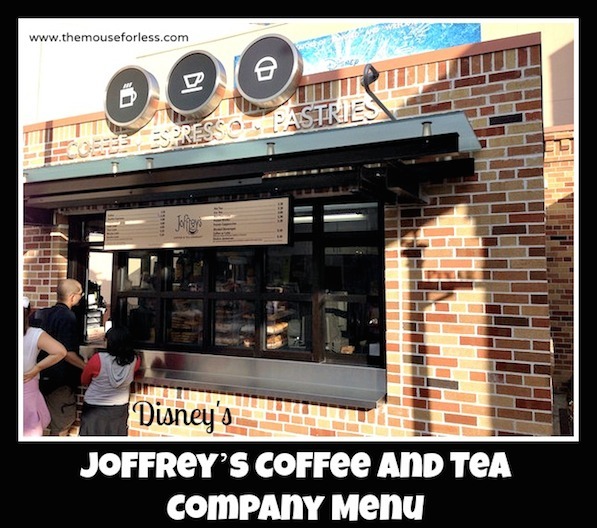 Reviews

Joffrey's Coffee and Tea Company Kiosk is located at Pixar Place serving the typical Espresso Coffee & Pastries menu.
Restaurant Info: Beverage Kiosk, $ – under $14.99 per adult
Find out how you can save money on dining at Walt Disney World by using one of Disney's Dining Plans.
MouseForLess Tip: If you visit Joffrey's Kiosks at Walt Disney World often, ask for the unadvertised loyalty card that gives guests a free beverage for every seven purchased. Valid with any Joffrey's coffee, tea, espresso, smoothie or alcoholic beverage purchase. Free drink excludes alcoholic beverages. Available at Joffrey's Kiosks Throughout Walt Disney World Resort.
Joffrey's Coffee Menu
Menu Date: 03/2016
Coffee – $3.39

Double Espresso – $3.49

Cappuccino – $4.89

Cafe Latte – $4.89

Chai Latte – $4.89

Mocha Latte – $5.39

Flavored Latte – Vanilla, Caramel, Hazelnut, or Irish Cream – $5.39

Whole or Skim Available. All Coffee Drinks Available Iced.
Hot Tea – $3.39

Peach Iced Tea – $3.99

Hot Chocolate – $3.89

Frozen Drinks – $5.39

Frozen Cappuccino – $5.39

Joffrey's Coffee and Tea Pastries
Assorted Cookies – $3.99
Assorted Muffins – $3.99
Assorted Donuts – $3.99
Alcohol Beverages
Coffee or Latte – add Baileys Irish Creme, Grey Goose Vodka, Kahlua or Jameson Irish Whiskey – $8.49 / 8oz
Shakin Jamaican – Signature frozen Cappuccino with Kahlua topped with Whip Cream – $8.49
Seasonal Specialties
Iced Bailey's Latte – a spirited iced latte of rich espresso creamy mil, and a shot of Baileys Isrish Creme Liquor – $8.49
Cinnamon Dolce Latte – a sweet and creamy iced latte blended with espresso, caramel sauce, cinnamon and vanilla flaoring – $5.39

Iced Irish Cream Latte – blend of espresso with toffee notes, rich and nutty aroma with hints of chocolate and vanilla flavors, topped with milk and poured over ice. Slainte! – $5.39

** Menu and Prices are Subject to Change Without Notice **