Resort Restaurants | Boardwalk Resort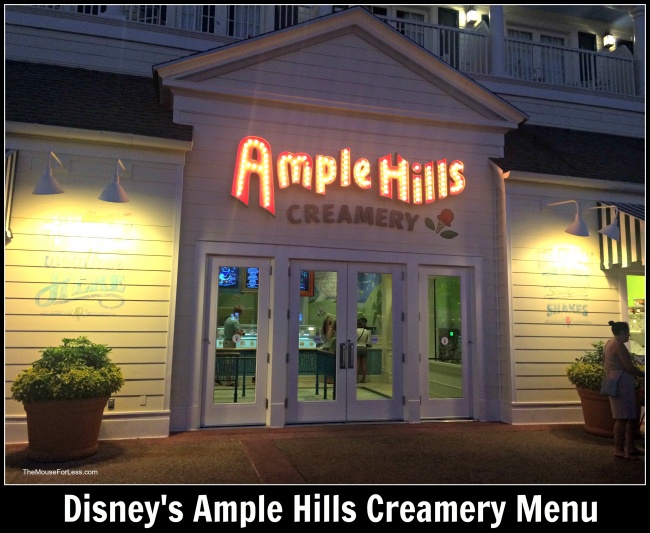 Ample Hills Creamery, known for their creative approach to all things ice cream, features unique flavors such as Ooey Gooey Butter Cake, Malty Salty Pretzel Punch, Coffee Toffee Coffee, and a one-of-a-kind flavor exclusive just to the Walt Disney World Resort. An on-stage kitchen will give Ample Hills Creamery guests a look at the ice cream making processing using grass fed cows milk, organic cane sugar and made-from-scratch ingredients.
Restaurant Info: American, $ – under $14.99 per adult
Find out how you can save money on dining at Walt Disney World by using one of Disney's Dining Plans.
Ample Hills Creamery Menu
Menu Date: 11/2017
Ice Cream
Ice Cream Flavors: Sally Sells Seashells, Peppermint Pattie, Sweet Cream n' Cookies, Chocolate Milk and Cookies, Ooey Gooey Buttercake, PB Wins the Cup, Cotton Candy, Coffee Toffee Coffee, Butter Pecan Brittle, Nonna D's Oatmeal Lace, Vanilla Bean, Baked/Unbaked, Dark Chocolate, Malty Salty Pretzel Punch, Lemon Sky, Strawberries and Cream
Toppings: Rainbow Sprinkles, Chocolate Sprinkles, Mini M&Ms, Chocolate Chips, Chocolate Syrup, Caramel Syrup, Whipped Cream, Cherries
Cup of Ice Cream – $5.79 Small | $7.49 Large
Cake Cone – $5.79 Small | $7.49 Large
Waffle Cone – $6.79 Small | $8.49 Large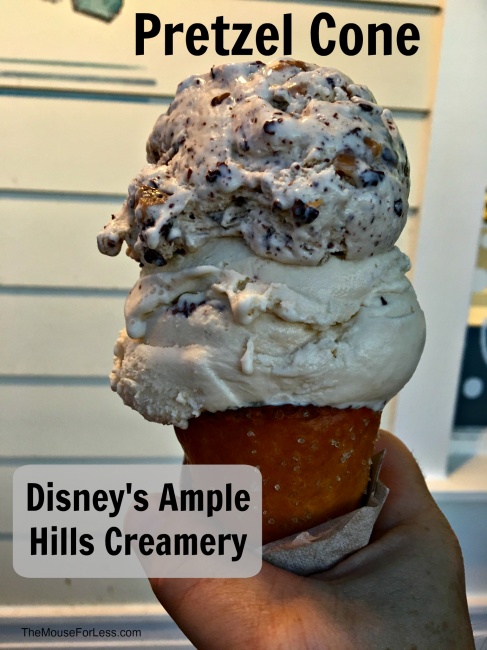 Fancy Cone – Cookie Spiral, M&M, Pretzel, or Chocolate Chip – $7.99 Small | $9.49 Large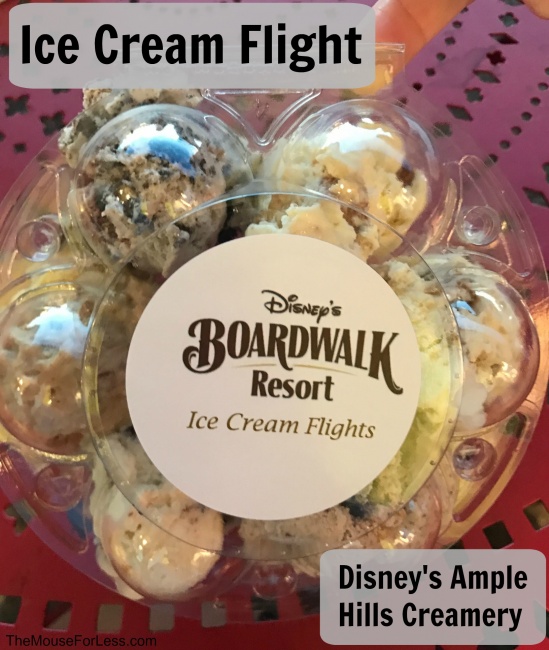 Ice Cream Flight – Small scoops of 6 flavors of ice cream – $10.19
Ice Cream Sundae – Brownie or Ooey Gooey Buttercake – $8.49
Milkshake – $8.49
Alcoholic Desserts
Hard Black Cherry Float – McKenzie's Black Cherry Hard Cider paired with a scoop of Dark Chocolate Ice Cream
Hard Root Beer Float – Coney Island Root Beer paired with a Scoop of Vanilla Bean Ice Cream
Lemon Sky Prosecco – Ruffino Prosecco paired with a scoop of Lemon Sky Sorbet
** Ample Hills Menu and Prices are Subject to Change Without Notice **