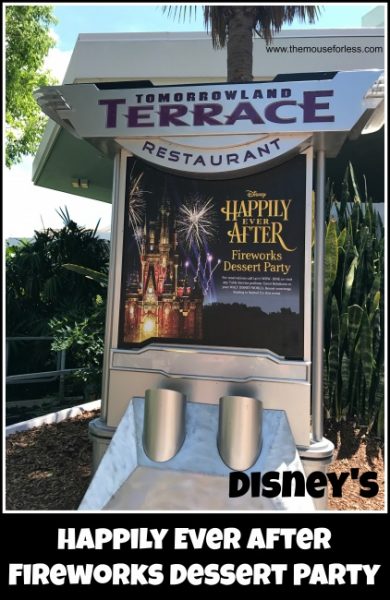 Wishes ended its 14 year run on May 11, 2017.
Magic Kingdom park visitors can attend the seasonal The Happily Ever After Fireworks Dessert Party for an additional charge. This event takes place on select nights at the Tomorrowland Terrace near the Noodle Station and includes reserved viewing for Disney's nighttime spectacular, "Happily Ever After," as well as a self-serve buffet.
The Desserts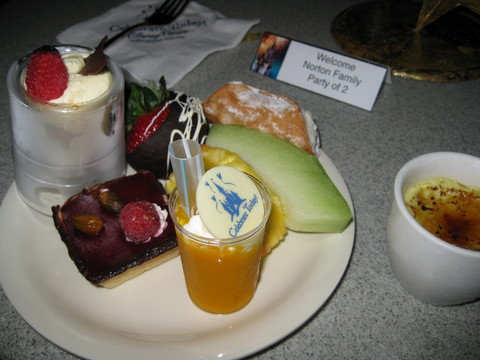 The buffet is all you care to eat and drink and offers the following. Menu is subject to change. There are also items for guests with special dietary needs–just ask a cast member for assistance. It is recommended to include dietary restrictions with the reservation.
Fresh Fruit
Assorted Cheeses
A Villains Chocolate Cupcake: inspired by Ursula with purple buttercream and chocolate crispy pearls
Pineapple Delight: a Dole Whip-inspired treat, light and fresh with whipped pineapple panna cotta with pineapple compote and a fresh pineapple spear
Chocolate Dipped Strawberries
Chocolate Marshmallow Tart: a graham cracker tart with chocolate custard topped with marshmallow meringue and a chocolate bar.
Macarons: in flavors such as pistachio, raspberry, lemon, chocolate, coffee and vanilla.
Cheesecake Brownie Bites: a brownie topped with chocolate chip cheesecake and whipped cream, a drizzle of chocolate and more chocolate chips.
Strawberry Tart: a vanilla tart shell filled with lemon curd and raspberry sauce with a little strawberry mousse, strawberry crisp pearls and a little whipped cream with a fresh berry.
The "Happily Ever After" Cupcake: red velvet cake with yellow buttercream icing with a "Happily Ever After" chocolate garnish.
Chocolate Almond Cake: raspberry sauce in the center and a fresh raspberry on top.
Oreo Mickey Treat: whipped Oreo panna cotta topped with two chocolate ears and sprinkled with chocolate pearls on top of an Oreo.
Beverages include: Sparkling Cider, Hot Chocolate, Signature Lemonades, Coffee, and Tea
Happily Ever After Fireworks Dessert Party Information and Options
There are two tiers for this Dessert Party – The Tomorrowland Terrace Priority Seating and The Plaza Gardens View.
Dessert Party with Plaza Garden View
This dessert party begins 75 minutes prior to the nightly fireworks. Guests will be seated and given plenty of time to enjoy the dessert buffet. Then guests will travel to a reserved Plaza Gardens viewing area to watch the fireworks with an unobstructed view. Guests will generally stand for the fireworks. This viewing area provides a nice view of the show along with the opportunity to enjoy unlimited desserts and beverages.
Dessert Party with Tomorrowland Terrace Priority Seating View
The Fireworks Dessert Party begins nightly one hour prior to "Happily Ever After" (or other seasonal fireworks) and continues through the fireworks display with staggered seating times. Those who reserve the earliest get the best seating. Tables are assigned with name tags and a Cast Member will escort your party to the correct table after you sign in. The area seats approximately 170 people. Guests are given a wristband which allows them to leave the area to seek bathrooms and return. A PhotoPass photographer will be on hand to take pictures prior to the start of the fireworks. Once the fireworks begin, most guests line up along the terrace railing, as the balcony roof obstructs the view of those seated farther back. Guests are asked not to bring their chairs to the railing. Overall, the view is no-hassle, above average, and provides the perfect vantage point to see Tinker Bell fly from the castle and glide directly overhead.
Reservations are highly recommended. To make an advance reservation call (407) WDW-DINE or make Advance Dining Reservations online. While Disney says that you may book up to 180 days in advance, typically in the past, this event is scheduled no more than than 30 to 60 days out. Recently, however, Disney has begun making it available up to 6 months out. When dates do open, it's generally an entire month at a time. Your seating time will be assigned when you make your reservation. The Fireworks Dessert Party can also be reserved through any Guest Relations, Resort Concierge or Table Service dining location.
Pricing
Prices for Fireworks Dessert Party with Tomorrowland Terrace Priority Seating:
Regular Pricing: $79, tax included (ages 10 and above)
Regular Pricing: $47, tax included (ages 3 – 9)
Pricing does not include park admission
Pricing for Fireworks Dessert Party with Plaza Gardens View:
Regular Pricing:$59, tax-included (ages 10 and above)
Regular Pricing: $35, tax-included (ages 3-9)
Pricing does not include park admission
Note: The above pricing may increase during peak times at Walt Disney World Resort.
Note: On occasion, Happily Ever After may be replaced with another fireworks display in honor of a holiday or hard ticket event. If this is to occur, the Fireworks Dessert Party, if it will be offered, will take place as scheduled one hour prior to its replacement show.
Pre-payment is required for advance reservation and there is a 24-hour advance cancellation. There is no refund if the fireworks are canceled due to inclement weather. Seating is limited (160 people maximum) and walk-ups will be accept on a first-come, first-serve basis if advance reservations are not sold out. Separate park admission to Magic Kingdom Park is required. Payment Methods Accepted: Visa, American Express, Disney Rewards Card, Master Card, Diners Club Card, Gift Card, Disney's Visa Credit Card, Discover, JCB, Disney Gift Card, Dreams Reward Card. The Disney Dining Plan is not accepted as payment for this event.