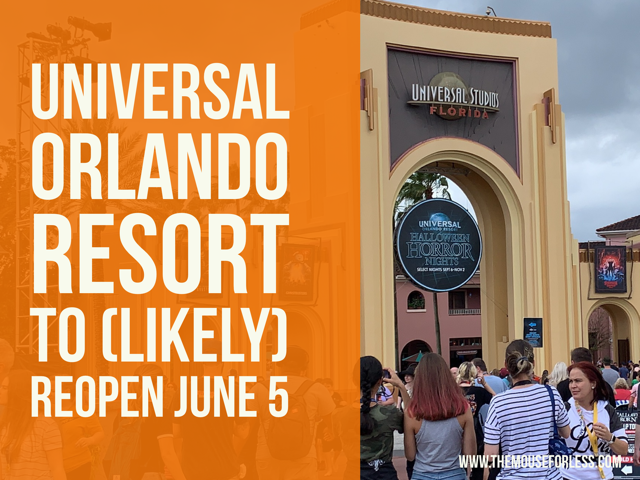 (Universal Orlando no longer require fully vaccinated guests to wear face coverings effective Saturday, Feb. 12, 2022)
After its lengthy closure due to the Coronavirus concerns, Universal Orlando Resort has proposed to (and likely will be) reopening officially to all Guests beginning this June!
The parks will be reopening in a gradual, capacity managing way. The resort overall will be opening beginning June 1 and 2. This will be for Team Members to learn the ins and outs of how the park will be run. Then beginning June 3 and 4, the parks will be open for invited Guests, like Annual Passholders. Finally, Universal Studios Florida and Islands of Adventure will officially reopen to all Guests beginning on June 5.
Throughout the re-opening there will be a heavy emphasis on keeping capacity managed not just for those who are entering the parks, but also across the attractions, stores, and dining establishments, as well. The main goal is to ensure that the parks will not be overcrowded and the number of Guests who will be allowed in the parks are going to be less than they would be in normal situations.
There are three different key points that will be taken into consideration throughout the reopening to keep Guests and Team Members safe – screening, sanitation and spacing.
According to a report given to the Orange County Economic Task Force Meeting, there will be a number of things that both Guests and Team Members will need to adhere to in order to enter the parks. Here is what we know so far:
Universal wants to create as many touchless experiences for Guests whenever they can.
Guests will see signage throughout the resort that will be frequent and very clear, specifying the procedures that are in place.
Guests will need to have their temperatures checked every single day the main entrances before entering the park and those with a temperature above 100.4 F will need to take part in additional screening. Team Members will also be checked before coming in to work.
In addition, not only will all Team Members need to wear masks, but all Guests will also be required to wear masks. Those who do not bring a mask with them to the park will be provided with a free disposable mask from Universal Orlando Resort.
Valet parking will not be available.
Guests will not be able to take part in interactive play areas and for those attractions that include water features, those features will be turned off or minimized. (So, you won't be sprayed on each and every attraction with water moving forward.)
For those waiting in lines, you'll see virtual lines being implemented more often throughout the attractions in the parks, which will allow for more social distancing.
Single rider lines will be removed. Guests will ride attractions only with their immediate party; they will not be placed with other Guests.
Distance markers in many locations indicating where Guests should stand will be at least 6 ft apart and in many places, exceed that distance.
For live shows, there will no longer be the opportunity to take part in post show meet and greets.
At the restaurants, all menus that are handed to Guests will be converted to paper menus that can be disposed of.
Mobile Ordering will be available and is strongly suggested. In addition, contactless payments are going to be strongly suggested. Cash will be accepted, but it's strongly suggested that you don't pay with cash.
Hand sanitizer will be found at the entrance and exit of every attraction, merchandise venue, and dining establishment.
Guests will find ambassadors throughout the park to answer any questions that there may be about these new procedures.
For those who would like to watch the full video that includes all of the details that were laid out by Universal, click here. Of course, we mention likely, because while this has been approved by the Orange County Economic Task Force, it still needs to go through remaining approvals to be official.
Universal's CityWalk has been reopen since May 14 for Guests. Universal Orlando Resort closed back on March 16.

Planning a Universal Vacation?