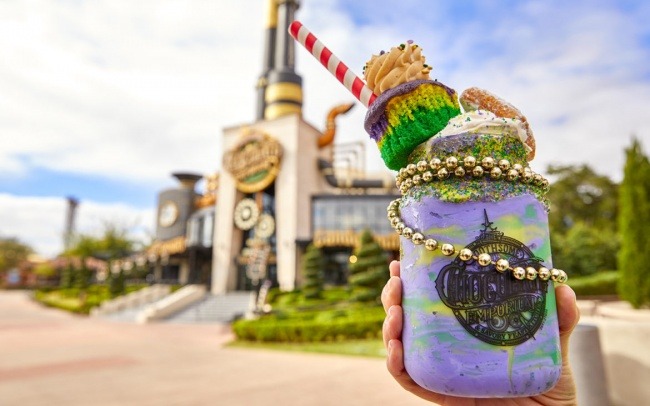 Feet don't fail us now, as we run over to Universal Orlando Resort to celebrate in the deliciousness that is Mardi Gras food and beverage!
The Mardi Gras celebration kicks off this Saturday, February 1 at Universal Studios Florida and this year there will be a large number of options to indulge in. Let's take a look.
Carnival Around the Universe
First, things first is the brand new Carnival Around the Universe Tent, which will happily take us on a journey to different carnival celebrations globally. Every couple of weeks, a new dish will be available that celebrates each country's favorite options for celebrating the event. Here's the list of which booths will be available and what options you can pick up:
Trinidad & Tobago (Week 1 & 2)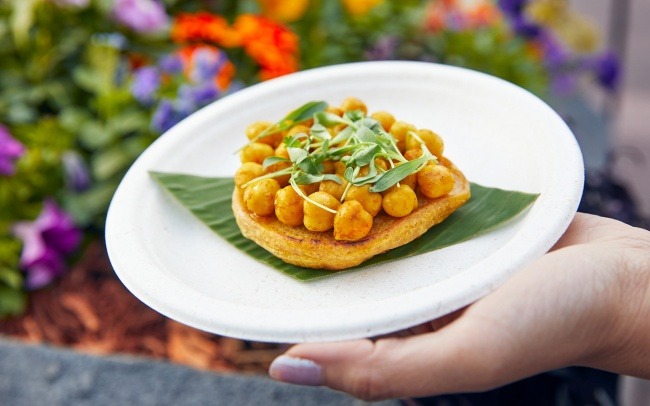 Grilled Pineapple Trini-Chow (topped with kimchi seasoning and cilantro)
Pholourie (fried spicy split pea dough with turmeric, curry powder and tamarind chutney)
Chickpea Double (served on spicy bara flatbread with cilantro and mango chutney)
Louisiana Creole (Week 3 & 4)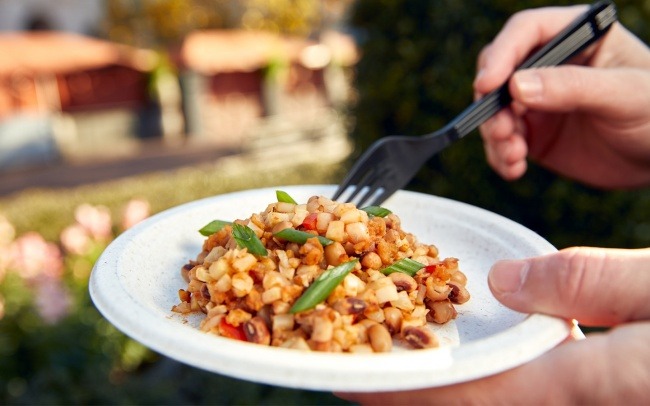 Softshell Crab Slider (softshell crab with organic veggie slaw and a bayou aioli)
Cauliflower Dirty Rice (riced cauliflower with plant-based protein crumbles, black eyed peas and Cajun spices)
Brazil (Week 5 & 6)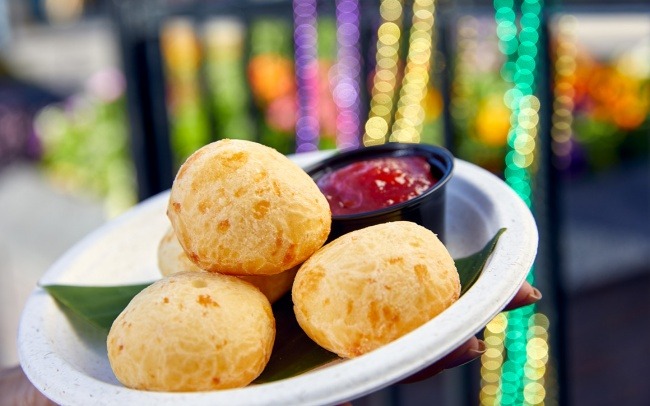 Pao de Quiejo (warm cheese bread served with guava dipping sauce)
Sweet Plantains (covered in cinnamon and sugar served with banana poppy seed dipping sauce)
Germany (Week 7 & 8)
Sauerbraten (slow braised beef with buttered spaetzel, pickled red cabbage and topped with a red wine sauce)
Grilled Bratwurst (served on a potato pancake with whole grain mustard, sour cream and chives)
Warm Pretzel
All the Mardi Gras food and drinks are offered in sampling sizes, so the best idea is to pick up the Mardi Gras Tasting Lanyard, so you can enjoy multiple offerings on any of the event nights. The Mardi Gras Tasting Lanyard allows you the opportunity to enjoy jambalaya, beignets and more in sampling sizes. An exclusive Lanyard for Passholders is also available.
New Mardi Gras Drinks
This year, there are a bunch of new drinks available along with new souvenir cup designs. A certain number of these specialty drinks will only be available with the purchase of a food item at the location they are served.
Available in the full 20 oz specialty drinks: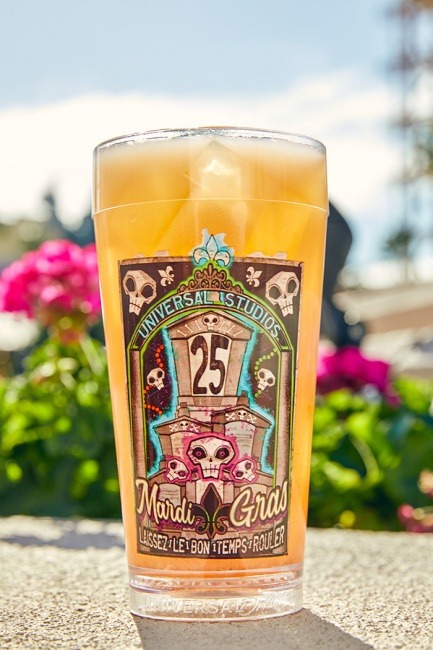 High Seas Twister (like a rum punch)
Blue Voodoo (blue margarita)
Carnival Lane (gin drink with fruit juices)
Baby Cakes (vodka drink that tastes like king cake)
Bourbon Street Punch (exclusive to the Bayou Boil)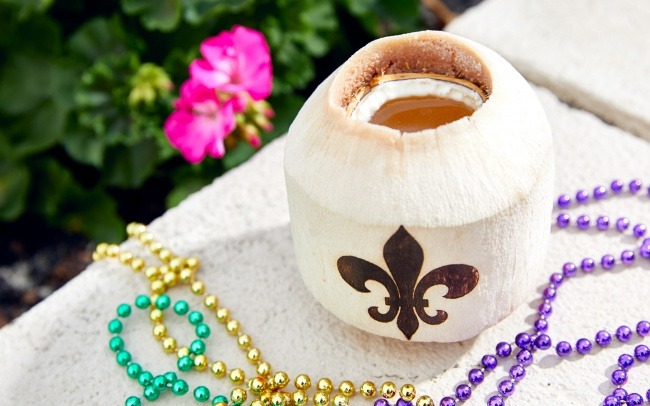 Coconut Water in a Coconut (non-alcoholic and available only during week 1 & 2 of Carnival Around the Universe)
Available for food & beverage 9 oz pairings ONLY:
Hoodoo Cold Brew (pecan vodka cold brew)
Cajun Bloody Mary
Pecan Street (vodka caramel drink available only during week 3 & 4 of Carnival Around the Universe)
Girl from Ipanema (gin coconut drink, available only during week 5 & 6 of Carnival Around the Universe)
Float Floats
These beverages are inspired by some of the floats from the Mardi Gras parade, which is themed to the Treasures of the Deep. You can find these over at Schwab's Pharmacy in the Hollywood section of Universal Studios Florida.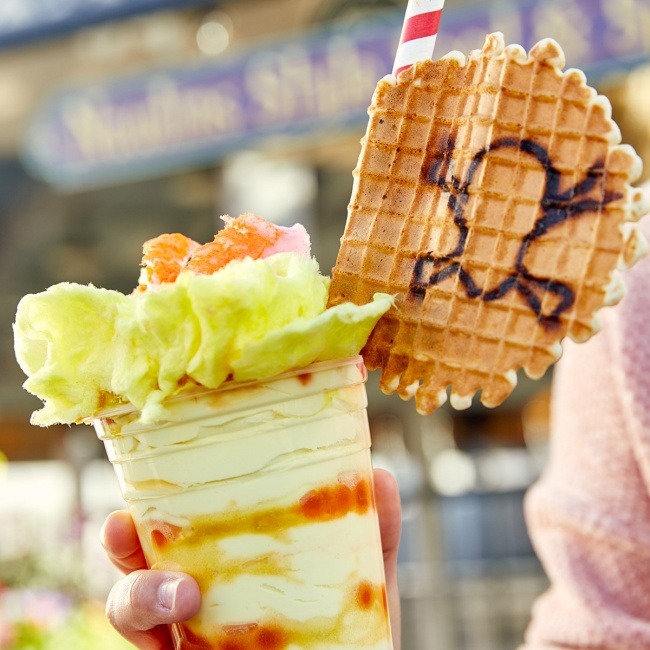 Shipwreck (pineapple soft serve ice cream, chocolate soft serve, pineapple soda, cotton candy and waffle cone flag)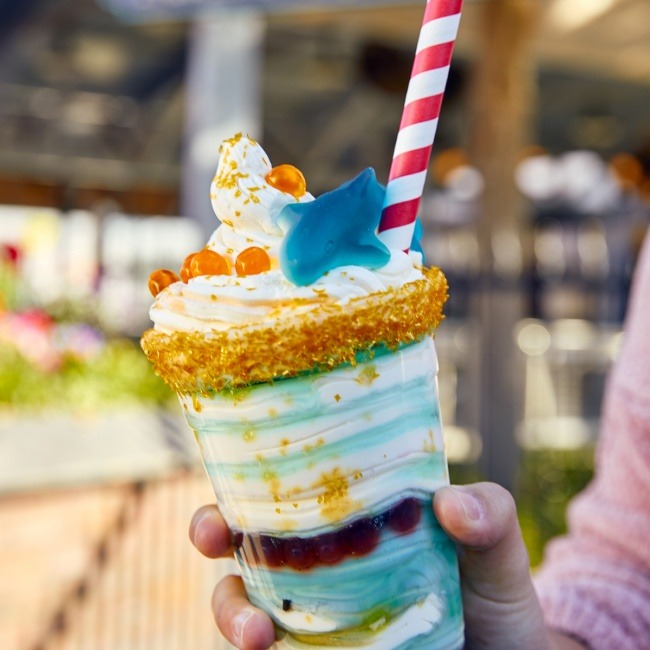 Sunken City of Atlantis (vanilla soft serve, wild berry soda, mango boba and gummy shark)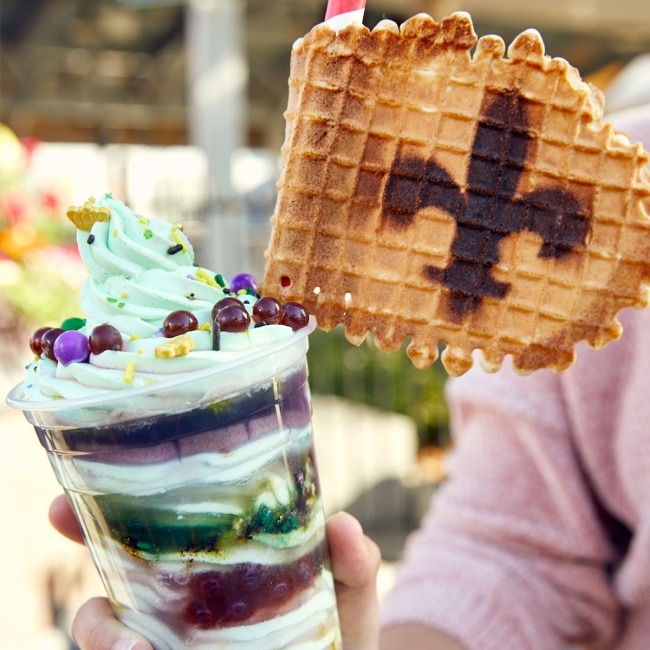 Mardi Gras (pineapple and lime soft serve ice cream, grape soda, blueberry boba and waffle cone flag)
Also, the Mimosa Bar is returning over at Cafe La Bamba with eight different mimosas. The King Cake Slushie and Bayou Bog Water are also back for the kiddos.
Mardi Gras Classics
Of course, you can't have Mardi Gras without the delicious Cajun classics. Returning to The French Quarter Courtyard are favorites like:
Beignets
King Cake
Jambalaya
Shrimp Gumbo
Red Beans & Rice with Shrimp
Cajun Twisted Tater
Gator Bites
Crab Etouffee
Shrimp & Andouille Po' Boy
Sausage Po' Boy
Catfish Po' Boy
Chicken & Andouille Po' Boy
Bayou Boil
If you're really hungry, consider purchasing the Bayou Boil! It features crawfish, shrimp, chicken and andouille sausage jambalaya, potatoes, and corn on the cob for your entree and then an endless supply of beignets and king cake for dessert.
The Bayou Boil is hosted over in Battery Park down by the lagoon with a private dining area and bar. It has a limited capacity to allow for a more intimate setting, and you sit family style with other guests. Later that evening you'll head over to a private area in front of Cafe La Bamba for the parade. The cost of the Bayou Boil is $59.99 per adult, plus tax and $39.99 per child, plus tax.
Mardi Gras Feast & Floats Dessert Party
The dessert party gets you VIP viewing of the Mardi Gras parade and Universal's Cinematic Celebration. You'll gather an hour before the parade at Cafe La Bamba for hors d'oervres specialty desserts, sparkling wine, sparkling cider and non-alcoholic drinks. Then you'll enjoy non-alcoholic drinks in an exclusive viewing area in Central Park for the Cinematic Celebration nighttime show.
The Mardi Gras Party Continues in Universal CityWalk
CityWalk is getting in on the festivities with fun, new Mardi Gras themed food and drinks. Here's what you can get and where:
Toothsome Chocolate Emporium & Savory Feast Kitchen: The French Quarter Milkshake (everything king cake in a glass)
Voodoo Doughnut: Mardi Gras Doughnut (filled with cinnamon sugar bavarian cream)
The Cowfish: Masquerade Martini (grape vodka with blue curacao and citrus flavors)
Bob Marley – A Tribute to Freedom: Party Gras Drink (vodka and coconut rum with pineapple flavors) and the Voodoo Doctor Drink (classic margarita with a hint of black raspberry)
Pat O'Brien's: Taste of Nola (red beans and rice, crawfish and andouille etouffee and blackened chicken with creole sauce)
Hot Dog Hall of Fame: Mardi Gras Muffuletta Platter (footlong hot dog with traditional muffuletta dressing)
Bread Box: Roast Beef Po'boy (shaved roast beef and gravy with toppings)
Cinnabon: King Cake Bon (classic Cinnabon dressed up in its Mardi Gras best)
CityWalk Food & Beverage Carts: The Jester Drink (apple whiskey with melon flavors)
Universal's Mardi Gras takes place from February 1 through April 2 and includes the nightly parade, live concerts, entertainment, and more. Best of all, this is the 25th anniversary of the event, so you know the party is gonna be big!

Planning a Universal Vacation?