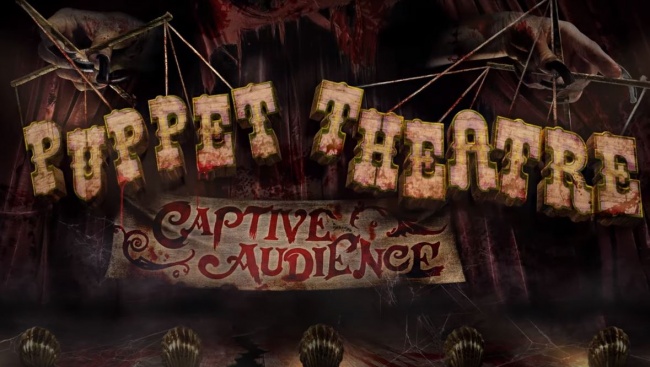 We all were severely disappointed to learn that this year, Halloween Horror Nights would not be occurring. And while we did get a little scary and gory fun with Halloween Horror Nights Lite this year and the two houses that were offered to Guests on a daily basis – Universal Monsters: The Bride of Frankenstein Lives and Revenge of the Tooth Fairy, as well as some other great offerings like themed food and beverage, the tribute store, and more, it just wasn't quite the same. (Of course, we didn't expect it to be…we do live in these weird COVID times right now, so the fact that we got anything was a small miracle.)
But, with Halloween season soon coming to an end, Universal Orlando wanted to share a little treat with us. (Or maybe it is a trick, it is a haunted house after all).
Announced officially as the first house for Halloween Horror Night 2021 is Puppet Theater: Captive Audience. In this video, which was shared on YouTube, Universal Orlando shared a behind the scenes experience of this upcoming house with Michael Aiello, who is the Senior Director of Creative Development for Universal Orlando Resort, Greg Nicotero, an award winning Executive Producer, Director and Makeup Effects Artist (if you have ever watched The Walking Dead, you would have seen his work), and Charles Gray, Senior Show Director for Universal Orlando Resort.
If you've ever wanted to see what goes on to make the houses the way they are, plus, if you want to learn more about the horror you'll experience next year when touring through Puppet Theater: Captive Audience, this is a must watch video!
While we are definitely disappointed we couldn't see the houses this year, we know that this just gives Universal Orlando even more time to create a truly terrifying event next year, which will be the official 30th anniversary of this event. (This year was supposed to be the 30th, for those keeping score.) Are you excited about getting to experience Halloween Horror Nights next year?

Planning a Universal Vacation?