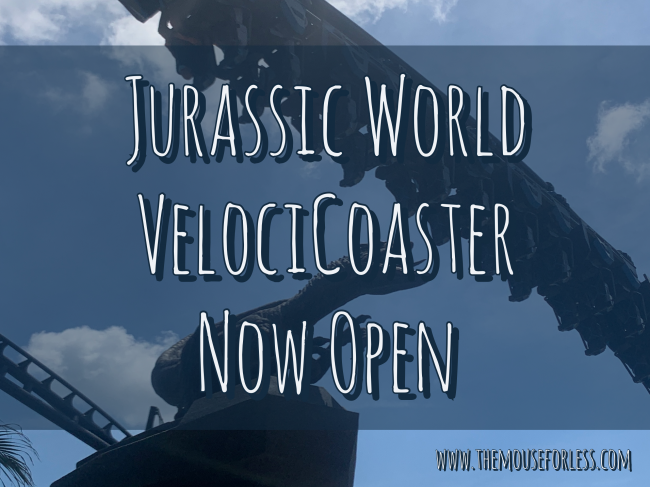 Are you ready to come face to face with a raptor and brave the hunt? Well, with the brand new Jurassic World VelociCoaster at Universal Orlando Resort, you'll be able to do just that. All while reaching a max speed of 70 miles per hour and experiencing some incredible thrills. (Trust me….I've ridden the coaster and there are some definitely moments that take your breath away!)
The Story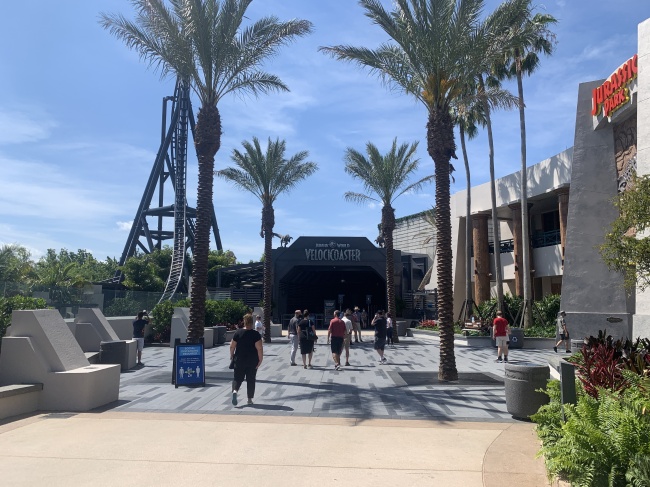 The story behind the Islands of Adventure attraction is that the ride takes place shortly before the events of the first Jurassic World film where Claire Dearing has already green-lit development for the Indominus rex. But it seems that that exhibit is slightly delayed. Since the Velociraptors are responding to Owen Grady's command, Claire decided that it would be a great idea to construct a roller coaster right in the middle of a Raptor paddock. What could go wrong? Well….a lot….especially with hungry raptors!
The Queue
Guests will begin the journey in an amazing queue, where you'll see a sculpture representation of Jurassic World's four star Raptors – Blue, Delta, Echo, and Charlie. You'll also see a safety message from Mr. DNA.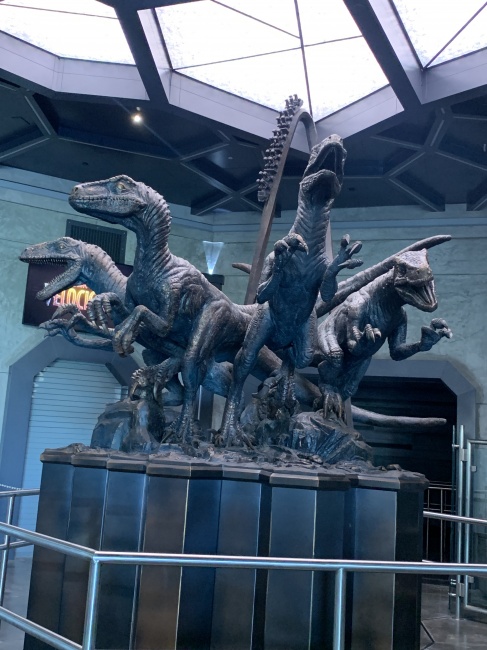 Next you'll find yourself in a unique position…you've got a front row seat to that 70mph launch! Oh and keep your eye out because you may see Raptors chasing after.
From there, you'll come face to face with two Velociraptors – Delta and Echo. Trust me when I say that you will actually be able to feel them breathing on you. You would swear they were actually real dinos.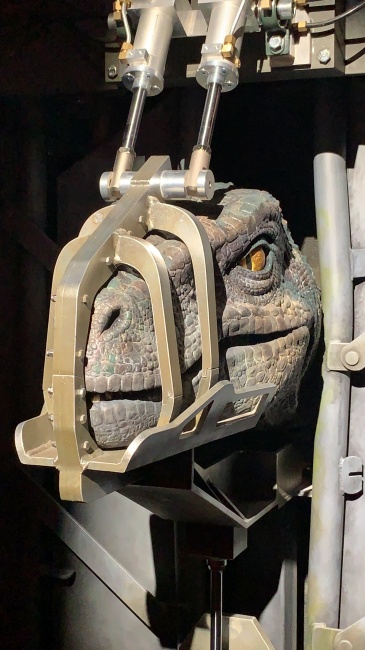 Finally, before riding the attraction, you'll watch a safety briefing from Claire Dearing. We also see Owen from the Raptor Dispatch and he has a warning for you before loading onto the ride.
The VelociCoaster
As far as the ride itself goes, it's the fastest and tallest launch coaster in Florida. It features FOUR inversions and yes….you are only strapped in with a lap bar restraint. (No over the shoulder harness for those upside down moments, which is totally nerve-wracking!) Guests will blast off with that aforementioned 70mph launch which will get only take 2.4 seconds.
Then, you'll launch to 50mph in 3 seconds before experiencing one of the most incredible feelings ever – the 155ft tall "Top Hat". Trust me….you will feel like you are flying as you crest over that hill, which drops you 140 feet down at 80 degrees.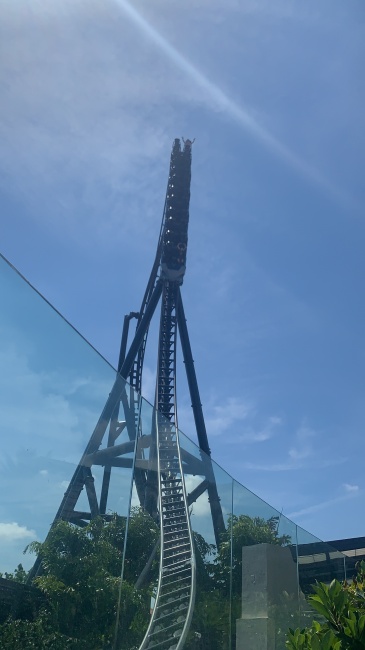 The best part, the part that truly had me awe-struck was the barrel roll over the water at the very end. The feeling you experience here is one of the most intense moments I've ever had on a coaster.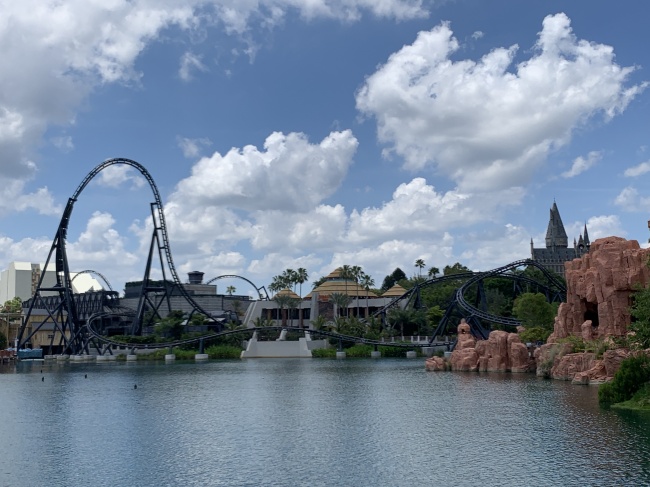 VelociCoaster Facts
Here' are some really amazing facts about the VelociCoaster:
VelociCoaster has no brakes until the ride is over.
It is the fastest roller coaster at any Universal park.
VelociCoaster does not slow down. Instead, it actually speeds up. That's right, the second half of the ride is faster than the first, and it maintains some of its fastest speeds all the way to the final brakes.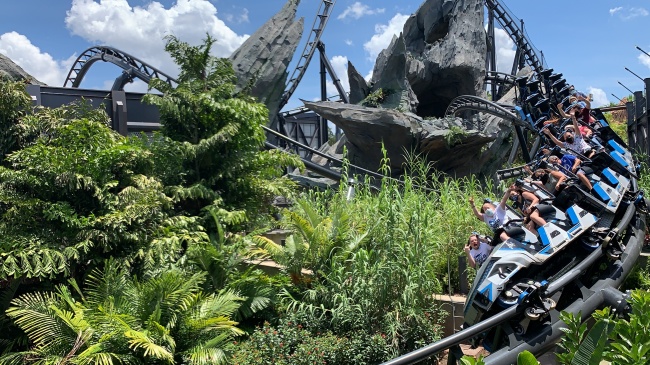 VelociCoaster has more extreme airtime than any other coaster at Universal. It's all about speed, airtime, and direction changes. This airtime will be experienced not only right-side-up, but also upside down, and even sideways.
There are several inversions on this ride that are not experienced on any other Universal coaster:

A dive loop where you rotate upside down while floating in your seat before diving down to the ground
An inverted stall where you quickly flip upside down and are weightless in your seat while navigating 100ft of inverted track
A one-of-a-kind high speed barrel roll taken at around 50 mph where you roll upside down 360 degrees only a few feet from the surface of the lagoon
To be able to ride the Jurassic World VelociCoaster, you must be 51″. Child Swap is available upon request and there is an awesome family room for Guests with little ones to wait in.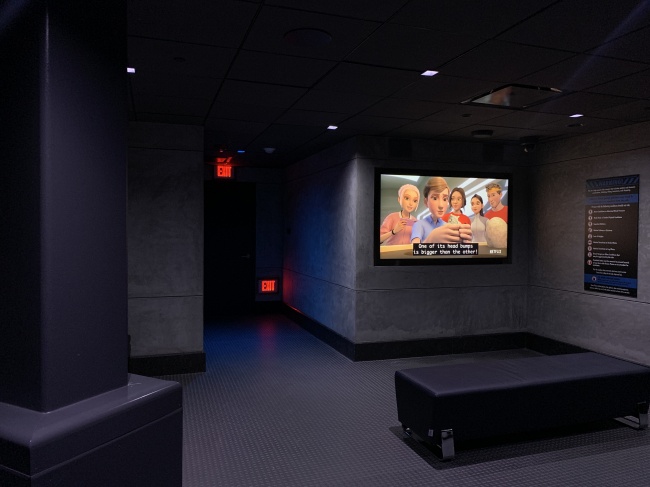 Guests will need to utilize a locker, as no loose items are allowed. Lockers here are unique though, since they are dual sided! You put your items in one side, but take them out on the other side!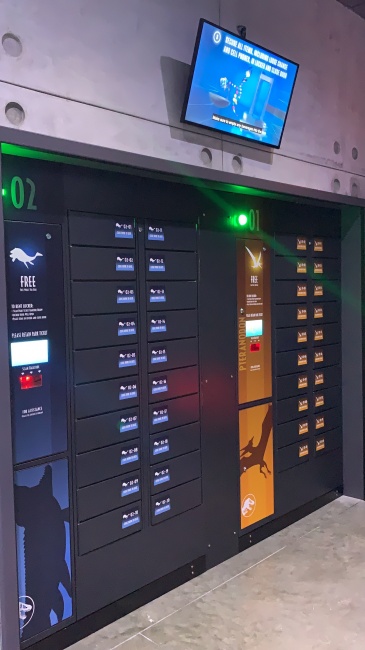 Videos
Take a look at our attraction overview video from our YouTube channel here:
And if you want to see our first impressions after riding, you can find that here:
,

Planning a Universal Vacation?