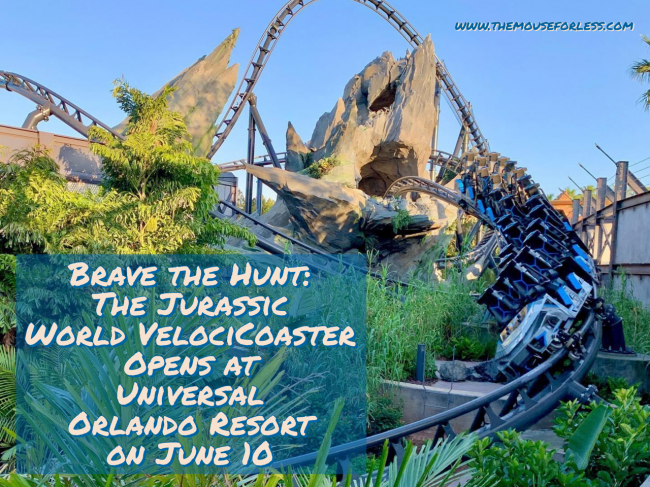 Can you hear me screaming? I don't know if it's because of excitement or fear. That's because on June 10, the newest roller coaster in Orlando will be opening at Universal Orlando Resort. The Jurassic World VelociCoaster will be found in the Jurassic Park/World section of Universal's Islands of Adventure and from just the few glimpses we've gotten of it, it looks insanely amazing!
The Story
As with all attractions, there is a great backstory and the VelociCoaster is no exception. The attraction is the latest innovation from Claire Dearing (Bryce Dallas Howard). She built the coaster in order to drum up business at the dinosaur park. The goal? It would allow visitors to observe the raptors from a unique perspective. Plus they would be able to get up-close in a relatively "safe" with the dinos. Owen Grady (Chris Pratt), however, has some issues and warns about the potential problems of this kind of interaction between dinosaurs and humans. Of course, as it usually happens – things will go horribly wrong. Yep….you guessed it, the raptors will escape from their paddock. And guess what? They will be chasing you.
"You're going to be the prey," says Thierry Coup, senior VP and chief creative officer at Universal Creative. "What better premise for a themed coaster?"
During your ride on the VelociCoaster, Guests will be able to feel the rush of the hunt. Guests will be in for a high-speed dash through the park's raptor paddock, as you race alongside these predators. You will twist and soar above the land and water. The VelociCoaster will feature two intense launches and four inversions. One launch will have you hitting 70 mph in 2.4 seconds (making it the fastest coaster at Universal Orlando) and you'll go soaring up and over a 155-foot top hat tower.
For the finale, the VelociCoaster will perform a 360-degree barrel-roll inversion just a few feet above the lagoon. Here you will feel weightless as you sail along the water. In total, the ride will deliver 12 seconds of airtime.
Oh and, by the way, during your journey, you're only held in by a lap bar! With that being said, the VelociCoaster doesn't have an overly tall height requirement. Guests will only need to be 51 inches to experience the attraction.
During the overall attraction, Guests will see Bryce Dallas Howard and Chris Pratt, but they will also see BD Wong as Dr. Henry Wu. And yes, raptors, Charlie, Delta, Echo and Blue, also have roles.
Brave the Hunt
Take a look at what the experience will be like.
More details about the coaster can be found in this great USA Today article.
Who else is ready to go woah, because trust me….that's what you'll be saying when you experience the VelociCoaster.

Planning a Universal Vacation?