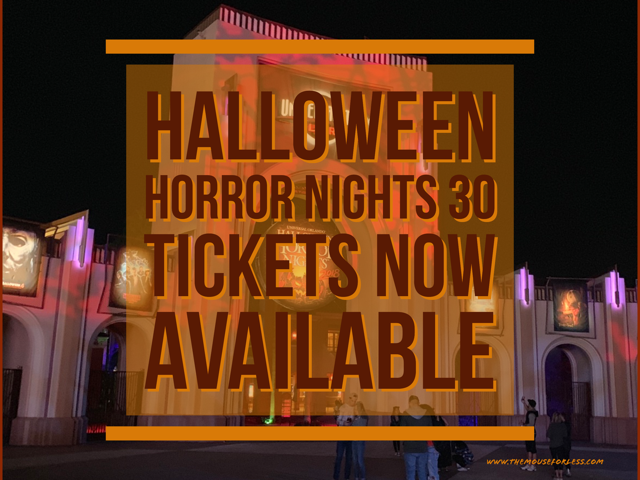 It is time to start thinking about the haunting season and it's clear that Universal Orlando Resort's Halloween Horror Nights 30 is going to be no walk in the park. (I mean, what else would you expect from the incredibly demented minds that bring to life this fantastic and sinister event each and every year.) Last year was supposed to be the 30th anniversary, but of course, due to COVID, the monumental year was pushed back.
For those who would like to get terrified, single tickets are now on sale! In addition, you can also purchase Express Pass. (A must have for this year, I suspect, as houses are likely going to have LONG lines!) Guests can also purchase two special tour options. Choose from either the Behind the Screams: Unmasking the Horror Tour which lets you see a lights-on view of the houses. There is also the Halloween Horror Nights R.I.P. Tour, which gets you priority V.I.P access to the houses.
During this year's event, which will take place select nights from September 3 through October 31, Guests will once again be able to have the pants scared off of them. Yep, there will be terrifying haunted houses. The scare zones will be back in full force. Oh and yes, there will even be outrageous live entertainment. Plus, during Halloween Horror Nights, some of the park's best attractions will also be open to experience. Oh and did I mention the specialty food, as well as the awesome unique merchandise? And Universal has already shared that the host of this year's horrorfest will be none other than the icon, Jack The Clown.
Jack was the first original icon that was created for Halloween Horror Nights. He has grown to become recognized as someone who is synonymous with this event.
This year, there will be 10 terrifying haunted houses, 5 scare zones, and so much more.
Speaking of houses, the first house has already officially been announced. Trust us when we say you don't want to say his name three times! At the Beetlejuice Haunted House, you'll see the best of the original film come to life before you. He will torment you as you wander checkerboard hallways and the Lost Souls Room. He'll even menace you through the model graveyard and you can join in the fun of Dante's Inferno. Plus, you'll be able to be a part of the infamous dinner party scene and witness Beetlejuice's chaotic wedding. It's showtime!
In addition, Universal had briefly mentioned a house called Puppet Theater: Captive Audience, but it's unclear if that house will indeed come to fruition.
Of course, Universal Orlando Resort will be taking all the proper precautions necessary to keep Guests safe this year. Universal will continue to monitor the environment and implement enhanced health and safety procedures for its operation of Halloween Horror Nights this fall. Specific details will be shared closer to the event's debut.
So, the best advice I have is to get your Halloween Horror Nights touring buddies ready to go. That's because as this year's slogan says….you never want to go alone.

Planning a Universal Vacation?