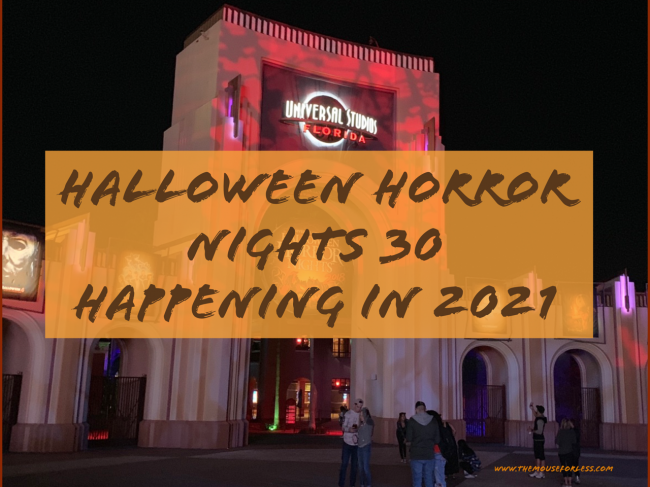 Last year, Universal Orlando Resort decided that it was smarter to postpone its 30th annual Halloween Horror Nights, which means that this year's event is going to be even more terrifying than ever, right? (I mean, it's had to have given their ghoulish minds more time to create sinister situations.)
During this year's event, which will take place select nights September 3 through October 31, Guests will once again be able to experience what makes Halloween Horror Nights what it is. There will be terrifying haunted houses. You can be that the scare zones will be back. Oh and yes, there will even be outrageous live entertainment. Plus, during Halloween Horror Nights, some of the park's best attractions will also be open to experience. Oh and did I mention the specialty food, as well as the awesome unique merchandise?
Beetlejuice Haunted House
And to celebrate the news that this year's event will officially take place, we already have a house announced! (Though, if you were paying attention last year, the first house really isn't much of a surprise.) Don't say his name three times….Beetlejuice, Beetlejuice, Beetlejuice.
At the Beetlejuice Haunted House, you'll see the best of the original film courtesy of scenes that come to life in front of your eyes. He will torment you as you wander checkerboard hallways and the Lost Souls Room. He'll even menace you through the model graveyard and you can join in the fun of Dante's Inferno. Plus, you'll be able to be a part of the infamous dinner party scene and witness Beetlejuice's chaotic wedding. It's showtime!
The first house that will likely be showing up for 2021 was the previously discussed Puppet Theater: Captive Audience house, however, it doesn't yet appear listed on the website, so that could have changed. We'll keep you posted.
Of course, Universal Orlando Resort will be taking all the proper precautions necessary to keep Guests safe this year. Universal will continue to monitor the environment and implement enhanced health and safety procedures for its operation of Halloween Horror Nights this fall. Specific details will be shared closer to the event's debut.
So, the best advice I have is to get your Halloween Horror Nights touring buddies in line. That's because, as this year's slogan goes, you never want to go alone.

Planning a Universal Vacation?