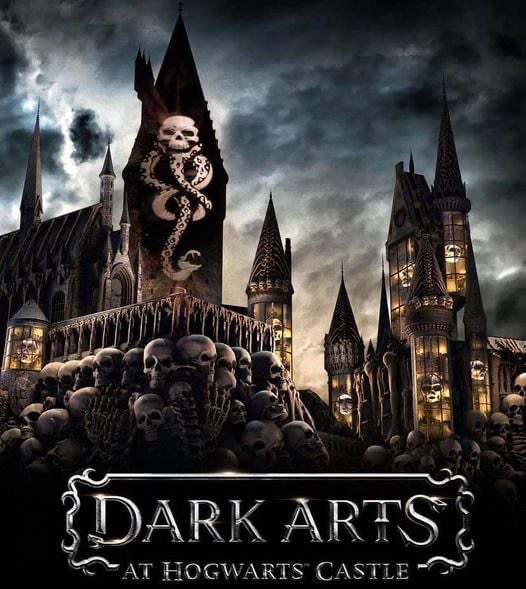 The fantastic nighttime projection show, Dark Arts at Hogwarts will be returning to The Wizarding World of Harry Potter this September. Beginning September 18, the show that revolves around dementors, Death Eaters, and other unspeakable creatures will take over Hogwarts Castle in Hogsmeade Village at Universal's Islands of Adventure.
During the Universal Orlando Resort show, Guests will see the fire-engulfed army of Inferi, the soul-draining breath of Dementors and Lord Voldemort as during this incredible castle's takeover. This exciting all-new experience will be a display of light, music and special effects. Prior to the show, Guests may even come face-to-face with Death Eaters as they descend on Hogsmeade Village. The Dark Arts at Hogwarts Castle will will illuminate a darker side of the Wizarding World. Dark Arts at Hogwarts Castle will bring more intense tones and drama that reflect the Dark creatures and wizards. The show challenges the goodness in the Wizarding World.
Dark Arts at Hogwarts Castle show will take place approximately every 20 minutes from dusk until park close. The show itself runs for approximately 8-9 minutes. Since this is a projection show, Guests will not need to queue up. They may need to follow Team Members directions to view the show. (On my most recent visit, one of the other castle projection shows was taking place. During showtimes, there were areas where Guests would be instructed to stand.) Guests who are looking to ride attractions in The Wizarding World of Harry Potter will still be able to do so.

Planning a Universal Vacation?