Universal Orlando Resort Restaurants | Royal Pacific Hotel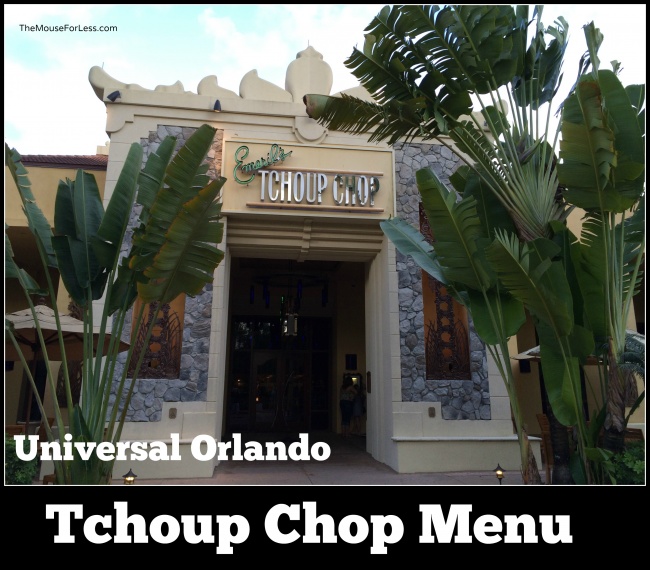 In both atmosphere and menu, Emeril's Tchoup Chop offers diners a unique and exotic journey through the Pacific Seas, a perfect complement for the Loews Royal Pacific Resort, complete with bamboo, waterfalls, sculpted gardens and giant woks in full view.
And the food? Chef Emeril offers diners a delicious experience complemented by his signature bold flavors of Asian and Polynesian influences.
Open Daily: Lunch – 11:30am – 2:30pm/ Dinner – 5:00pm – 11:00pm
Restaurant Info: Asian-Polynesian/ Lunch & Dinner/$$$-$$$$
Lunch Menu Dinner Menu Kid's Menu Drink Menu
Emeril's Tchoup Chop Menu – Lunch
Menu Date 9/2017
Starters
Lobster Seafood Toast
Citrus Aioli – $12.00
Crispy Kalua Chicken Egg Rolls
Orange-Chili Dipping Sauce – $8.00
Steamed Pork & Asian Vegetable Dumplings
Sake Soy Dipping Sauce – $8.00
Rice & Noodle Bowls
Anuenue Chirashi
Sushi Rice, Cucumbers, Ahi, Salmon, Kamikana, Avocado, Spring Onions, Tempura Crisp, Unagi Glaze, Spicy Mayo – $18.00
Wok Fried Udon Noodle
Chicken, Shrimp, Vegetables, Mushrooms, Garlic Hoisin Sauce – $16.00
Large Salads
Tchoup Chop Chicken
Grilled Chicken, Romaine, Onions, Carrots, Water Chestnuts, Green Onions, Napa Slaw, Tomatoes, Macadamia Nuts, Cucumber, Cilantro, Wonton Crisps, and a Mandarin Orange-Sesame Soy Vinaigrette – $14.00
Fresh Catch
Seared Fresh Catch, Baby Greens, Tomatoes, Cucumber, Onions, Avocado, Quinoa-Tropical Fruit Salsa, and a Citrus-Ginger Vinaigrette – Market Price
Cobb
T's Kiawe Smoked Turkey Breast, Romaine, Blue Cheese, Tomatoes, Cucumber, Bacon, Hard Boiled Eggs, Avocado and an Herb Buttermilk Dressing – $14.00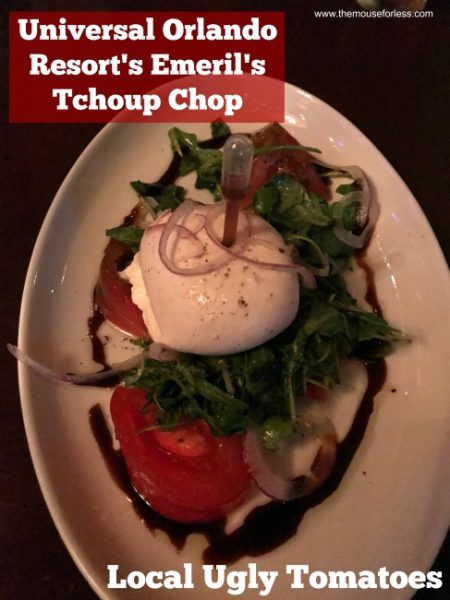 Ugly Tomato
Heirloom Tomatoes, Mozzarella, Arugula, Shoyu Balsamic Glaze and a Macadamia Nut-Thai Basil Pesto – $12.00
Large Plates
Da Tchoup Burger
Fried Egg, Cheddar, Lettuce, Tomatoes, Onions, Pickles, Asian Chimichurri with a Kabayaki Glaze and a Kim Chee Aioli – $14.00
Kalua Pork Sandwich
Pulled Pork Tossed in a Pineapple Hoisin BBQ Sauce Topped with Onion Crisps and Asian Slaw – $12.00
Fried Garlic Chicken Po Mi
Thigh Meat, Baguette, Pickled Vegetables with Chili Aioli – $12.00
Soft Tacos
Flour Tortillas, Lomi Lomi Tomatoes, Guacamole, Pineapple-Napa Slaw, and a Sweet Soy-Kim Chee Mayo. Korean BBQ Skirt – $12.00
Fresh Catch – $12.00
Homemade Desserts
Chef Emeril's Signature Banana Cream Pie
Graham Cracker Crust and Caramel Sauce – $10.00
Homemade Tropical Sorbets – $6.00
Sweet Dumplings
Filling and Sauce change with the season – $8.00
Chef's Featured Crème Brulee – $8.00
Homemade Ice Cream – $8.00
Emeril's Tchoup Chop Menu – Dinner
Menu Date 9/2017
Pu Pu's, Starters, and Salads
Iron Skillet Seared Edamame
Sea Salt, Togarashi, Sesame Seeds – $5.00
Steamed Pork and Vegetable Dumplings
Sake Soy Dipping Sauce – $9.00
Kalua Chicken Eggrolls
Orange Chili Dipping Sauce – $9.00
Bag of Mussels
Thai Basil, Kaffir Lime, Ginger, Tomatoes, White Wine – $12.00
Ahi Tartare "Poke" 
Asian Slaw, Wasabi Aioli, Wonton Chips, Kabayaki Glaze – $14.00
Crispy Calamari
Wasabi Cocktail Sauce, Papaya Seed Aioli – $12.00
Lobster Seafood Toast
Citrus Aioli – $12.00
"Take a Bao"
Steamed Asian Buns, Char Siu BBQ Pork, Pickled Watermelon Rind, Crushed Peanuts – $12.00
Kiawe – Smoked Pork Ribs
Asian Barbeque Sauce – $10.00
Caesar
Baby Loom Tomatoes, Truffle Popcorn, Parmesan, Chili Lime Anchovy Dressing – $10.00
Local Ugly Tomatoes
Burratina Mozzarella, Arugula, Red Onions, Minus 8 Vinegar, Shoyu Balsamic Glaze – $16.00
Crispy Katsu
Shrimp Tempura, Avocado, Spicy Crab, Cream Cheese Kabayaki Glaze, Cucumber, Sriracha Mayonaise – $16.00
Spicy Red Dragon
Spicy Tuna, Avocado Tempura Shrimp, Cucumber Habanero Aioli – $14.00
Sashimi Trio
Tuna, Salmon and Hamachi – $18.00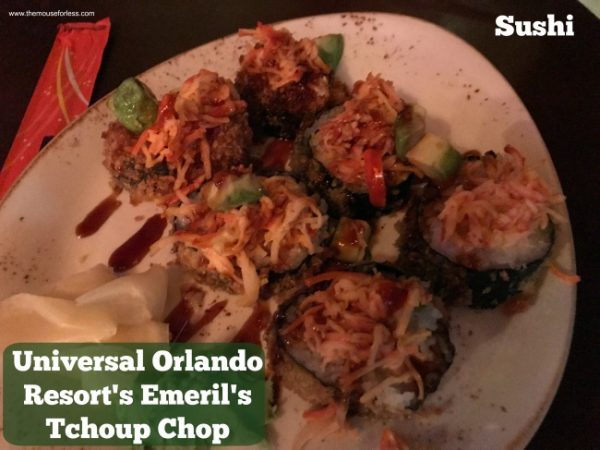 Robata
Mardi Gras Cauliflower
Curry Aioli, Macadamia Nut Honey Chili Drizzle – $8.00
"Bulgogi" Beef
Korean BBQ – $10.00
Shishito Peppers
Lime and Sea Salt – $6.00
Summer Sweet Corn
Queso Cotija, Furikake Crema – $6.00
Composed Dishes
Hawaiian Style Local Fresh Catch
Gai Lan, Mushrooms, Ginger, Cilantro, Sesame Soy – $30.00
Sesame Ahi Tuna
Zucchini Gold Bar Squash "Noodles," Thai Basil Sauce Romesco, Kukui Nuts – $30.00
Togarashi Blackened Scallops
Chinese Five Spice Sweet Potato Gnocchi, Brussel Sprouts, Honey Walnuts, Black Truffles, Sage Beurre Noisette – $36.00
"KFC" Korean Fried Chicken
Spring Onion Kimchi Mashed Potatoes, Garlicky Spinach, Sesame Garlic Butter – $24.00
Hibachi Skirt Steak
Purple Okinawan Smashed-Potatoes, Wild Mushroom "Poke", Asian Chimichurri – $30.00
Sides
Pancit Bihon
Filipino-Style Fried Noodles, Wok-Fried Vegetables, Shrimp, Chicken – $16.00
Cauliflower "Fried Rice"
Mardi Gras Cauliflower, Onions, Garlic, Edamame, Jalapeños, Carrots, Eggs, Scallions, Sesame Oil – $12.00
Chef Emeril's Favorite Fried Rice
Roasted Chicken, Ground Pork, Baby Shrimp, Edamame, Garlic, Scrambled Egg – $9.00
Desserts
Chef's Featured Crème Brulee – $8.00
Emeril's Signature Banana Cream Pie
Graham Cracker Crust and Caramel Sauce – $10.00
Homemade Ice Creams or Tropical Sorbets – $6.00
Sweet Dumplings
Filling and Sauce Changes with the Season – $8.00
Kalamansi "Key Lime" Tart
Mango-Lilikoi Seasonal Berries – $8.00
Emeril's Tchoup Chop Menu -Kid's Lunch & Dinner
Menu Date 9/2017
Children's Lunch Menu
Chicken Tenders
French Fries, Honey Mustard Sauce – $8.00
Tchoup Chop Kid's Salad –
French Fries – $5.00
Hamburger
French Fries – $8.00
Children's Dinner Menu
Spaghetti and Meatballs
With Fresh Made Marinara Sauce – $9.00
Grilled Ham and Cheese Flatbread Sandwich
With Fresh Fruit – $11.00
Chicken Alfredo Tortellini – $13.00
Tchoup Chop's Bam Burger
Angus Burger with Lettuce, Tomato, Pickle, and French Fries – $11.00
Grilled Chicken Breast
With Emeril's Fried Rice (Pork, Chicken, and Shrimp) and Broccolini – $14.00
Grilled Petite Skirt Steak
With Mashed Potatoes, Green Beans, and House Made Teriyaki Sauce – $15.00
Emeril's Tchoup Chop Menu – Drinks
Menu Date 9/2017
Tchoup Chop Tiki Classics
1994 Mai Tai Roa Ae
3 Star Barbancourt Rum, Myers Dark Rum, Orgeat Syrup, Orange Curacao & Fresh Lime Juice – $15.00
Painkiller
Pusser's Navy Rum, Cream of Coconut, Pressed Pineapple Juice, Fresh Orange Juice, & Nutmeg – $13.00
Dark and Stormy
Gosling's Black Seal Rum, Fever Tree Ginger Beer & Fresh Lime Juice – $13.00
The Passion Fruit Hurricane
Cruzan Light and Dark Rums, Passion Fruit, Fresh Lime Juice and Oranges Juices & Topped with Grenadine – $13.00
Tchoup Chop Signatures
Hawaiian Greyhound
Langley's London Gin, Simple Syrup, Orange Curacao, Grapefruit & Lime Juices and a Splash of Pineapple – $13.00
Bangkok Beauty
Skyy Blood Orange Vodka, X-rated Fusion Liqueur, Strawberries, Fresh Lime Juice, & Rhubarb Bitters – $13.00
A Pair of Pears
With Homemade Bartlett & Asian Pear Infused Japansese Ty Ku Sojo, Domaine de Canton Ginger Liqueur, White Cranberry Juice & Fresh Lime Juice – $13.00
Cucumber Cooler
Effen Cucumber Vodka, St. Elder Liqueur,Simple Syrup, Dash Egg Whites and Fresh Lime Juice – $13.00
West Coast Lychee
Soho Lychee Liquer, Gin, Vodka, & Fresh Lime Juice – $12.00
Ulua Bowl for Two
Pineapple Mango-Infused Rum, Pinnacle, Gin, Green Mark Vodka, Bacardi Black, Pineapple Pomegranate Syrup, Fresh Sour – $22.00
** Emeril's Tchoup Chop Menu and Prices are Subject to Change Without Notice **