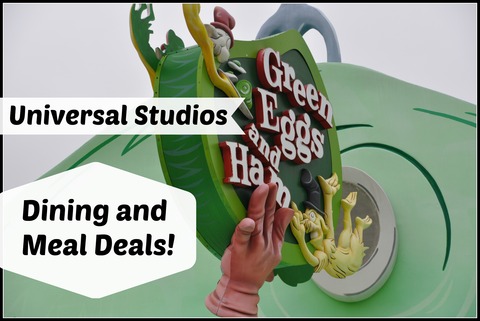 Universal Orlando Resort Meal Deals are available with  few different dining options that appeal to a variety of people.  From a full dining plan to a counter-service-style meal deal, Universal provides the ability to prepay some of the food costs of a Universal Orlando Resort vacation.
Universal Dining Plans – Universal Orlando has expanded its dining options by adding a number of dining plans.  This allows the convenience of paying for your meals ahead of time.  Universal Dining Plan to it dining line up.   Check out the Universal Dining Plans page to see all of your dining plan choices.
Universal's Cinematic Spectacular Dining Experience – Looking for a huge end to a day full of fun?  Universal's Cinematic Spectacular Dining Experience pairs a meal at Lombard's Seafood Grille with a spot afterwards in an exclusive viewing area for Universal's Cinematic Spectacular – 100 Years of Movie Memories nighttime show. Reservations are required.  Separate theme park admission required.  More details on our Universal Cinematic Spectacular Dining Experience page.
CityWalk Meal & Movie Deal – The CityWalk Meal & Movie Deal is comprised of a meal at one of the popular restaurants at Universal's CityWalk and a movie at AMC Universal Cineplex 20 for one price.  The meal includes coffee, tea, or soft drink and one item from a select menu.  The following restaurants are currently included in the CityWalk Meal & Movie Deal:
Bob Marley – A Tribute to Freedom
Fusion Bistro Sushi & Sake Bar
Jimmy Buffett's Margaritaville
Pat O'Brien's – Orlando