Magic Kingdom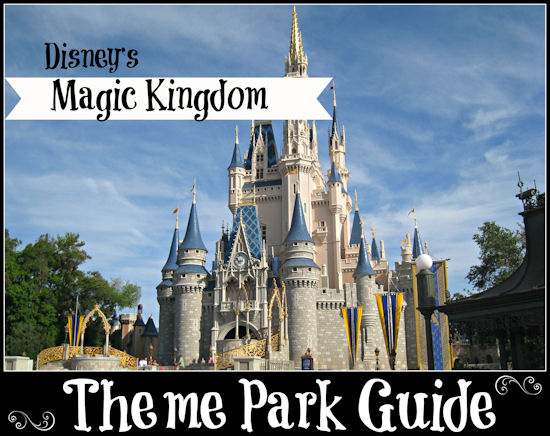 Following the success of Disneyland, which opened in 1955, entertainment pioneer Walt Disney (1901-66) set his sights on what he called his company's "most exciting and challenging assignment" -- the creation of a vast vacation paradise known today as Walt Disney World Resort. Walt's dream was realized when Magic Kingdom, the first of four theme parks at the sprawling Florida site, opened Oct. 1, 1971. Walt's older brother and lifelong business partner, Roy O. Disney, inaugurated the park with a heartfelt dedication that remains today on a bronze plaque in Main Street, U.S.A.: WALT DISNEY WORLD is a tribute to the philosophy and life of Walter Elias Disney ... and to the talents, the dedication, and the loyalty of the entire Disney organization that made Walt Disney's dream come true. May Walt Disney World bring Joy and Inspiration and New Knowledge to all who come to this happy place ... a Magic Kingdom where the young at heart of all ages can laugh and play and learn -- together.
Admission   Attractions   Baby Care   Contact Numbers
Extra Magic Hours   FastPass+   Fireworks   Height Requirements at a Glance
Food   Lockers   Lost Children   Map

  Parades
Special Ticket Events   Strollers   Tours
Transportation   Wheelchair Accessibility and Service Animals

Deciding what ticket to get for your visit to Magic Kingdom is no simple matter. Admission cost from a 1-Day/1-Park Magic Your Way Pass of $105.44/adult including tax and $99.05/child including tax at the gate to a 10-Day Magic Your Way pass (lowers the cost to just $37.70 per day) with the possibility of Park Hopper option, Water Park Fun & More option, and No Expiration option. Other admission options are available such as annual pass, Florida resident discounts, etc. The Mouse For Less has a Magic Your Way ticket calculator to assist you in deciding which Magic Your Way option is best for your trip. If you think an annual pass is the way to go for you, visit our "Annual Pass Description and Benefits page". For detailed information on Walt Disney World admission options visit MFL's "Walt Disney World Tickets: Lots of Options" page.
Children under the age of 14 may not enter the Magic Kingdom unless they are accompanied by another person age 14 or older. In addition, when on rides, children under the age of 7 must have someone age 14 or older with them in the "same" ride vehicle and in the "same" row or the row directly behind them.
An official list of park rules and prohibited items can be found on Disney's website.

Six happy lands transport guests to worlds of fantasy, adventure and wonder at Magic Kingdom, the first of four theme parks that comprise the world's No. 1 vacation destination.
Adventureland - Disney's "True-Life Adventure" documentary films provided the spark for this exotic land of jungles and wild animals.

Swiss Family Treehouse, The Magic Carpets of Aladdin, The Enchanted Tiki Room, Jungle Cruise, Pirates of the Caribbean, Pirates League, Captain Jack's Pirate Tutorial, Tinker Bell's Magical Nook Meet 'N' Greet (until 5/19/14), and "A Pirate's Adventure: Treasures of the Seven Seas" interactive game

Fantasyland - Fairy tales spring from storybook pages in this whimsical land of castles, princesses and flying elephants.

Original Fantasyland - "it's a small world", Peter Pan's Flight, Mickey's PhilharMagic, Merida Play 'N' Greet at Fairytale Garden, Prince Charming Regal Carousel, The Many Adventures of Winnie the Pooh, Winnie the Pooh Character Meet & Greet, Mad Tea Party, Cinderella Castle, Bibbidi Bobbidi Boutique, Princess Fairytale Hall (meet Cinderella & a visiting princess or Ann & Elsa from Frozen)
Enchanted Forest - Under the Sea: The Voyage of The Little Mermaid, Enchanted Tales with Belle; Ariel's Grotto Meet 'N' Greet, Seven Dwarfs Mine Coaster
Storybook Circus - The Barnstormer featuring the Great Goofini, Fantasyland Train Station, Casey Jr. Splash 'N' Soak Station, and Dumbo the Flying Elephants (get a Fastpass for direct boarding in the yellow Big Top or play in the Big Top interactive queue until paged to ride), Pete's Silly Sideshow Character Greetings (Minnie, Daisy, Donald & Goofy).

Frontierland - Tall tales of the Wild West come to life in this prairie outpost where cowboys and miners roam.

Walt Disney World Railroad, Splash Mountain, Big Thunder Mountain Railroad, Tom Sawyer Island, Country Bear Jamboree

Liberty Square - Step back to the age of colonial America in this land honoring the country's early heritage.

The Hall of Presidents, Liberty Square Riverboat, Haunted Mansion, Enchanted Glade with Princess Tiana meet & greet

Main Street, U.S.A. - Walt Disney's childhood in Marceline, Mo., inspired this re-creation of a bustling thoroughfare in early 20th century America, complete with horse-drawn trolley and vintage barbershop.
Tomorrowland - Leap forward into the future in this neon-lit land of rocket ships and aliens.

Tomorrowland Speedway, Space Mountain, Astro Orbiter, Tomorrowland Transit Authority, Walt Disney's Carousel of Progress, Buzz Lightyear's Space Ranger Spin, Stitch's Great Escape!, Monsters, Inc. Laugh Floor

Print out a copy of the Magic Kingdom Hidden Gem pocket guide from our Pocket Guide page and have more fun in the park discovering the hidden gems.

Print out a copy of the Magic Kingdom Pressed Coin Checklinst pocket guide from our Pocket Guide page and have more fun in the park discovering the hidden gems.

Arrive at the park 30 minutes prior to opening to see some of your favorite characters like Mickey and Goofy arrive on the train. Plus, you can enjoy the rides with minimal wait times.

Pick up a Magic Kingdom Times Guide as you enter the park for important information such as park hours, special hours, show times, parade and fireworks times, character greeting times and other park hours to help you plan your day. Currently playing are:
Main Street Electrical Parade - evening parade
Dream Along with Mickey - stage show at castle forecourt
INCREDIBLES Super Dance Party - Rockettower Plaza stage
Celebrate the Magic! - castle projection show
Wishes - fireworks nighttime spectacular
Disney Festival of Fantasy Parade - afternoon parade (coming March 2014)

Throughout the park Disney PhotoPass photographers will capture guests caught up in the Disney experience. Disney's PhotoPass gives guests the opportunity to have great high-resolution photos taken by Disney Photographers using state-of-the-art digital equipment at picturesque locations. Even better, your photos can be accessed, shared, and ordered online. Visit our Disney's Disney's PhotoPass Guide for more information on Disney's PhotoPass service.

Baby Care, Strollers and Lost Children
Baby Care Center
Mothers with infants can visit Magic Kingdom worry free with the services of the Baby Care Centers. The Baby Care Center is located on Main Street USA (between Casey's and The Crystal Palace near First Aid). The facility offers Guests a place to feed, change and nurse babies. Highchairs, rocking chairs, nursing rooms, changing tables and a microwave to heat bottles and food are available. The Baby Care Center also offer formula, bottles, pacifiers, children's Tylenol, cold and allergy medication, band-aids, Motrin, children's undergarments, t-shirts and baseball caps for Guests to purchase in those "baby emergencies".
Strollers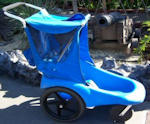 Stroller rentals are available for single day rentals as well as length of stay. The rental price is $15 per day for a single and $31 per day for a double. If you choose to purchase a length of stay rental, the price drops to $13 per day for a single and $27 per day for a double. Just show your receipt for the next day and be expedited through the queue with little or no wait time. If you hop to a second (or more) park on the same day as your paid rental, showing your receipt from the first park with allow you use of a stroller at no additional cost. Visit MFL's Stroller page for detailed information on stroller rental.
The Stroller Shop is located inside near the main entrance of Magic Kingdom. With your single day or length of stay receipt you can get replacement strollers in Frontierland at the Frontier Trading Post, in Fantasyland at Tinker Bell's Treasure and in Tomorrowland at Tomorrowland Arcade. Availability of replacement strollers are limited and are on first-come/first-serve basis. For guests who would like to customize their stroller tags to make identifying their rental stroller easier they create their personalized tags with many design choices from The Mouse For Less' Stroller Tags page.
Lost Children
There's nothing more frightful to parents than the thought of losing their child in the ocean of people inside a theme park. There are many fascinating distractions at Magic Kingdom and children can wander off in a blink of an eye. Be prepared so that you won't spend precious vacation time frightened and in search of each other. Have a plan, before your vacation, make and print some Kids Travel ID's. There are many designs to choose from, they're easy to make and children love to have their own ID cards. When you enter Magic Kingdom at the beginning of the day, take a picture of your child from your camera, phone or by a Disney Cast Member on your Photopass so that you can readily show a Cast Member what your child is wearing and what he/she looks like if you should become separated from your child. Set up a meeting area in the park. Locate a Cast Member so that your child can meet a Cast Member "in person" and will not be afraid of them. Let your child know to look for Cast Members with Disney ID tags and to show the Cast Member their ID cards if they could not find you. If you become separated, stay in the area and enlist the assistance of a Cast Member to search for your child. Most likely your child is in the same vicinity looking for you. If you have not located your child after searching the area, and there are more than one adult in your party, split up and have one go to the pre-determined meeting location while another follow the direction of a Cast Member. All lost children will be taken to Lost Children inside the Baby Care Center by a Cast Member if they can not locate the parents in the immediate area.

Dining Reservation - (407) WDW-DINE (407) 939-3463
Florist - (877) 608-0066 or (407) 827-3505
Guest Information - 407-824-2222
Lost and Found- (407) 824-4245
Merchandise (if you just HAVE to have that special something you saw on your trip to Walt Disney World but didn't have time to purchase or if you want to purchase something to be delivered to your friend vacationing at Walt Disney World) - (407) 363-6200, Fax - (407) 352-6369 email - wdw.mail.order@disneyworld.com
Reservation - (407) W-DISNEY (407) 934-7639 or call your favorite travel agent at The Magic For Less Travel at (888) 330-6201
Tables in Wonderland - (407) 566-5858
Tours - (407) WDW-TOUR (407) 939-8687
Ticketing - (407) 566-4685

Guests staying at Walt Disney World Resort hotels can enjoy more time in the theme parks with the enhanced Extra Magic Hours (EMH) benefit. Each day, one of the theme parks opens an hour early, or stays open two hours extra after regular park hours. This benefit offers guests more time to enjoy shorter lines during these extended theme park hours. There is no charge for this Disney Resort guest benefit. Dates and times for EMH very throughout the year. Go to Extra Magic Hours Schedule for the current schedules. Not all attractions are open during EMH. For details and a list of attractions currently listed as open during EMH go to MFL's Extra Magic Hour Information page.

FastPass+ is a great system that lets you "eliminate the wait" at the most popular park rides and attractions. Nothing feels better than being able to bypass this wait and jump straight to the front of the line. FastPass+ allows guests staying at a Disney-owned resort to book up to 3 FastPasses+ selections per park per day up to 60 days in advance or off-site guests to book up to 3 attractions per park per day on the day of their visit. Currently, Disney's FastPass+ is offered on the following Magic Kingdom rides and attractions:
Magic Kingdom: Big Thunder Mountain Railroad, Buzz Lightyear's Space Ranger Spin, Dumbo the Flying Elephant, Enchanted Tales with Belle, Haunted Mansion, it's a small world, Jungle Cruise, Mad Tea Party, Main Street Electrical Parade, Meet Ariel at Her Grotto, Mickey's PhilharMagic, Monsters Inc Laugh Floor, Peter Pan's Flight, Pirates of the Caribbean, Princess Fairytale Hall - Meet Cinderella & a Visiting Princess, Princess Fairytale Hall - Meet Rapunzel & a Visiting Princess, Splash Mountain, Space Mountain, The Barnstormer, The Magic Carpets of Aladdin, The Many Adventures of Winnie the Pooh, Tomorrowland Speedway, Town Square Theater - Meet Mickey Mouse, Under the Sea ~ Journey of The Little Mermaid, Wishes Nighttime Spectacular
Visit our FastPass+ Guide for more details on FastPass+, and great MouseForLess tips on how to use utilize this great tool to it's fullest. Visit our MyMagic+ to get information about using MagicBand during your park visit.

No one does a nighttime show like Disney. Some of the most amazing fireworks displays will be found at a Disney destination. Magic Kingdom hosts "Wishes" most nights around Cinderella Castle. This display takes guests through the journey of all of the amazing things that can happen when you just believe. A feature of this show is Tinker bell's flight from the castle across the hub and above guests heads.
Seasonally, other shows may be presented. Also, on nights with special "hard ticket" events, such as Mickey's Not-So-Scary Halloween Party or Mickey's Very Merry Christmas Party, a nighttime show will be presented for guests of those events. Since the park will close early on those evenings, "Wishes" will not be presented. Check the times guide to be sure what time and which nights the fireworks will be presented.

Magic Kingdom Height Requirement at a Glance
Space Mountain - 44" (112cm)
Splash Mountain - 40" (102cm)
Big Thunder Mountain Railroad - 40" (102cm)
Barnstorm featuring the Great Goofini - 35" (89cm)
Stitch's Great Escape - 40" (102cm)
Tomorrowland Indy Speedway - 52" (132cm) to drive alone, at least 32" (81cm) to be a passenger.
Visit our Height Requirement page for height requirements to all Walt Disney World attractions.

Guests to Magic Kingdom may bring coolers smaller than 24"L X 15"W X 18"H. Coolers will be inspected and no glass containers or alcoholic beverages are allowed. For those who prefer to leave the cooking to Disney, the following selections are available. Click on the name below for menu. Visit our WDW Menu Page for a complete list of menus available for Walt Disney World. If you are on the Disney Dining Plan you can print out a pocket guide for Magic Kingdom in our Pocket Guide page.
Adventureland
Fantasyland
Frontierland
Liberty Square
Main Street, U.S.A.
Tomorrowland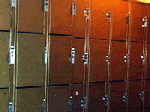 Lockers are located inside Magic Kingdom adjacent to the Wheelchair and ECV rental location. The size of the lockers are extra-large (17.5"H X 12"W X 22"D) and cost of rental is $10 per day plus $5 deposit. The key can be returned up to one hour after the park closing for the deposit refund. If Guests are park hopping, they may return the key to receive the $5 refund then present the receipt at the other park and pay $5 deposit to continue locker rental for the remainder of the day (excluding Epcot luggage lockers and Disney's Hollywood Studios Bus Information lockers which are coin operated).

Magic Kingdom features two unique parades — one in the afternoon and one at night. Consult the park hours and times guide to ensure the parade will be shown on the day of your visit. Parades run from Frontierland near Pecos Bill through to the hub and end next to the fire station on Main Street U.S.A.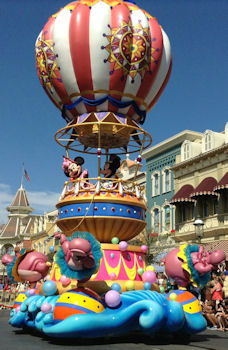 Disney Festival of Fantasy Parade is the afternoon parade and is usually presented daily usually beginning at 3 p.m. in Frontierland. This parade made its debut on March 9, 2014. It features classic characters and new friends from Disney and Pixar films, massive floats, vibrant colors, and even a steampunk Maleficent dragon that breathes fire.
If you want to see characters, this is the parade to see. There are characters from Beauty and the Beast, Peter Pan, Brave, Frozen, The Little Mermaid, Sleeping Beauty, Snow White, Alice in Wonderland, and Pinocchio. Of course, the parade would not be complete without Donald, Daisy, Chip, Dale, Pluto, Goofy, Minnie, and Mickey Mouse.
A second, completely different parade is shown most evenings at Magic Kingdom — Main Street Electrical Parade. This parade features floats covered in thousands of lights. This parade originally debuted in 1972 and has been shown at both Disneyland and Walt Disney World.
The catchy music and brilliant lights of the Main Street Electrical Parade make this a guest favorite.

Many special events are planned throughout the year for Magic Kingdom and may impact the operating hours of Magic Kingdom during your visit. Night of Joy is a specially-ticketed annual celebration held in the Magic Kingdom after hours in early September and features top contemporary Christian music performers. Mickey's Not-So-Scary Halloween Party (MNSSHP) is a highly anticipated family-friendly annual fright-fest held on weekends from mid-September through October. Mickey's Very Merry Christmas Party (MVMCP) is another highly anticipated annual event held on weekends in November and December. Visit Walt Disney World Annual Events Schedule for a complete list of annual special events held at Walt Disney World.

Guests who are interested in guided tours can take advantage of some excellent tours offered at the Magic Kingdom. "Disney's The Magic Behind Our Steam Trains Tour" offers an insiders look at the Magic Kingdom's steam trains. "Disney's Family Magic Tour" is a guided interactive quest to save Magic Kingdom theme park from a Disney Villain. "Disney's Keys to the Kingdom Tour" highlights the fascinating history of WDW. "Walt Disney: Marceline to Magic Kingdom" is a new tour that explores how events in Walt Disney's life helped shape the Walt Disney World Resort and the attractions within it. To reserve tours call (407) WDW-TOUR or (407) 939-8687. Visit the Magic Kingdom section of Disney Backstage Tours & Experience page for details, prices and restrictions for each tour.

Wheelchair Accessibility and Service Animals
For the convenience of Guests with disabilities, wheelchairs, and Electric Convenience Vehicles (ECV) are available for rent at the Magic Kingdom. The wheelchair rental fee is $12 with no deposit required. The ECV rental fee is $50 per day plus a $20 refundable key deposit. The rented unit must be returned to the original rental location to receive a credit card deposit refund. Quantities are limited and subject to availability. For Guests who require a wheelchair rental for multiple days, a Length of Stay rental ticket is offered for $10.00 per day. The wheelchair rental location at Magic Kingdom is at the Stroller Shop inside the park entrance.
Guests can ask for a Guidebook for Guests with Disabilities at City Hall. Magic Kingdom can accommodate Guests with mobility, visual and hearing disabilities. Refer to the guidebook for more details on special restrictions and seating areas.
Trained service animals are welcome at Magic Kingdom and are allowed in most locations. Not all attractions can accommodate service animals. In those instances a member of the Guest's party must remain with the animal. All service animals must remain on a leash or harness at all times. Magic Kingdom allows Guests to use backstage locations for service animal to take breaks and relief themselves. A Cast Member must accompany the Guest to the designated backstage areas. The areas allowed are backstage behind the gate next to Tony's Town Square Restaurant; backstage behind the gate next to Pirates of the Caribbean; backstage behind the parade gate near Splash Mountain; backstage behind the gate next to the restrooms at Pete's Garage in Mickey's Toontown Fair; and backstage to the left of Walt Disney's Carousel of Progress.
Most restrooms are designed for access by Guests using wheelchairs. Companion-assisted restrooms are available at the following locations: First Aid, The lower level of Cinderella's Royal Table, Pirates of the Caribbean, Splash Mountain, The Pinocchio Village Haus, Mickey's Toontown Fair, Near the Carousel of Progress and Transportation and Ticket Center East Gate.

In addition to Walt Disney World buses running to the Magic Kingdom from individual Walt Disney World resorts, Disney has added park-to-park buses on a permanent basis. Magic Kingdom guests can catch buses running to and from Disney's Hollywood Studios, Animal Kingdom and Epcot at approximately every 20 minutes throughout the day.

Park guests may also take a water ferry from Disney's Monorail resorts, the Wilderness Lodge and Disney's Fort Wilderness campground to the Magic Kingdom park.

Magic Kingdom guests also have the option of catching a Monorail to or from Epcot resort. The Monorail station is located at the Transportation and Ticket Center and you have to take the ferry or monorail to the Magic Kingdom park.

Those parked in the Magic Kingdom parking lot can catch a water ferry or monorail (monorail may not be running on nights the park is open late) from the Magic Kingdom to the Transportation and Ticket Center. There are two tram loading/unloading zones, one for the "Heroes" lot and one for the "Villains" lot. The Heroes parking lot is divided into character names, including Woody, Aladdin, Peter Pan, Simba, Mulan and Rapunzel. The Villains parking lot is divided in character names, including Zurg, Jafar, Hook, Scar, Cruella and Ursula. Each lot also will have its own color, so essentially, all you have to remember is one of these three characteristics (hero, Rapunzel or blue) and you can find your car.


Other Walt Disney World Parks:
Top