Home > Walt Disney World > Parks > Limited Time Magic
2013 'Limited Time Magic' Campaign at
Walt Disney World Resort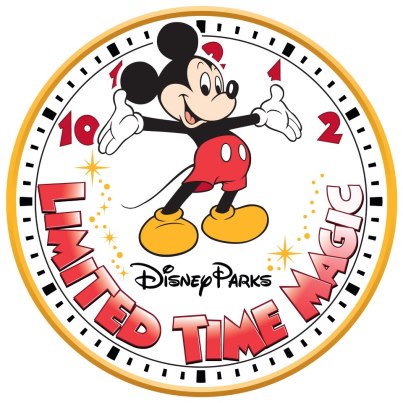 Beginning January 2013, guests will find a new surprise each week when they visit Walt Disney World and Disneyland Resorts during the "Limited Time Magic" campaign. Disney has announced that for 52 weeks, parks on both coasts will feature a variety of magical experiences that will come and go by the week. Examples include an Independence Day celebration with little touches that lasts for a week and a Friday the 13th dance party featuring Disney villains that goes into the 13th hour (1 a.m.) of a single day. Limited Time Magic will have a lot to do with celebrating special occasions with families in mind.
Disney will be dreaming up more micro-celebrations to be rolled out weekly in 2013. Each week, guests visiting Walt Disney World Resort will find Limited Time Magic — some kind of special entertainment, event, souvenir or surprise available for a limited time only— and as they do, we will announce it here. Check back often in 2013!

See a Week By Week Summary of Past Limited Time Magic Events for WDW

See a Limited Time Magic Events for Disneyland Resort


This Week's Limited Time Magic for Walt Disney World Resort
(Updated Every Friday)

Monstrous 24-Hour 'All-Nighter,'May 24 - May 25, 2013
Magic Kingdom
Prepare for a day and night of scary delight when the stars of Disney•Pixar's Monsters University invade Magic Kingdom park! For 24 magical hours, from 6:00 AM to 6:00 AM, Mike and Sulley will be dropping in from their "alma monster" to scare up some school spirit during an action-packed "all-nighter." So come for the sun and stay for an entire evening as some monstrous entertainment takes over Walt Disney World Resort!
Visit Our Monstrous Summer Page for All of the All-Nighter Details!.
Sneak Peeks
Disney has shared the following Limited Time Magic event details in advance:

Independence Week, July 1-7, 2013
Magic Kingdom
The 4th of July is seven days long this year as Walt Disney World salutes America with a spectacular 4th of July Fireworks Party. Everything will be red, white and blue, from the fireworks and Cinderella Castle down to special-edition U.S.A. shirts, ear hats and other patriotic souvenirs.

Unleash the Villains Friday, Sep 13, 2013
Disney's Hollywood Studios
The Disney villains are so excited about Friday the 13th, they're taking over Disney's Hollywood Studios! Join in the fun for a night of mischief and a villainous dance party that will last until the 13th hour (1 a.m.).
Pirate Week: Why talk like a pirate one day when you could celebrate these scalawags all week long? The adventures of Jack Sparrow come to life like never before during a bicoastal buccaneer bash in which Disneyland and Walt Disney World become pirate-palooza: pirate bands, pirate meet-and-greets and more.
---
Limited Time Magic - A Week By Week Summary of Past Events
May Limited Time Magic
Week 19 Announcement

This Mother's Day Weekend, show mom the "time" of her life—as part of Limited Time Magic, whisk her away to Tren-D or World of Disney Store in Downtown Disney area where she can try her hand at the latest greatest looks, including a fashionable selection of all-new timepieces specific to the occasion! "Watch" her face light up with glee and then further the magic even more on Mother's Day at Magic Kingdom park, Epcot, Disney's Hollywood Studios or Disney's Animal Kingdom Theme Park, where all moms will be honored with a special flower. Valid theme park admission required.
Week 18 Announcements

Enjoy all the fun of Cinco de Mayo and Día de los Niños at one magical event from May 5 - May 11, 2013! Epcot's got a week-long party in the works. Meet the Three Caballeros, and groove with musical performances filled with delightful marionettes, folkloric dancing and songs by Mariachi Cobre. Afterwards, stop by San Angel Inn Restaurante or La Hacienda de San Angel for some authentic eats and drinks before "capping" off your day with a Cinco de Mayo ear hat from the Mexico Pavilion!

Join the joyous and regal celebration at Magic Kingdom park when Merida - the heroine from Disney•Pixar's Brave - is officially christened into the Disney Princess Royal Court! As part of Limited Time Magic, all 10 Disney Princesses will be gathering together to coronate their newest member at 9:30 a.m. on Saturday, May 11, at Cinderella Castle in Magic Kingdom Park. And to commemorate the special occasion, you can purchase a limited edition Merida-inspired T-shirt, available in Youth and Toddler sizes while supplies last, and only at the Emporium inside Magic Kingdom park!
Week 17 Announcements

For one day only, May 4, 2013, Disney's Hollywood Studios will present a "Limited Time Magic" event for the fan-proclaimed Star Wars Day - "May the Fourth Be With You!" This Limited Time Magic celebration features special Star Wars entertainment, characters, commemorative merchandise, a Star Wars dance party and a Star Wars-themed fireworks show to cap off the day. "May the Fourth Be With You" "Limited Time Magic" park activities and shows are included in regular admission to Disney's Hollywood Studios.

As part of Limited Time Magic at Walt Disney World Resort, you can fetch 2 fashionable Fascinator hats for only $24! Inspired by beloved Disney characters, come discover this offer at the Emporium at Magic Kingdom park or World of Disney Store in Downtown Disney area. And if fancy hats aren't your style, then stop by D Street at Downtown Disney area and take home 4 Mechanical Kingdom Vinylmation figures, all for just $24! Both offers are available for a limited time, and only while supplies last.
April Limited Time Magic
Week 16 Announcement

Celebrate Earth Week in style from April 22 to April 28, 2013. In honor of its 15th anniversary, Disney's Animal Kingdom park is hosting a special edition "Party of the Planet." For a limited time, dance alongside your favorite faces at a Disney Character reunion, purchase commemorative merchandise and "dig up" some delicious new Disney desserts.
Week 15 Announcement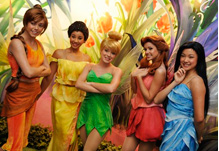 It's Fairies Week at Walt Disney World Resort in Florida from April 15 - 21, 2013, and Tinker Bell's coming in for a landing. And wouldn't you know it, some fellow Disney Fairies are flying in for the occasion too! Head over to Tinker Bell's Magical Nook, where Tink will be joined by a few friends making surprise appearances. You could meet Iridessa, Rosetta, Silvermist, Fawn, Vidia… maybe even Terence, the Pixie Dust-keeper himself!
Week 14 Announcement

For one week only, from April 8 to April 14, 2013, the Disney Truck Shop will be parked along the Downtown Disney Westside route at Walt Disney World Resort, offering you the chance to pick up a limited release vintage-style tee. Available while supplies last, the tee has been inspired by the design and logo of the Disney Parks newest shop on wheels.
Week 13 Announcement

This week, Disney continues its "Year of the Ear" celebration with the release of a new Strawberry Ear Hat. Beginning April 1, this sweet hat will be available at select locations at Epcot, including the Festival Center located between Mission: SPACE and Universe of Energy while supplies last.


March Limited Time Magic
Week 12 Announcement

This Spring things get hoppin' at Walt Disney World Resort when Mr. and Mrs. Easter Bunny come to visit. Delight in an array of family-friendly festivities, from egg hunts to season-themed processions to greetings with the floppy-eared couple-and more! Spring Fling takes place March 25-March 31, 2013.


Week 11 Announcement

For one week only, from March 18-24, 2013, you'll be able to search for special hidden "eggs" themed to Disney characters at Epcot park and then record your discoveries on specially themed Eggs-perience park maps. You can purchase the map at the Heritage Manor in the American Adventure Pavilion, International Gateway, Pin Central and Port of Entry. Each map and set of stickers will cost $4.95, plus tax at select locations. And whether you find all, some or none of the hidden eggs, return your map to a Port of Entry located across from Duffy's Meet and Greet at Epcot for your prize.
Week 10 Announcement
It's the Year of the Ear and March brings some of the cutest ear hats yet—miniature MousekeEars! Collect them, wear them or share them! These mini-hats feature fun, pop colors or Disney characters like Mickey Mouse, Minnie Mouse, Donald Duck, Goofy and Pluto. And, as an extra bonus, Disney is offering a special "Limited Time Magic" promotion on the MousekeEars while supplies last in March. In select locations at Disneyland Resort and on the Disney Parks online store, you can get two MousekeEar hats for $15.00 (plus tax). MousekEars hats normally have a retail of $12.95 each.
Week 9 Announcements

The citizens of Main Street, U.S.A. in Magic Kingdom park are bursting with excitement now that spring is in the air. Dressed to the nines in bright pastels and with a few new songs in their hearts, they arrive in town on a horse-drawn trolley adorned with colorful bouquets of flowers and ribbons. The Spring Trolley Show runs from March 3 to May 12, 2013.

Discover the Beautifully Disney cosmetic line from Disney Parks—featuring the color palettes of some favorite Disney characters, elegant packaging and whimsical accessories designed to add an extra sprinkle of pixie dust to your morning routine. This new cosmetic line debuts with a special event at Tren-D in the Downtown Disney area from 11:00 a.m. to 3:00 p.m. on March 2, 2013. Join in the fun as color experts offer complimentary mini-makeovers. Plus, you can purchase the Wickedly Beautiful collection, a seasonal palette that—just like Limited Time Magic—won't last forever.
February Limited Time Magic
Week 8 Announcement

From February 25 to March 3, 2013, the Dapper Dans tip their hats to a new kind of music that they discovered while "strolling through the park one day." The Dapper Dans will be delivering a medley of hits from One Direction, Backstreet Boys and NSYNC all week. Watch for this winsome quartet in the Magic Kingdom—after all, the Dapper Dans are the "Original Boy Band."
Week 7 Announcement

Voices of Liberty, the a cappella group, is honoring Presidents Day for a limited time with musical performances at the America Gardens Theatre at Epcot from February 18-24, 2013. In this special presidential show—a Limited Time Magic experience—the Voices of Liberty will bring to life some inspirational moments from our nation's history with impeccable 8-part harmonies accompanied by memorable quotes from American Presidents like Theodore Roosevelt, Dwight D. Eisenhower, Ronald Reagan and Barack Obama.
Week 6 Announcement

During "True Love Week," February 11-17, 2013, a tapestry of romance is woven throughout the resort — from limited- time Valentine's merchandise and special entertainment, to romantic dinners for two and new themed photo locations offering greetings with beloved Disney sweethearts. Even Cinderella Castle will blush red and pink! To see complete menus and booking information, visit our Valentine's Day page.
Week 5 Announcements

Magic Kingdom park is getting in the Super Sunday spirit with a super pre-parade held daily February 1 to February 3, 2013! Disney football "star" Goofy, Walt Disney World Resort cheerleaders and two of the nuttiest referees this side of the 50-yard line take part in a lively pigskin celebration. After the big game on February 4 look for a special MVP motorcade. And February 1 to February 9, 2013, stop by Cosmic Ray's Starlight Café for Super Sunday menu items representing the teams, including "Soup-er Bowls" of lobster bisque and tomato basil bisque.
January Limited Time Magic
Week 4 Announcements

Calling all Disney art enthusiasts! Now you can help the Disney Design Group choose a special design that will be featured on select limited-edition Disney merchandise, which will be available for purchase as part of the 2014 Disney Parks Dated Art Program. Choose from 3 unique creations and then vote for your favorite. Make your decision today because, just like many of the "Limited Time Magic" experiences, the voting will be available for one week only, from January 25 – 31, 2013.


Week 3 Announcements

For one week, January 21–27, 2013, some long-lost Disney friends will be meeting guests in the Magic Kingdom. This will be a rare chance to have photos with Clarabelle Cow, Horace Horse Collar, Robin Hood, Sheriff of Nottingham, Friar Tuck, Prince John, The Three Little Pigs, the Big Bad Wolf, Ludwig Von Drake, Scrooge McDuck, Pinocchio, Jiminy Cricket, and Geppetto!


Week 2 Announcements

The forecast at Walt Disney World is sunny with a chance of flurries! For one week, from January 14 - 20, 2013, the Canada Pavilion at Epcot is hosting a magical Winter Wonderland location where you and your family can play in the snow. Stop and take a fun one-of-a-kind photo of it snowing in Canada! Here you can also meet, greet and pose for photos with some favorite Disney Characters, including Chip, Dale, Donald and Daisy in their winter wardrobes.
Week 1 Announcements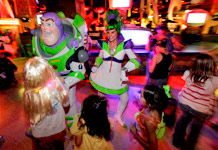 Walt Disney World kicks off 2013 with a week-long New Year's party from December 30 - January 5, 2013. Taking place in Magic Kingdom Park, Tomorrowland will get its first ever "Bling in the New Year" dance party. Watch live entertainment on Rockettower Plaza Stage, dance to great music and celebrate with some of your favorite Disney characters - all dressed in their New Year's best. And if you can't stay up until midnight, there will be a New Year's countdown every hour leading up to midnight.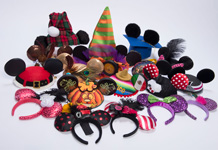 Merchandise Promotion: Plus, as part of "Limited Time Magic," 2013 will be the Year of the Ear at Disney Parks. Every month, Disney Parks will release new ear hats and headware for Guests to add to their collection. January will start with the limited release of Disney Couture Ear Hats.