Tortuga Tavern
Adventureland - Magic Kingdom
Quick Service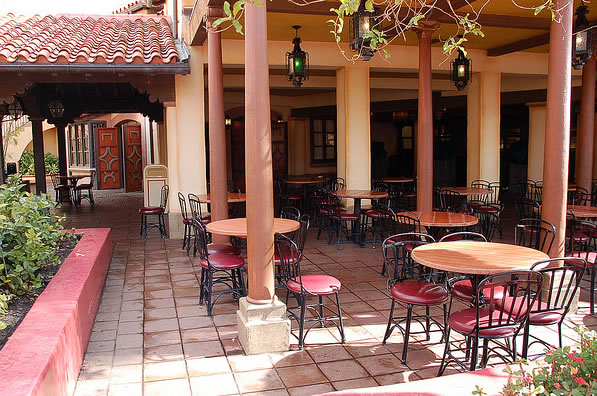 Menu Date: 11/2013

Reviews

Venture a golden Doubloon's toss from the Pirates of the Caribbean for some savory Mexican food, including tacos, nachos and taco salads.
Restaurant Info: Mexican, Lunch/Dinner/Snack, $
Tortuga Tavern to Test Dinner Buffet Menu
From December 21, 2013 until January 4, 2014, Tortuga Tavern will test an all-you-care-to-enjoy dinner buffet with island flavors. Cost is $35.99 for adults and $17.99 for children and reservations are available now. The following items are on the menu.
Soups & Salads
Ocean Harvest Chowder with Crackers
Lush Garden Greens with Lite Vinaigrette, Black Pearl Balsamic, or Ranch
Gulf-grilled Vegetable Pasta Salad
Shipwrecked Tomato, Mozzarella, and Basil Salad
Entrées
Treasures of Macaroni & Cheese
Rosemary-Garlic Pork Steamship
Cannonball Meatballs with Marinara and Parmesan
Banana Leaf-baked Mahi with Gold Coast Mango Chutney
Barbosa's Braised Beef with Julienne Carrots, Celer, and Pearl Onions
Captain Jack's Chicken Breast with Lemon and Parsley
Sides
Sea Salted Green Beans
Caribbean-spiced Sweet Potato Wedges
Assorted Rolls with Butter
Desserts
Rice Crispy Bon Bons
Mickey Brownies
Assorted Éclairs
No Sugar Added Lemon Cookies
Assorted Cup Cakes
Fresh Fruit Salad
Menu
*S - Denotes a snack on the Disney Dining Plan
#1 - Burrito - Chicken or Beef
Filled with Cilantro Rice and Black Beans - $8.39
#2 - Taco Salad
Crisp Flour Tortilla with Seasoned Beef - $8.79
#3 - Beef Nachos
Served with Black Bean Salsa - $7.69
#4 - Vegetarian Burrito
Filled with Cilantro Rice and Black Beans - $7.79
#5 - Caesar Salad with Chicken - $8.29
Topping Bar included with all Entrées
Tomatoes, Cheese, Lettuce, and Salsa
Triple Chocolate Cake - $3.99*S

Cookies & Cream Gelato - $3.99*S



*****
Kid's Picks - for guests 9 & under
All meals include Grapes, Carrot Sticks, and choice of small Lowfat Milk or
small Dasani Water
Quesadillas - Two Flour Tortillas filled with Melted Cheese - $5.99

Peanut Butter & Jelly - $5.49
Minute Maid Juice Box, small Nesquik Chocolate Milk, Applesauce or Cookie substituted upon request

Meets Disney Nutrition Guidelines for Complete Meals without substitutions.
*****


Beverages
Non-Alcoholic Sangria - $3.69*S
Coke, Diet Coke, Sprite, Minute Maid Lemonade, Gold Peak Sweetened and
Unsweetened Iced Tea, Minute Maid Apple Juice - $2.69 and $3.19*S
Liberty Swirl Slush (non-alcoholic) Cherry & Blue Raspberry - $3.99*S
Served in a Souvenir Stein - $9.99
Dasani Bottled Water - $2.50*S
Lowfat Milk - $1.69*S
Nesquik Chocolate Milk - $2.39*S
Simply Orange Juice - $3.79*S
Hot Tea - $2.29*S
Nestle Hot Cocoa - $2.29*S
Coffee (Regular or Decaf) - $2.29*S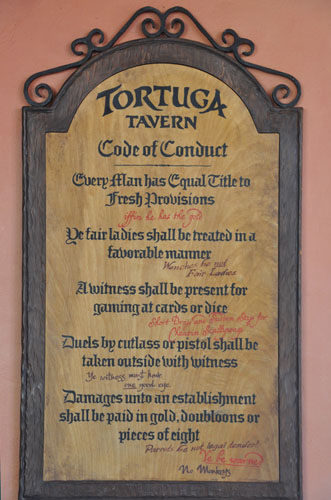 ** Menu and Prices are Subject to Change Without Notice **