Home > Walt Disney World > Dining > Menus > My Disney Girl's Perfectly Princess Tea Party
My Disney Girl's Perfectly Princess Tea Party
Disney's Grand Floridian Resort and Spa
Other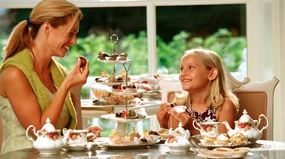 Menu Date: 07/2013


Reviews

My Disney Girl's Perfectly Princess Tea Party is an incredible storytelling event with "Miss Rose Petal" and Disney's Sleeping Beauty, "Princess Aurora."
The Princesse Tea includes:
Young Princesses receive:

"My Disney Girl" Doll dressed in her Princess Aurora Costume
Princess Tiara and Bracelet
"Best Friend" Certificate
Princess Scrapbook Set
Special Rose for each Child
Tea, Tea Sandwiches, and Princess Cake

Young Princeses receive:

Princely Crown
Plush Disney Bear
"Best Friend" Certificate

...and memories to last a lifetime!
Location: Grand Floridian Resort & Spa, Garden View Tea Lounge
Days: Sunday, Monday, Wednesday, Thursday, Friday
Time: 10:30 a.m. - 12:00 p.m.
Cost Includes tax and gratuity):
$291.04 for one Guest age 3-11 and one Guest age 18 and over
$192.38 per additional Guest age 3-11 (includes food and merchandise)
$98.66 per additional Guest age 12 and over (includes food only)
Menu
The adult menu includes Garden View specialty teas and a luncheon plate that consists of:
Egg salad sandwiches
Chicken-Almond salad sandwiches
Blue Cheese Barquette
Smoked Cheddar cheese
Sage Derby Cheese
Lavosh (flat bread)
Grapes
A slice of Princess Cake
The kids menu consists of:
Peanut Butter & Jelly Hearts
Grapes
Apple Juice
A slice of Princess Cake
Call (407) 939-6397† to make your Tea Party reservations.
** Menu and Prices are Subject to Change Without Notice **