Princess Storybook Lunch
Epcot World Showcase - Norway's Akershus Royal Banquet Hall
Princess and Friends Dining and Unique Norwegian Cuisine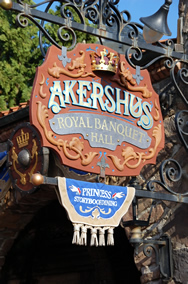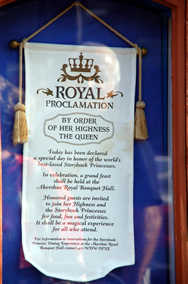 Menu Date: 07/2013

Reviews

Dine with royals when you join Disney's favorite princesses in a fairytale setting.
Restaurant Info: Disney Princesses and Friends
A Norwegian-American Lunch, Family-Style plus Buffet, $$
Princess Storybook Breakfast Menu
Princess Storybook Dinner Menu
Lunch from 11:55 a.m. to 3:30 p.m.
Adult Price Range: $41.53 - $50.05
Child Price Range (ages 3 - 9): $25.55 - $28.75
Prices vary by season and include tax, but not gratuity.
List of Possible Characters: Snow White, Belle, Princess Aurora, Ariel, Jasmine, Mulan, Mary Poppins
The price of this meal includes a photo package of your party with one of the princesses. The photo package includes one 6x8 print in a souvenir folder and four 4x6 prints. Complimentary image packages are provided as follows: 1 package per group of 4 paying guests; 2 packages for groups of 5-8 guests and 3 packages for groups of 9-12 guests.
Lunch includes a buffet plus an entree served at your table, a family-style dessert plate and a non-alcoholic beverage. This meal is "All You Care to Eat."
Menu
Everyone's Royal Fest begins with a "Taste of Norway". This magnificent feast includes sliced deli meats, seafood, and a grand selection of prepared salads and cheeses.
Entrées
Seared Salmon Cakes
with Pickled Cucumber Salad and Remoulade
Open-faced Chicken Sandwich
on Sourdough Bread with Tomatoes, Arugula, Bacon,
Mushroom Vinaigrette, Jarlsberg Cheese, and
Lingonberry Mayonnaise, served with choice of Soup
Traditional Kjottkake
Norwegian Meatballs served with Mashed Potatoes,
Seasonal Vegetables, and Lingonberry Sauce
Grilled Beef Sandwich
thinly sliced Beef Sirloin, Roasted Shallot Mayonnaise, Caramelized Onions,
Roasted Potatoes, and Crumbled Blue Cheese
Mushroom-stuffed Pasta
with Swiss Chard, Oven-roasted Shiitakes, and Parmesan Cream
Oven-roasted Chicken Breast
with Vegetable-Barley Risotto, Asparagus, and Champagne-Mushroom Sauce
Soft Drinks, Coffee and Dessert included
Featuring Freshly Brewed Joffrey's Coffee
Princes and Princesses
Guests ages 9 and under

Mickey Check Meals
Served with choice of Small Lowfat Milk or Small Dasani Water
Grilled Chicken Breast
Entree: Grilled Chicken Breast with roasted potatoes and vegetables
Dessert: Fruit Salad
Salmon
Entree: Salmon with roasted potatoes and vegetables
Dessert: Fruit Salad

Meets Disney Nutrition Guidelines for Complete Meals without substitutions.
- OR -
Choice of one (1)Beverage and one (1) Entree
Beverages
(Choose One)
Small Lowfat Milk
Small Dasani Water
Small Minute Maid Apple Juice
Entrees
(Choose One)
Cheese Ravioli
served with tomato sauce
Pizza
topped with mozzarella
Meatballs
served with mashed potatoes and corn
Grilled Chicken Breast
served with roasted potatoes and vegetable
Hot Dog
with corn
Salmon
served with vegetables and roasted potatoes
Royal Chef's Dessert Plate served family style, includes:
Sweet and Savory Chocolate Mousse
Traditional Rice Cream
topped with Strawberry Sauce
Apple Cake
with Cardamom Whipped cream
Beverages:
Regular, Non-Alcoholic Beverages included with meal,
including milk, soda, coffee, tea, iced tea, lemonade, and punch

Soft Drinks: Coca-Cola, Coca-Cola Zero, Diet Coke, Sprite, Minute Maid Light Pomegranate Lemonade, Barq's Root Beer

Assorted Teas: Green Tea, Orange Pekoe, English Breakfast, Irish Breakfast, Earl Grey, and Chamomile


Additional Beverages:
Ariel or Buzz Lightyear Punch
Minute Maid Light Lemonade Punch served in a souvenir Ariel or Toy Story 3 cup with a glowing Ariel or Buzz Lightyear Clip-on Light - $6.49

All-Natural Lemonade
topped with a Wildberry Foam - $4.19

Voss Artesian Water from Norway
Still or Sparkling 375 mL (serves two) - $4.50
Still or Sparkling 800 mL - $6.50
Alcoholic Beverages:
Viking Coffee
A roubst combination of Columbian Coffee, Kamora Coffee
Liqueur, and Baileys Irish Cream - $8.75
The Stavanger
A refreshing frozen blend of Raspberry, Vodka, and Linie Aquavit - $10.75
The Oslo
A creation from the capital city; this frozen fruity favorite
combines Strawberries with Creme de Banana, Linie Aquavit, and Vodka - $10.75
Tromso
A frozen blend of creamy Cappuccino, Baileys Irish Cream, and Amaretto - $9.75
Linie Aquavit Glacier Shot - $8.50
Fjellbekk (Mountain Stream)
Aquavit, Vodka, Sprite, and Lime - $9.75
Prince of Norway
A royal blend of Apricot Brandy, Sloe Gin, Sour Mix, and Orange Juice - $7.75
Carlsberg Draft Beer - $7.75
Magical Star Cocktail
X-Fusion Organic Mango and Passion Fruit Liqueur, Parrot Bay Coconut Rum,
Pineapple Juice, and a souvenir Multicolored Glow Cube - $10.75
The Kristiansand
Taste Norway's southern coast with a frozen combination of Raspberries,
Mango, Linie Aquavit, and Rum - $10.75
** Menu and Prices are Subject to Change Without Notice **