Chef Mickey's
Disney's Contemporary Resort
Character Meal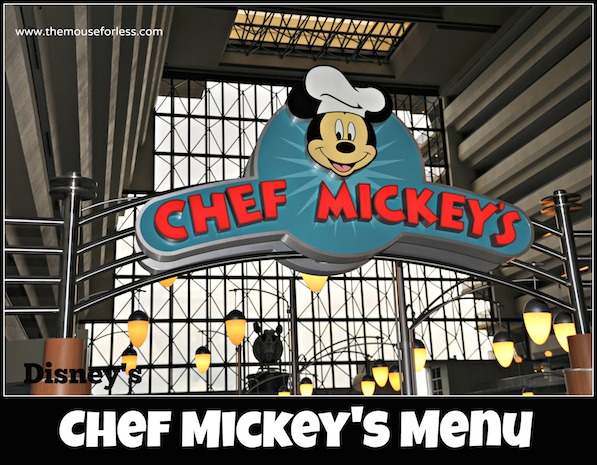 Chef Mickey's Reviews   Print Menu

Enjoy the fun and excitement of meeting Mickey and his pals during your feast as the monorail quietly whisks by overhead. Chef Mickey invites you to a buffet at this favorite for family fun Character dining. Choose from a spectacular spread of seasonal specialties. Make your meal end sweetly ever after at the sundae bar. Dining here reveals true Character!
Restaurant Info: American, Breakfast/Dinner Character Buffet, $$
Chef Mickey's Breakfast Buffet
Menu Date: 09/2014
Breakfast served daily from 7:00 a.m. until 12:30 a.m.
Child Price (3-9): $19.16
Adult Price: $37.27
Prices vary by season and include tax, but not gratuity.
Characters: Mickey, Minnie, Goofy, Chip and Dale
Premium Fruit Bar
Seasonal Melon & Fresh Fruit
Assorted Flavored Yogurts
Cold Smoked Salmon
& More
Cereal Selections
Corn Flakes, Fruit Loops,
Rice Krispies, Cruncheero's
Hot Oatmeal
Breakfast Specialties
Garden Vegetable Quice
Scrambled Eggs with Assorted Toppings
Sausage Quiche
Cheesy Potatoes
Breakfast Potatoes
Hickory Bacon and Pork Sausage Links
Pixie Dusted Challah French Toast
Pancakes with Maple Syrup
Buttermilk Biscuits and Country Gravy
Goofy's Vegetable Lasagna
Turkey Hash & Corned Beef Hash
Children's Buffet
Minnie's Breakfast Pizza
Mickey Waffles
Tater Crisps
Pastry Chef's Creations
Bagels, Chocolate Croissants, Pluto's Cheese Blintz, Cinnamon Rolls, Rice Krispy Treats, Assorted Danish & More
Traditional Breakfast Beverages Included
All Items Above are Examples and Change from Day to Day!
Chef Mickey's Dinner Buffett
Menu Date: 09/2014
Dinner served daily from 4:00 p.m. until 9:30 p.m.
Child Price (3-9): $23.42
Adult Price: $45.79
Prices vary by season and include tax, but not gratuity.
Characters: Mickey, Minnie, Donald, Goofy, and Pluto
Sample menu (not all items will be served):
Seasonal Soup & Salad Bar
Soup of the Day (1 of the following): Chicken Corn Chowder, Smoked Tomato Bisque,
Ham, Potato & Chive, Chicken & Rice, Beef Barley

Carved to Order:
Spiced-rubbed Sirloin of Beef
Oven-roasted Turkey OR Cranberry Glazed Ham
Buffet Specialties of the Day:
Roasted Pork & Fluffy White Rice with Red Beans
OR Oven Roasted Chicken with Bourbon BBQ Sauce
OR Beef Bourguignon
OR Saffron Rice with Chicken & Chorizo
OR Thai Curry & Chiptole BBQ Chicken
OR Baked Parmesan & Panko Crusted Chicken
Seasoned Salmon Fillet with Dill Aioli
OR Baked Salmon Fillet with Mango & Chili Chutney
Orecchiette Pasta with Peas, Onions, & Bacon in a Carbonara Sauce
OR Crimini Mushrooms in a Tomato Pesto
OR Oreccihette Pasta & Vegetables with Garlic Oil
OR Tortellini & Artichokes with a Roasted Red Pepper Cream Sauce
Mussels "Scampi Style"
Parmesan Mashed Potatoes
Mickey Cheese Ravioli in Tomato Herb Marinara
Spaghetti & Meatballs
Steamed Broccoli with Cheese Sauce
Saute Green Bean Tossed with Cherry Tomatoes and Vidalia Onions
OR Green Beans with a mushroom cream Sauce
OR Chorizo Red Beans and White Rice
OR Scalloped Potatoes
Children's Favorites:
Chef Mickey's Macaroni and Cheese
Goofy's Cheese Pizza
Chicken Breast Nuggets
Pluto's Baked Chicken Tenders
Minnie's Vegetables
Sweet Treats:
Ice Cream Sundae Bar
Assorted Seasonal Desserts
Rice Krispy Treats
Peach Cobbler
Warm Bread Pudding
Seasonal Melon
Fresh Fruit Display
Non-Alcoholic beverages included with meal.
Prices listed do not include sales tax or gratuity.

MouseForLess Tips:
We usually take the Disney Bus to Magic Kingdom and take some last pictures in front of the bus and say "See ya real soon." We take the walkway to the Contemporary. After we eat it's usually a ride on the monorail to either the Poly or GF where we get on a bus to DTD to closeout our shopping and walk off our meal.

Chef Mickey's is always a must do for our family and we usually save it for the end of our trip. We either eat dinner there our last night or breakfast on the morning of our departure. It is really a magical way for us to wrap up our vacation. By scheduling it for the end of our trip we don't have to stress meeting Mickey, Donald, Goofy, etc. in the parks because we know that we will be meeting them for sure at Chef Mickey's. ~ J Sander
** Menu and Prices are Subject to Change Without Notice **