Home > Disneyland > Limited Time Magic
2013 'Limited Time Magic' Campaign at
Disneyland Resorts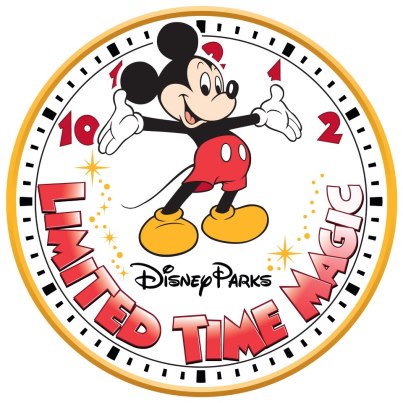 Be delighted and surprised each week you visit Disneyland in 2013 with "Limited Time Magic". Disneyland and Walt Disney World will be kicking off "Limited Time Magic" campaign beginning January 2013. Guests will find a new surprise each week when they visit Walt Disney World and Disneyland Resorts in 2013. Examples include an Independence Day celebration with little touches that lasts for a week and a Friday the 13th dance party featuring Disney villains that goes into the 13th hour (1 a.m.) of a single day. Limited Time Magic will have a lot to do with celebrating special occasions with families in mind.
Disney will be dreaming up more micro-celebrations to be rolled out weekly in 2013. Each week, guests visiting Disneyland Resort will find Limited Time Magic — some kind of special entertainment, event, souvenir or surprise available for a limited time only— and as they do, we will announce it here. Check back often in 2013!
In addition, Disneyland Annual Passholders will enjoy special surprises—but only for a limited time, and only for Annual Passholders! For more information and to stay up-to-date with the upcoming Limited Time Annual Passholder Magic opportunities, visit disneyland.disney.go.com/news/limited-time-magic-for-passholders or "Like" the official Disneyland Resort Annual Passholder Facebook page or check this page weekly.

See a Week By Week Summary of Past Limited Time Magic Events for Disneyland

See Limited Time Magic Events for Walt Disney World Resort


This Week's Limited Time Magic Announcements for Disneyland Resort
(Updated Every Friday)

Embark on an Adventure for Elf Days
December 9 to December 15, 2013
Train to become one of Santa's secret helpers during Elf Days—a yuletide Limited Time Magic event happening at Redwood Creek Challenge Trail in Disney California Adventure Park. Santa's elves are looking for a few good Guests to join their ranks… but only if these recruits can tackle a series of master challenges! From the Jingle Bell Bridge to Stocking Stuffers and Present Tracking, test your bravery by taking on each task. Not only will you receive your own official Elf name and learn the secret Elf Handshake, but you can even take a photo flying in Santa's sleigh! So slip on those curly-toed shoes—before you know it, you'll be jingling all the way!

Walk Buena Vista Street with an Imagineer
December 9 to December 13, 2013
Revel in the spirit of the 1920s on a tour of Buena Vista Street, one led by a Disney Imagineer! As part of Limited Time Magic, you're invited to register for an opportunity to explore the re-imagined entrance at Disney California Adventure Park. Much like how Main Street, U.S.A. in Disneyland Park evokes the nostalgia of Walt Disney's childhood, Buena Vista Street recalls the vibrancy Walt encountered when he first arrived in Los Angeles. It's a perfect occasion to learn details directly from an Imagineer—with a focus on architecture, design, music and even the replica of an authentic Red Car Trolley. Space is very limited, so register at the Disney Parks Blog today!
Plus, Annual Passholders can take in the new World of Color "Winter Dreams" during the following select performances:
December 6: 9:00 p.m. show time
December 2, 3, 4, and 5: 7:00 p.m. show time
Registration for this event must be completed in person, by each participating Passholder, at the Grizzly River Run Disney FASTPASS Service machines on the day of the event only. Registration and distribution of Disney FASTPASS tickets for each Passholder show will be based on availability. Event participants may also receive a special holiday ornament, while supplies last. Space at this event is limited and not guaranteed.
---
Limited Time Magic - A Week By Week Summary of Past Events
December Limited Time Magic
Week 48 Announcement

Get decked out for the Year of the Ear at the Disneyland Resort, courtesy of Limited Time Magic. After all, wintertime wouldn't be complete without the bright and cheerful hats this joyous season inspires, and that includes our newest special spotlight ears like the Santa Mickey ear hat and the Minnie Santa hat! Each one is a wonderful way to add the perfect amount of shimmer to your next visit—stop by the Fantasyland Mad Hatter and other select locations throughout Disneyland Park to discover these magical offerings, along with the entire holiday ear hat collection! Available while supplies last starting November 29, 2013.
November Limited Time Magic
Week 47 Announcements

Celebrate the tastiest time of the year with Thanksgiving Treats across the Disneyland Resort November 24 to December 1, 2013—courtesy of Limited Time Magic! Savor the flavors at Disneyland Park with pumpkin spice lattes at Jolly Holiday Bakery and Mint Julep Bar; caramel apple muffins at Schmoozies, The Coffee House and Surfside Lounge; sweet potato pie at Tomorrowland Terrace; pumpkin cheesecake at Harbour Gallery; the Fall Time Yule Log—a.k.a. spice cake with pumpkin mousse, lingonberry marmalade and more—at Plaza Inn; and pumpkin fritters at Royal Street Veranda. Meanwhile, a duo of delights awaits at Disney California Adventure Park, like pumpkin pie hot chocolate at Pacific Wharf Café, Award Wieners and Flo's V8 Café; and turkey-shaped bread at the DCA Bread Cart, Mortimer's Market and Boardwalk Pizza and Pasta.

Prepare the port for a boatload of holiday cheer headed your way, courtesy of the Jungle Cruise… or should we say "Jingle Cruise"? Starting November 22, 2013, this classic Adventureland attraction will be decked out from boathouse to dock with a hodgepodge of holiday décor. And as part of Limited Time Magic, you can celebrate the seasonal enhancement with a complimentary "Jingle Cruise" mini poster, available while supplies last by the Oasis Courtyard outside the exit of the Jungle Cruise at Disneyland Park. This is your chance to hear the skippers slip a holiday joke into their already hilarious spiels—and take home a ferociously fun piece of the festivities too!
Click Here to Check Out the Poster
Week 46 Announcement


Get ready to glow at Disney California Adventure Park from November 18 to November 24, 2013. As part of Limited Time Magic, make your way to a special viewing area for performances of "World of Color – Winter Dreams"! This wondrous nighttime experience brings to life the spirit of the season with beloved Disney characters, heartwarming holiday music and dazzling special effects. And when you wear your Glow with the Show Ears, you can even gain access to a special viewing area—available to Guests with valid "World of Color" FASTPASS tickets! This viewing area has a limited capacity, and entry will only be offered for a limited time, on a first-come first-serve basis. Don't miss out on this glowing opportunity!
Week 45 Announcement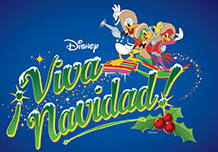 Cook up some fun for the whole family at Disney California Adventure Park, where a merry party is taking place through January 6, 2014. It's Disney's ¡Viva Navidad!, a joyous event inspired by the warmth, spirit and tastes of the Latino culture. And as part of Limited Time Magic, you can stop by Paradise Gardens from November 14 – 17, 2013 to enjoy some savory treats, including Champurrudo and Pineapple Sweet Tamales—each prepared by Disneyland Resort chefs during exciting culinary demonstrations! It's a perfect opportunity to wish those around you a festive occasion, and also purchase specially themed merchandise, like tees, pins, ornaments and more. Don't miss this chance to celebrate the season in style!
Week 44 Announcements

Enjoy the rarest of opportunities as part of Limited Time Magic—set out on a one-of-a-kind tour of the exclusive Disneyland Dream Suite from November 4 to November 8, 2013! You're invited to come along and explore the private 2-bedroom suite located directly above Pirates of the Caribbean. Originally planned by Walt Disney himself, the 2600-square-foot space was sadly halted after his passing in 1966. Thankfully, his plans were brought back to life during a special celebration in 2008, and were redesigned to reflect each of the lands from Disneyland Park. You won't want to miss out on this enchanting experience as a Disney Imagineer clues you in on many of the magical surprises hidden inside! Space is extremely limited, so register at the Disney Parks Blog today.

Get ready for an otherworldly experience with Thor: Treasures of Asgard, an all-new entertainment offering at the Disneyland Resort in Anaheim opening November 1st! Take off on this unforgettable journey as you're magically transported from Disneyland Park to the home world of Thor, the Mighty Avenger—star of the big screen epic adventure Thor: The Dark World, in theaters November 8, 2013. Plus, while supplies last, you can even receive a special 2-sided Thor: The Dark World poster during your visit. Don't miss your chance to get up close with the God of Thunder! Posters available while supplies last!
Week 43 Announcement

Dig up a frighteningly fun time during Halloween week at Disneyland Park where as part of Limited Time Magic, you can uncover the most popular barbershop quartet from beyond the grave—the Cadaver Dans! This fearsome foursome is taking a break from pushing up daisies to harmonize on a ghoulish medley of familiar "tombs." Come tap your toes—and maybe your pulse too—as the Cadaver Dans entertain grim, grinning ghosts and Guests alike, outside of the Haunted Mansion in New Orleans Square. But catch a sighting while you can—they're only appearing in daylight from October 28 to November 3, 2013, before they return from whence they came!
October Limited Time Magic
Week 42 Announcement

Celebrate a magical transition from this year to next with a vibrant set of vinyl ear clings for your Glow with the Show Ears! As part of Limited Time Magic, head to the Disneyland Resort where you can find all-new Ear Hat accoutrements—a special gift with the purchase of a pair of Glow with the Show Ears. Each comes complete with 2 sets of stickers, one giving a "bon voyage" to 2013, while the other welcomes 2014 with open arms. You won't want to miss this magical chance to enhance your light-up experience like never before—whether you're watching along as part of the show or ringing in the New Year elsewhere in the Disney Parks!
Week 41 Announcements

Celebrate Oktoberfest in style at the Disneyland Resort, courtesy of a little Limited Time Magic! For 2 weeks, you're invited to don your finest lederhosen and join the fun at Disney California Adventure Park where Bayside Brews is kicking off the festivities with a special menu. From best to 'wurst, savor the flavors from a host of special offerings, including bratwurst sausage, served in a Boursin-garlic brioche with hickory-smoked bacon and sauerkraut, and accompanied by potato chips or apple slices; a Bavarian Pretzel with your choice of mustard; and gingerbread bundt cake. Plus, be sure to top off your stein with a tasty Karl Strauss Oktoberfest Beer or Hofbrau Munchen Beer from October 14 to October 31.

Enjoy the Pumpkin King of Halloween Town in an entirely new way with your very own limited edition cookie at the Disneyland Resort! Tim Burton's The Nightmare Before Christmas is celebrating its 20th anniversary, and as a special Limited Time Magic offering, you're invited to ring in the occasion at Disneyland Park with a frighteningly tasty treat inspired by Jack Skellington himself! So go ahead and give into your sweet tooth this Halloween season—scare up this cookie while supplies last, only in New Orleans Square from October 14 to October 20!
Week 40 Announcements

Celebrate the 13th season of Haunted Mansion Holiday at Disneyland Park as the denizens of Halloween town add a sprinkling of Limited Time Magic to their fiendish festivities! For a limited time, the Haunted Mansion has been gifted with a ghoulish bounty of frightfully fun delights. The Pumpkin King himself—a.k.a. Jack Skellington from Tim Burton's The Nightmare Before Christmas—has placed 13 surprise objects inside each area, from the foyer and the attic to the ghostly graveyard below. Climb aboard your Doom Buggy and keep your eyes peeled as each turn reveals yet another treat. Can you spy them all? Visit Haunted Mansion Holiday beginning October 4th to find out for yourself. And don't forget to scream with glee when you do!

Scare up some fashionable frights this Halloween season as you spruce up your wardrobe with a little Limited Time Magic! Throughout the month of October, celebrate the Year of the Ear at the Disneyland Resort with a limited edition Halloween Mickey Mouse Pumpkin Ear Hat, available while supplies last! Stop by any one of a number of shops and locations to discover yours—including Disney Showcase and Fantasyland Mad Hatter at Disneyland Park; Elias & Co. and Treasures in Paradise at Disney California Adventure Park; and World of Disney Store in Downtown Disney District from October 4 to October 31, 2013, while supplies last.
Week 39 Announcement

Add a dash of color to your weekend when Limited Time Magic presents the Downtown Disney Chalk Art Festival October 4 to October 6, 2013! Watch in wonder as talented artists intricately transform concrete walkways into a series of canvases for their works. This is your chance to marvel at each eye-catching creation as they're carefully crafted together from chalk, paint and other materials. Plus, you can even meet popular artist Miss Mindy—from 6:30 PM to 9:30 PM, October 4-5, 2013—as the Disneyland Resort celebrates the release of some new pieces in her collection at WonderGround Gallery, in addition to a special artist showcase by Haunted Memories—from 1:00 PM to 4:00 PM, October 5-6, 2013. It's all happening for a limited time, only at Downtown Disney District!
September Limited Time Magic
Week 38 Announcements

Avast! Make way to Disneyland Park for a full week of Limited Time Magic inspired by "Talk Like a Pirate Day." Be ye regaled in New Orleans Square by The Bootstrappers pirate band while a scurvy bunch of bilge rats looking for new recruits takes over the Sailing Ship Columbia. Set sail, or follow destiny to the Pirates Lair on Tom Sawyer's Island, where ye may encounter a scallywag with a comical parrot sidekick or perhaps make the acquaintance of Captain Jack Sparrow himself! And don't forget The Pirates League—available for both kids and adults from September 20 to October 31, 2013—located at Halloween Carnival at Big Thunder Ranch Jamboree. Also from September 23 to September 29, while supplies last, you will receive complimentary pirate teeth to complete your look, if you take part in a transformation at The Pirates League (kids and adults). You can make reservations by calling 714-781-7895.


Experience the latest Iron Man technology firsthand at Iron Man Tech Presented by Stark Industries, an interactive exhibit at Innoventions in Disneyland Park. This is your chance to virtually "suit up" and test out Iron Man's Mark 42! Plus, as part of Limited Time Magic, you can take home a special poster celebrating the release of Iron Man 3 on Blu-ray as well as ABC's new TV series Agents of S.H.I.E.L.D. — both debuting September 24th! Enjoy all the action as you go behind the mask with Tony Stark on his latest adventure, and don't miss the premiere of Agents of S.H.I.E.L.D. Tuesday, September 24, 2013 at 8:00 PM / 7:00 PM Central on ABC. Click Here to Check Out the Poster
Week 37 Announcements

Relish in the history of Disney Parks and Resorts, including the integral role the 1964-1965 World's Fair played in many beloved experiences! As part of Limited Time Magic, from September 16 to September 20, 2013, you can follow official Disneyland Ambassadors on a tour of Disneyland Park. Created by Walt Disney in 1965, the Disney Ambassador Program has carried on a rich heritage of imaginative storytelling and goodwill service for Disney. Enjoy their stories—from Imagineering innovations to the legacy of the Program itself—and hear how Walt's involvement at the World's Fair inspired technology that still exists in attractions today! This one-hour tour takes place once daily and space is limited 25 people in each tour per day. Register at the Disney Parks Blog on 9/13/13 until 5:30 pm Pacific to see a new side of Disneyland Park!

Commemorate the Year of the Ear in the most "spooktacular" way yet—as part of limited Time Magic, you can dress like a villain when the Disneyland Resort turns the spotlight on popular Disney baddies, courtesy of some all-new merchandise that includes a Villains headband themed to the Evil Queen, Maleficent, the Queen of Hearts and Ursula! Be on the lookout for these villainous offerings at a host of different locations, such as the following: The Mad Hatter at Main Street, U.S.A. and Fantasyland, and the New Orleans Cart in Disneyland Park; Tower Hotel Gifts in Disney California Adventure Park; and World of Disney Store in Downtown Disney District. Available September 13, 2013, while supplies last
Week 36 Announcement

Get Ready to Unleash the Villains! On Friday, September 13, experience the most spine-tingling bit of Limited Time Magic yet at the Disneyland Resort! From 8:00 PM until 1:00 AM—a.k.a. the 13th hour—the Disney Villains will be waiting for your arrival as they make their way to various areas of Disneyland Park. Come along for this devilishly delicious affair, on a night jam-packed with 13 dastardly Disney baddies and a host of fiendish festivities, including a villainous dance party.
Week 35 Announcement

Come along for a moment 86 years in the making—on September 5, 1927, Oswald the Lucky Rabbit debuted in a short film titled "Trolley Troubles." And to celebrate the anniversary, you're invited to attend a Limited Time Magic party for all things Oswald at the Disneyland Resort! Hop on over to Clarabelle's at Disneyland Park for a delicious Oswald Ice Cream Sundae in a souvenir Red Car Trolley cup. Also, be sure to stop by Oswald's or Elias & Co. on Buena Vista Street at Disney California Adventure Park where you can find Oswald-inspired merchandise that will have you smiling from ear to ear, including artwork, vintage signs, Oswald Ear hats and more! Available September 2 to September 8, 2013.
August Limited Time Magic
Week 34 Announcement

The sun might be setting on summer, but before it does, Limited Time Magic wants you in attendance for a celebration at the shore! Just as August comes to a close, take a jovial stroll down to Paradise Pier at Disney California Adventure Park where you can find a most vibrant atmosphere, one bustling with fantastic boardwalk-style variety acts. Then, discover some of your favorite Disney Characters, each one perfectly appointed for a day at the beach. It's only going down for a limited time, so grab your friends and family, and join all the fun under the sun at the End of Summer Party at the Pier from August 26 to September 2, 2013!
Week 33 Announcement

Get ready for another reunion with even more of your favorite, rarely seen Disney Characters! It's Long Lost Friends Week at Disneyland Park and to celebrate, Limited Time Magic is bringing some classic Disney companions back into the spotlight at Big Thunder Ranch Jamboree in Frontierland. You won't want to miss this amazing opportunity to get up-close and personal—and snap a few photos—with Disney Characters selected in an online poll. From Merlin to Hercules and Meg to Tarzan, Jane and Terk… these are just some of the magical pals you could possibly meet. Be part of the fun when Long Lost Friends Week makes its return! Look for Long Lost Friends from August 19 to August 25, 2013.
Week 32 Announcement

Peek through the windows on Main Street, U.S.A. for a glimpse at the grand traditions and rich history of Disneyland Park! From August 12 to August 16, 2013, as part of Limited Time Magic, you can join a select number of Guests along with Jon Storbeck—30-year Cast Member and Vice President of Disneyland Park—for a tour of the land inspired by classic Americana. Sign up today and hit the street as Jon shares some of the stories behind the windows, and tells tales about the real-life characters who helped create Walt Disney's original Magic Kingdom.
Week 31 Announcements

Junior pilots, prepare for takeoff with your very own pair of commemorative pilot wings celebrating Planes, Disney's upcoming animated action-packed comedic adventure taking flight in 3D in theaters Friday, August 9. Set your course for Soarin' Over California at Disney California Adventure Park where kids between the ages of 5 and 13 can get their wings—while supplies last—courtesy of Limited Time Magic. Available August 2, 2013 while supplies last.

Do you see yourself as a hero? Perhaps you fancy yourself as a villain? No matter which side of the coin you fall on, continue commemorating the Year of the Ear by slipping a reversible Cover Your Ears base over your Mickey Mouse ear hat. Each side of these magical pieces of merchandise features either fearless heroes or evil villains from classic Disney entertainment. Explore where your allegiance lies and discover this Limited Time Magic offer at the Fantasyland Mad Hatter in Disneyland Park! Available August 5, 2013 while supplies last.
Week 30 Announcement

Prepare yourself for the return of a monster-sized pleasure! Courtesy of a little Limited Time Magic, you can enjoy the reappearance of the Monstrous Eye-Scream Sundae at Disneyland Park. Stop by Gibson Girl Ice Cream and Clarabelle's Ice Cream to discover this chilling treat, which comes complete with 2 scoops of mint chip ice cream, hot fudge, whipped cream, cookie horns, a chocolate eye and sprinkles, all inside a crunchy waffle cone. Don't miss your opportunity to scare up some summer fun—dig into this delightful dessert before the offer melts away! Available July 29 to August 4, 2013.
July Limited Time Magic
Week 29 Announcement
Deck the halls early, courtesy of some midsummer Limited Time Magic from July 22 to July 28, 2013! Stop by the China Closet in Disneyland Park and Trolley Treats at Disney California Adventure Park, as well as the World of Disney Store at Downtown Disney District where you can find all-new, magical ear hat ornaments—each featuring delightful depictions of Santa Mickey and popular park attractions too. And for a treat your sweet tooth will enjoy, savor the merry flavor down on Main Street, U.S.A. in Disneyland Park with a Peppermint Sundae from Gibson Girl Ice Cream. Or, jaunt over to Jolly Holiday Bakery and Café for gingerbread cookies, cupcakes, iced peppermint mochas and more!
Week 28 Announcement

Experience a blast from the past when Limited Time Magic brings the classic sounds of the "Original Boy Band" back to Main Street, U.S.A. from July 15 to July 21, 2013. This summer, the Dapper Dans of Disneyland Park are booking a trip to the old school, and they're taking along their beloved medley of popular boy band hits too. Join the troupe, as well as a smiling crowd of fellow fans, and enjoy a few of your favorite songs as barbershop meets boy band!
Week 27 Announcement

This July, take advantage of your chance to indulge in the return of a tasty treat near Matterhorn Mountain! Make your way to Edelweiss Snacks for a delicious Matterhorn Macaroon, available while supplies last as part of Limited Time Magic. Then, while you munch down on your scrumptious sweet, direct your attention toward the icy white slopes of the mountain to enjoy the delightful Alpine melodies of Happy Hans and his strapping son Erik as they celebrate the brave climb of mountaineers ascending the famous peak! The "Magic of Matterhorn Mountain" takes place July 8 to July 14, 2013.
Week 26 Announcement

The 4th of July is seven days long this year as Disneyland salutes America with a spectacular 4th of July Fireworks Party from July 1-7, 2013. Everything will be red, white and blue, from the fireworks and the Castle down to special-edition U.S.A. shirts, ear hats and other patriotic souvenirs. The Disneyland Resort fireworks spectacular will be held each night at 9:30 p.m. during Independence Week.


June Limited Time Magic
Week 25 Announcement

Celebrate the release of The Lone Ranger by kicking up some sizzling summer fun at Disneyland Park! Find your way to Frontierland and beat the heat at Golden Horseshoe, where you can buy a boot-shaped souvenir mug, "branded" with the Lone Ranger's logo. Fill your "boot" with a frosty root beer slush, or enjoy other offerings in the spirit of Disney's latest adventure film, including the "Masked Ranger Favorite"—a deluxe Angus cheeseburger with bacon, onion rings and all the fixin's. You won't want to miss this delicious offer, available for a limited time, thanks to a little Limited Time Magic!
Week 24 Announcement

Every graduate deserves congrats, and what better way to pay tribute—and say "Ears to you!"—than with a Mortar Board Ear Hat! For a limited time when you purchase a mortar board graduation Ear Hat at Main Street Mad Hatter in Disneyland Park and Elias & Co. in Disney California Adventure Park, you can pick from 5 different tassels that best represent your school colors, individually available for just $1.95 each. So drop by and do the grad in your life a favor—help celebrate his or her determination in style, June 17 to June 23, 2013!
Week 23 Announcement

This Father's Day, show dad he's incredible with a gift he won't soon forget—as part of Limited Time Magic at Disney California Adventure Park, head to Paradise Pier, where a duo of "supers" from Disney•Pixar's The Incredibles will be posing for pictures. Stop by June 10 to June 16, 2013 for a chance to meet Mr. Incredible or Frozone, and see how these larger-than-life Disney Characters stack up against the fatherly hero in your family!
Week 22 Announcement

Celebrate the opening of the all-new live show "Mickey and the Magical Map" at Disneyland Park with a little extra Limited Time Magic! This June 3 to June 9, Guests who join Mickey Mouse on this musical journey to imagination and back will be invited to extend their experience, courtesy of Mickey's Compass Quest. Once the show comes to a close at the Fantasyland Theater, fetch yourself a map and follow a series of show-inspired clues to secret spots around the park. Uncover hidden markers, complete each challenge and take home a special reward! What are you waiting for? The quest awaits!
May Limited Time Magic
Week 21 Announcement

It's shaping up to be a Monstrous Summer at Disneyland Resort starting May 24, 2013 with a colossal lineup of unforgettable experiences, including entertainment enhancements celebrating the newest Disney•Pixar animated feature, Monsters University.



Drop by the Monsters University-themed areas at Disney's California Adventure park for a chance to meet and take pictures with some of your favorite Characters! You'll find Mike and Sulley right outside the university dorms, recreated in Hollywood Land.


Also at Disney California Adventure park, Mike and Sulley show their MU spirit as they lead daily performances of the Pixar Play Parade, followed by their new Monsters University friends, Art, Scott "Squishy" Squibbles, Terry & Terri and Fear Tech mascot, Archie the Scare Pig.
Week 20 Announcement

Prepare for a day and night of scary delight when the stars of Disney•Pixar's Monsters University invade Disneyland Park and Disney California Adventure Park from May 24 - May 25, 2013! For 24 magical hours, from May 24 at 6:00 AM to May 25 at 6:00 AM, Mike and Sulley will be dropping in from their "alma monster" to scare up some school spirit during an action-packed "all-nighter."
Week 19 Announcement

This Mother's Day Weekend, show mom the "time" of her life—as part of Limited Time Magic, whisk her away to World of Disney Store in Downtown Disney District or Fortuosity Shop at Disneyland Park where she can try her hand at the latest greatest looks, including a fashionable selection of all-new timepieces specific to the occasion! "Watch" her face light up with glee and then further the magic even more on Mother's Day at Disneyland Park or Disney California Adventure Park, where all moms will be honored with a special flower. Valid theme park admission required.
Week 18 Announcements

Celebrate the spirit of Mexico and commemorate the year of the ear all at once with your very own Cinco de Mayo ear hat! Capturing the essence, the colors and the iconic character of Mexico and its festive culture, this Limited Time Magic offering can be found right inside the Fantasyland Mad Hatter, located at Disneyland Park. Don't miss the chance to "cap" off this festive fiesta in style!

This May, come glow with a "Magical" new show at Disneyland Park—purchase a light-up interactive ear hat and engage with shows and attractions across Disneyland Resort like never before, including Magical, Disneyland Park's newest fireworks spectacular. But that's not all—as part of Limited Time Magic, discover a "Magical" fireworks viewing area along Main Street, U.S.A., reserved just for you when you're wearing your "Glow with the Show" ears. Space is limited and will be first come, first served on the following dates: May 5, 10, 11, 12, 17, 18 and 19, 2013. For those who don't already own a pair of "Glow with the Show" ears, they can be purchased for $25 at the Emporium, Pioneer Mercantile, The Star Trader, Gag Factory, Elias & Company, Rushin' River Outfiters, Tee's Hats and Tattoos, or at World of Disney.
Week 17 Announcements

In honor of Star Wars day, Disneyland Resort is selling special edition Star Wars-themed pins and tees. With messages like "May the Fourth Be with You" and "Revenge of the Fifth", you can wear all the hyperspace hilarity on your sleeve! So do, or do not… but if you do, do so while supplies last at Disney Pin Traders in Downtown Disney District or Little Green Men Store Command in Tomorrowland at Disneyland Park. Only a Sith would miss this magic event available while supplies last beginning May 4th!
As part of Limited Time Magic at Disneyland Resort, you can fetch 2 fashionable Fascinator hats for only $24! Inspired by beloved Disney characters, come discover this offer at Main Street Mad Hatter at Disneyland Park or World of Disney Store in Downtown Disney District. And if fancy hats aren't your style, stop by D Street at Disneyland Park and take home 4 Mechanical Kingdom Vinylmation figures, all for just $24! Both offers are available for a limited time, starting April 26, 2013, and only while supplies last.
April Limited Time Magic
Week 16 Announcement

Let your taste buds get down and "dirty" during Earth Week at Disneyland Resort from April 22 to April 28, 2013! For one week only, "dig in" to the "Worm and Dirt Tart," a delightfully playful dessert offered as part of Limited Time Magic. You can find the confection at Plaza Inn and French Market at Disneyland Park, or in Wine Country Trattoria inside Disney California Adventure. But buy one while they last—this is one Earth Week celebration your taste buds won't want to miss!
Week 15 Announcements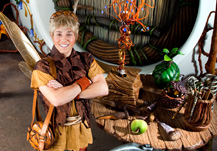 It's Fairies Week at Disneyland Resort in Southern California from April 15 - 21, 2013, and Tinker Bell's coming in for a landing. And wouldn't you know it, some fellow Disney Fairies are flying in for the occasion too! Head over to Pixie Hollow, where Tink will be joined by her friend Rosetta, along with a surprise appearance from Terence, the Pixie Dust-keeper himself!

Experience Iron Man's Hall of Armor firsthand at Iron Man Tech Presented by Stark Industries, a new exhibit inside Innoventions at Disneyland Park. Starting April 13, you can virtually "suit up" in Iron Man's Mark 42, and digitally try on pieces of his armor. Plus, as part of Limited Time Magic, you can even take home an exclusive Iron Man 3 poster, available while supplies last! So go behind the mask and see all the technology set to debut in Iron Man 3 before the movie opens in theaters May 3.
Week 14 Announcement

Some rarely seen Characters are stepping back into the spotlight, but only for a limited time! During Long Lost Friends week, Characters you picked in an online poll will make appearances at Big Thunder Ranch Jamboree in Frontierland, where you'll have the chance to get up-close and enjoy photo opportunities. You could meet Robin Hood, Ludwig Von Drake… even the Three Little Pigs! Visit Disneyland Park from April 8 to April 14, 2013 to find out, and be sure to sample some long-lost favorite foods too, including Monte Cristo Strips and Zany Cotton Candy!
Week 13 Announcement

This week, Disney continues its "Year of the Ear" celebration with the release of a new hat inspired by the Cozy Cone Motel in Cars Land. On April 1, the Cozy Cone Hat will be available at Sarge's Surplus Hut in Disney California Adventure park while supplies last.


March Limited Time Magic
Week 12 Announcement

This Spring things get hoppin' at Disneyland Resort when a floppy-eared friend comes to visit. Delight in an array of family-friendly festivities, from egg hunts to bunny hops to greetings with the Easter Bunny-and more! Spring Fling takes place March 25-March 31, 2013.


Week 11 Announcement

For one week only, from March 18-24, 2013 you'll be able to search for special hidden "eggs" themed to Disney characters at Disney California Adventure park and then record your discoveries on specially themed Eggs-perience park maps. You can purchase the map at Elias & Co., Oswald's, Radiator Springs Curios, Tower Hotel Gifts and Treasures in Paradise. Each map and set of stickers will cost $4.95, plus tax at select locations. And whether you find all, some or none of the hidden eggs, return your map to Elias & Co. at Disney California Adventure park for your prize—a gift box with 2 Vinylmation key rings ($12.95 value).
Week 10 Announcement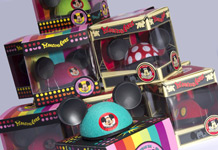 It's the Year of the Ear and March brings some of the cutest ear hats yet—miniature MousekeEars! Collect them, wear them or share them! These mini-hats feature fun, pop colors or Disney characters like Mickey Mouse, Minnie Mouse, Donald Duck, Goofy and Pluto. And, as an extra bonus, Disney is offering a special "Limited Time Magic" promotion on the MousekeEars while supplies last in March. In select locations at Disneyland Resort and on the Disney Parks online store, you can get two MousekeEar hats for $15.00 (plus tax). MousekEars hats normally have a retail of $12.95 each.
Week 9 Announcements

From March 1 to March 9, 2013, follow the yellow brick road to WonderGround Gallery in the Downtown Disney District for a limited-time event celebrating the release of the Walt Disney Studios fantastical adventure Oz The Great And Powerful. The gallery will showcase Oz-themed artwork—as well as replica costumes and props from the film, like Glinda's gown crown and wand; the cape worn by Oz; and the China Girl character.

Discover the Beautifully Disney cosmetic line from Disney Parks—featuring the color palettes of some favorite Disney characters, elegant packaging and whimsical accessories designed to add an extra sprinkle of pixie dust to your morning routine. This new cosmetic line debuts with a special event at Vault28 in the Downtown Disney District from 11:00 a.m. to 3:00 p.m. on March 2, 2013. Join in the fun as color experts offer complimentary mini-makeovers. Plus, you can purchase the Wickedly Beautiful collection, a seasonal palette that—just like Limited Time Magic—won't last forever.
February Limited Time Magic
Week 8 Announcement

From February 25 to March 3, 2013, the Dapper Dans tip their hats to a new kind of music that they discovered while "strolling through the park one day." The Dapper Dans will be delivering a medley of hits from One Direction, Backstreet Boys and NSYNC all week. Watch for this winsome quartet in the Magic Kingdom—after all, the Dapper Dans are the "Original Boy Band."
Week 7 Announcements

Voices of Liberty, the a cappella group, is honoring Presidents Day for a limited time with musical performances at the Main Street Opera House at Disneyland Park February 18 & 19 and February 22 to February 24, 2013. In this special presidential show—a Limited Time Magic experience—the Voices of Liberty will bring to life some inspirational moments from our nation's history with impeccable 8-part harmonies accompanied by memorable quotes from American Presidents like Theodore Roosevelt, Dwight D. Eisenhower, Ronald Reagan and Barack Obama.

As part of Limited Time Magic, guests can enjoy a special sneak peek of the Walt Disney Studios fantastical adventure Oz The Great and Powerful, opening in theaters Friday, March 8, 2013. This limited-time experience is held throughout the day from February 16 to March 31, 2013 in the Muppet*Vision 3D Theater at Disney California Adventure park. This is the only place where Guests can see an extended preview of the film in 3D, mixed with special in-theater 4D effects simulating wind and lightening.
Week 6 Announcements

During True Love Week, February 11-17, 2013, a tapestry of romance is woven throughout the resort — from special entertainment and limited-edition Valentine's merchandise to candlelit dinners for two and new, themed photo locations offering encounters with beloved Disney sweethearts. Even Sleeping Beauty Castle will blush red and pink! See the menus.
Week 5 Announcements

Come celebrate Chinese, Korean and Vietnamese culture at Disney California Adventure park for the most magical Lunar New Year Party under the moon from February 8 - 11, 2013. From 10 a.m. – 5 p.m. each day in the Pacific Wharf area of the park, guests will enjoy unique cultural experiences, flavorful food offerings, unique merchandise, and colorful performances from dancers, musicians, and martial artists. Some of your favorite Disney characters will be there as well, such as Mulan, Mushu, Mickey Mouse and Minnie Mouse. To help you commemorate the occasion, a limited-edition pin will be available while supplies last.
January Limited Time Magic
Week 4 Announcements

Calling all Disney art enthusiasts! Now you can help the Disney Design Group choose a special design that will be featured on select limited-edition Disney merchandise, which will be available for purchase as part of the 2014 Disney Parks Dated Art Program. Choose from 3 unique creations and then vote for your favorite. Make your decision today because, just like many of the "Limited Time Magic" experiences, the voting will be available for one week only, from January 25 – 31, 2013.


Week 3 Announcements
Special Ticket Promotion: Though February 27, 2013, special Disneyland Promotional Tickets are for sale. The promotion is for 3-, 4- and 5-day park-hopper tickets that include one Magic Morning entry into selected attractions at Disneyland park, according to the current early admission schedule. The park-hopper tickets are discounted by $30 each (the cost to upgrade a single park ticket to a park hopper) and are valid for visits from January 7 through March 11, 2013. These tickets are not available to purchase at the gates at Disneyland Resort, must be bought in advance online at at Disneyland.com/3day.

Note: The special promotional tickets are also available through ARES Travel at an additional $5 per ticket discount (a savings of $35 per ticket!).
Week 2 Announcements

Celebrate Mardi Gras with Princess Tiana and Louis the Alligator at the Bayou Bash! For 4 weekends, you can enjoy jazz music, lively street performances and delectable Cajun cuisine at Disneyland Park. Special Mint Julips and banana beignets are available during Limited Time Magic's Bayou Bash. New Orleans Bayou Bash! will come alive in New Orleans Square from 10 a.m.-6 p.m. on the following dates: January 18-21 • January 25-27 • February 1-3 • February 8-12
Week 1 Announcements

Are you old enough to remember the Golden Horseshoe Revue at Disneyland? For a limited time only, you and your family can experience this musical variety extravaganza inspired by the renowned Frontierland show enjoyed by Walt Disney himself! Join Miss Lily and her Saloon Girls for a homage to the classic Golden Horseshoe Revue. This is a fun-filled show filled with plenty of family-friendly comedy, singing and dancing. Performances are Thursday through Monday, from January 10 through February 4, 2013.

From January 4 through January 6, 2013, delight in the Three Kings Day party at Frontierland. Be a part of the Big Thunder Ranch Jamboree and celebrate the end of the holiday season with 3 days of music, activities and cuisine that pays tribute to Southern California's Mexican culture.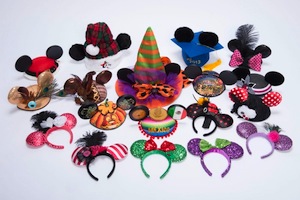 Merchandise Promotion: Plus, as part of "Limited Time Magic," 2013 will be the Year of the Ear at Disney Parks. Every month, Disney Parks will release new ear hats and headware for Guests to add to their collection. January will start with the limited release of Disney Couture Ear Hats.