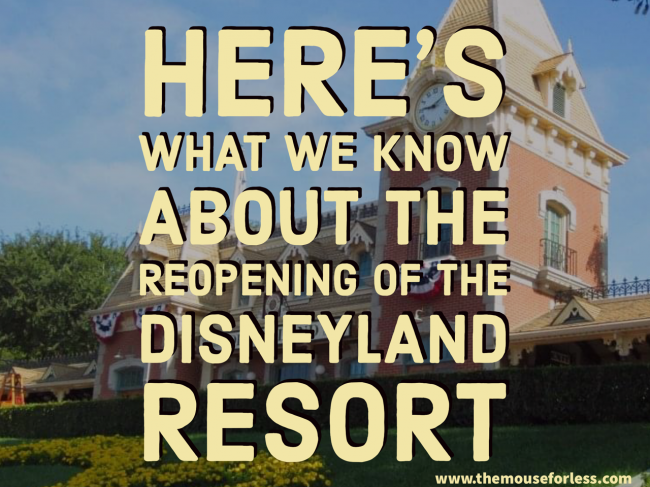 We cannot wait until April 30! That's because that's the date the Disneyland Resort will officially be welcoming Guests once again to Disneyland and Disney California Adventure. And now, we have even more details about what to expect when the parks reopen, including when you'll be able to make park pass reservations, how park hopping will work, when dining reservations will open, and more. Let's break it all down for you.
When the parks do reopen, they will do so with enhanced health and safety measures in place, as well as with limited capacity. To manage this limited capacity, a new theme park reservation system will be put in place. This system will require that all Guests will need to make a reservation to visit a theme park.  Park reservations will need to be made for specific dates, in advance, and must be done online.
Park Reservation System
Guests will be required to have both a theme park reservation and valid admission ticket for the same park on the same date. Guests ages 3 and up will be required to make a reservation. And currently, until further notice, only California residents may visit the parks. Also they can only visit in groups no larger than 3 households. This aligns with current state guidelines.
Guests should log in to their Disney account first to link valid theme park tickets. This should be done prior to accessing the park reservation system. Beginning April 9, those who currently have theme park tickets can check available days for your ticket type. They can check at Disneyland.com/ParksUpdates.
The new park reservation system will launch on April 12! That will be when Guests with existing valid theme park tickets can begin making park reservations for the days that their ticket is valid. It will launch no earlier than 8 a.m. PT.
If you're looking to purchase theme park tickets, you can do that beginning on April 15. They will go on sale no earlier than 8 a.m. PT.  Those Guests will also be able to begin making park reservations on that date.
To accommodate as many types of ticket holders as possible, park reservations for select dates may be made available on a rolling basis. In addition, ticket calendars will be updated on a rolling basis. You will want to keep checking for updated availability. Guests with multi-day tickets will be required to make a separate park reservation for each day they plan to visit the theme parks.
For those Guests with valid theme park admission tickets who are planning a stay at Disney's Grand Californian Hotel & Spa, they will also need to book a theme park reservation. Having a hotel reservation does not guarantee that a Guests will be able to make a theme park reservation. If you are planning to visit the theme parks during your stay, make sure that you can secure your theme park reservation prior to making your hotel reservation.
Other Park Information
What about Park Hopping? Will you still be able to do that? The answer is yes! You'll need to make a reservation, choosing which theme park you want to start your day in. Then beginning at 1:00 p.m. that day, you'll have the ability to park hop.
Interestingly enough, daily theme park hours for Disneyland and Disney California Adventure will remain consistent, for now. The parks are currently planning to be open from 9:00 a.m. to 7:00 p.m.
Parking to visit the theme parks will be available at either the Mickey & Friends or Pixar Pals parking structures.
If you are looking to enjoy a quick service meal while visiting the parks, Guests should use the mobile order service. This will be important for for a contactless and cashless experience. Mobile order can be found in the Disneyland App. For dining reservations, Disney plans to reopen bookings for select locations on April 22, with limited capacity. Guests will be able to book dining reservations 60 days in advance.
As a reminder, we previously shared that when the Disneyland Resort parks reopen, FASTPASS and Disney MaxPass will not available for purchase or use. In addition, Magic Morning and Extra Magic Hour offerings will be suspended as capacity is managed. Other changes include the fact that parades and nighttime spectaculars, character greetings (in the traditional way), the Bibbidi Bobbidi Boutique, and Single Rider lines will not be available.
Temperature checks will still be required, as will wearing face coverings for Guests ages 2 and up.
We will make sure to share more details about the reopening of the Disneyland Resort as we learn them.