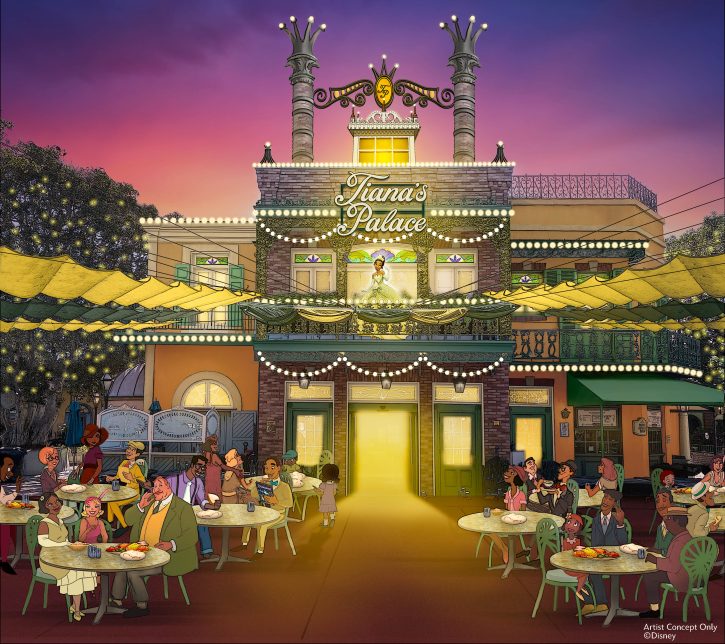 Get ready for delicious New Orleans inspired cuisine at Disneyland Park! That's because Tiana's Palace will be opening on September 7! This reimagined quick-service style restaurant is inspired by the one Princess Tiana from "The Princess and the Frog."
The restaurant will feature elegant, yet subtle details. Outside, Guests will see a lit marquee that reads "Tiana's Palace" hanging above a metallic gold balcony. They'll also see emerald green wrought iron railing and awnings dyed in yellow and green. There will also be yellow tabletops, vanilla-colored chairs with green seats, in the shade of yellow and green umbrellas.
Inspiration for the restaurant comes from the film for the interior of the restaurant, including a large mural of the bayou. There will also be lilies represented on numerous signs, plaques and light fixtures, frog porcelains, cookbooks Tiana has collected on little shelves, and her father's favorite gumbo spoon proudly on display. Guests may even find letters from Tiana's father and neighbors on display, alongside a childhood photo of Tiana.
The design of Tiana's Palace from the film was actually inspired by the French Market Restaurant – the former restaurant in this space.
At Tiana's Palace, you can enjoy new menu items that represent Tiana's story. The restaurant will also honor the flavors and flair of New Orleans. Guests will be able to use Mobile Order to dine here.
The Tiana's Palace restaurant opening will mark the next step in bringing more of Princess Tiana's stories to life in New Orleans Square. The changes began with Eudora's Chic Boutique featuring Tiana's Gourmet Secrets last year. It will then continue with the opening of the Tiana's Bayou Adventure attraction in 2024.
Follow The Mouse For Less for more information about the latest Disney Cruise Line news.
For more Disney news and trip planning advice, follow The Mouse For Less on Facebook, X, Instagram, Threads, YouTube, or TikTok.