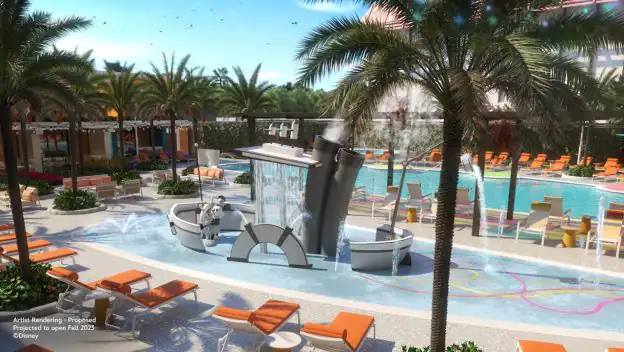 When the upcoming The Villas at Disneyland Hotel opens on September 28, there will be a fun new Palette Pool area for Guests to enjoy. This will be an inviting oasis designed for relaxation and play at this new area at the Disneyland Resort.
The new refreshing retreat includes the Palette Pool, Palm Breeze Bar, and a whimsical splash pad that's themed after the animated short, "Steamboat Willie."
This splash pad will be helmed by none other than Mickey Mouse and it will spring to life with imaginative water play features. From the boat's cascading waterfall, misty fog effects rising from the boat's funnels and a variety of pop jets and fountains. This will be the place for little ones! Then in the evening, watch as the Steamboat Willie splash pad transforms from black and white to vivid colors.
In addition, Guests will be able to take a dip in the palette-shaped swimming pool or by recharging in the multicolored lounge areas in this mid-century modern hangout.
Guests can also enjoy refreshing drinks and snacks at Palm Breeze Bar. This outdoor venue will feature modern decor inspired by Disney Legend, Mary Blair. Her unique styling and bold use of color influenced the artistry of so many Disney Animation films. It has also influenced some of the rooms at the Villas at the Disneyland Hotel!
Guests staying at the Disneyland Hotel will be able to experience these new amenities.
The Villas at Disneyland Hotel will be the fourth tower at the Disneyland Hotel. They will offer a variety of villa-style themed accommodations featuring just-like-home amenities. Each room will showcase modern décor inspired by Disney Animation classics. They will include designs such as "The Jungle Book," "Sleeping Beauty," "The Princess and the Frog," "Fantasia" and more.
Follow The Mouse For Less for more information about the latest The Villas at Disneyland Hotel news.
For more Disney news and trip planning advice, follow The Mouse For Less on Facebook, Twitter, Instagram, YouTube, or TikTok.