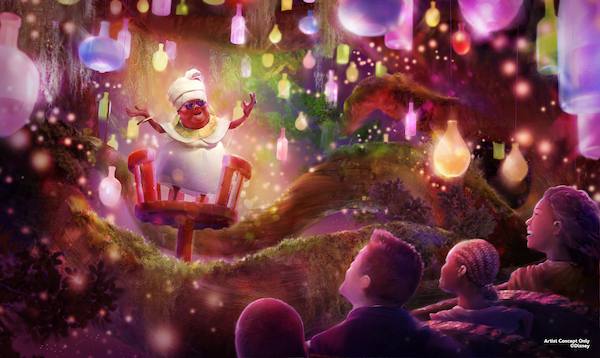 For those who are looking to get one last ride on Splash Mountain at Disneyland Park, your time is ticking! Splash Mountain will officially be closed beginning May 31, 2023. (That means the last day to ride is May 30. Splash Mountain officially closed at Walt Disney World back in January.)
As a reminder, Splash Mountain is being updated and will become Tiana's Bayou Adventure at both Walt Disney World and Disneyland Resort. Today, Disney released some additional details of what we can expect when Tiana's Bayou Adventure debuts.
First, it was announced that Mams Odie will be a part of the attraction with her eccentric belongings and "seeing eye snake," Juju. She will serve as a catalyst to the magic and actress Jenifer Lewis, who was the voice of Mama Odie in "The Princess and the Frog," is voicing her in the attraction.
But she's not the only familiar face and voice we'll experience. Mama Odie joins a cast of friends in Tiana's Bayou Adventure. Bruno Campos will return as Prince Naveen, Michael Leon Wooley will be back as Louis, and of course, Anika Noni Rose will be Princess Tiana. We'll also see other familiar faces like Eudora, Charlotte, "Big Daddy," the King and Queen of Maldonia and Prince Ralphie.
The attraction will also include brand-new original Disney characters with distinct names and personalities. There will also be dozens of new Audio-Animatronics figures, as well as original music and favorite tunes from the film. (My favorite is "Almost There"!) Also, you'll want to be on the smell-out! That's because you'll be able to smell beignets wafting through the air in the attraction.
Tiana's Bayou Adventure will be a continuation of the story of Princess Tiana. It will take Guests on a journey as Guests go through the bayou experiencing the fun and excitement as Tiana, Naveen, and Louis prepare to host a one-of-a-kind Mardi Gras celebration.
Tiana's Bayou Adventure is slated to open at both Disneyland Park and the Magic Kingdom in 2024.
Follow The Mouse For Less for more information about the latest Tiana's Bayou Adventure news.
For more Disney news and trip planning advice, follow The Mouse For Less on Facebook, Twitter, Instagram, YouTube, or TikTok.