Over the summer months, the San Fransokyo Square in Disney California Adventure will open in a phased manner. Starting in mid-July, you'll be able to sample new San Fransokyo selections at Lucky Fortune Cookery. In addition, the Port of San Fransokyo Cervecería will officially open. In the weeks following, additional dining options, unique shopping and more will be introduced. This phased opening will continue through mid-August.
When the transformation is completed, locations across the area, from the Cappuccino Cart outside the San Fransokyo Gate Bridge to The Bakery Tour, will be feature street art and colorful banners celebrating the Big Hero 6 team after their victory over Yokai.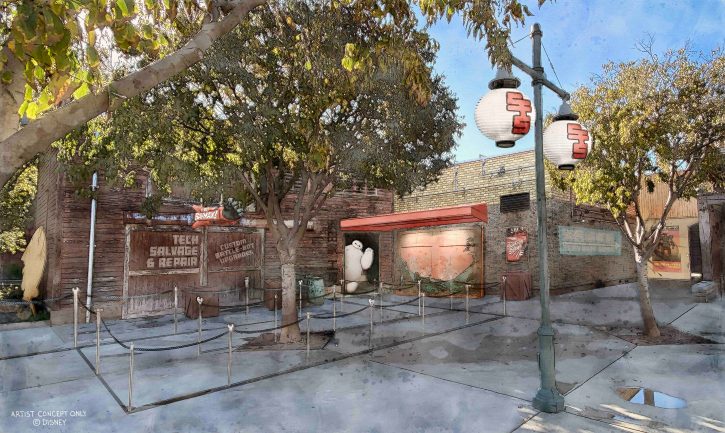 Guests will also have the opportunity to interact with Hiro and Baymax outside the Hamada Bot Shop.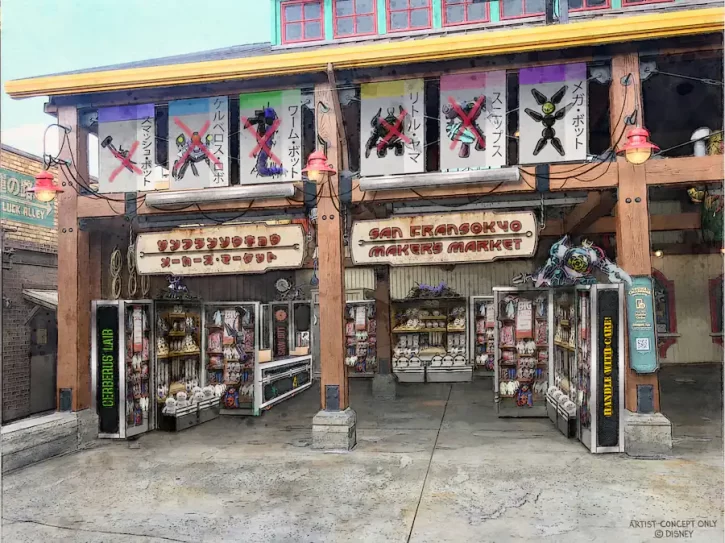 Near the Hamada Bot Shop will be the San Fransokyo Maker's Market. This storefront will be stocked with unique apparel, homewares and more featuring Baymax and friends. The market's shelves are situated on robot storage cases, with decommissioned battle bots on display. You may even spot Hiro's Megabot!
Across the way, a vending machine dispenses collectible golden medallions featuring Baymax and other iconic images from San Fransokyo.
Dining
Dishes in San Fransokyo Square will include current favorites and new creations inspired by Asian cuisine, as well as the Big Hero 6 themselves.
Aunt Cass Café will be a quick service location serving soups in freshly-baked Boudin sourdough bread bowls and more inspired dishes by Japanese cuisine. On the outside you'll find a mural of Aunt Cass' pet cat, Mochi.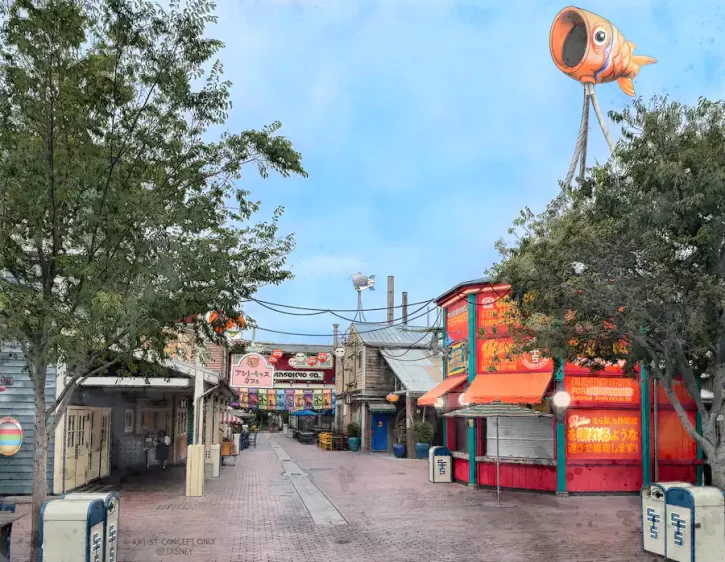 An old fishing net tannery across from the café is being converted to Rita's Turbine Blenders. Here' you'll find a giant drink dispenser offering delicious margaritas and icy beverages. This refreshment stand is owned and named after the repair technician who maintains the floating wind turbine, resembling a giant koi fish, that sits atop the structure.
In addition, Guests can expect new menu items at Cocina Cucamonga and Ghirardelli Soda Fountain and Chocolate Shop. More details will be released soon.
Follow The Mouse For Less for more information about the latest San Fransokyo Square news.
For more Disney news and trip planning advice, follow The Mouse For Less on Facebook, Twitter, Instagram, YouTube, or TikTok.