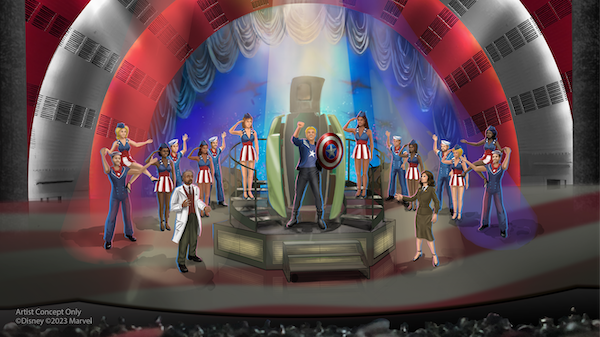 Are you excited about the upcoming limited engagement of "Rogers: The Musical" at Disney California Adventure? The all-new, one-act live theater production will perform at the Hyperion Theater from June 30 through Aug. 31, 2023.
"Rogers: The Musical" is inspired by the fictional Broadway musical theater sequence featured in the first episode of the Disney+ series "Hawkeye." It will feature five all-new songs, plus, fan-favorites songs "Save The City" from "Hawkeye" and "Star Spangled Man" from the film "Captain America: The First Avenger."
The show will be a classic tale of heroes, time travel and romance. It features a talented cast of singers and dancers telling the story of Steve Rogers – Captain America, joined by Peggy Carter, Nick Fury and select members of the Avengers.
Before you go, there are a few things to keep in mind.
What to Know
Most weeks, "Rogers: The Musical" is scheduled to perform several times per day, Tuesday through Saturday. To be able to see the show, you'll need to sign up through the complimentary virtual queue. That can be found in the Disneyland app. There will be two options to join the virtual queue. The first is at 10:30 a.m. PT for the first two show times of the day. The second is at 2:00 p.m. PT for the remaining show times of the day. It is highly recommend to join the virtual queue, but it is not required. If the virtual queue reaches capacity, you can check in at the Hyperion Theater before the show begins for any walk-up viewing options.
Guests will of course want to make sure to pick up some of the themed food and beverage options too. Guests will be able to enjoy a cherry, vanilla and blue raspberry shake; sausage and pepperoni wrap; and pastrami pretzel dog. Also, vending carts outside the Hyperion Theater will also offer a special popcorn bucket that comes with red, white and blue kettle corn.
You may choose to buy a "Rogers: The Musical" Premium Viewing Experience package from the Studio Catering Co. Truck in Hollywood Land. The package includes a "Rogers: The Musical" popcorn bucket with kettle corn and choice of bottled beverage, plus access to lounge seating before the show, priority choice of seating in the theater, a souvenir lanyard and access to a unique photo opportunity. These are available in limited quantities per performance.
Oh and if you're looking for merchandise, you will definitely be able to find it! Collectible merch will be available near the Hyperion Theater, including a T-shirt, magnet and ornament. Oh and you'll even be able to commemorate the occasion with two Magic Shot options from Disney Photopass.
Follow The Mouse For Less for more information about the latest Disneyland news.
For more Disney news and trip planning advice, follow The Mouse For Less on Facebook, Twitter, Instagram, YouTube, or TikTok.