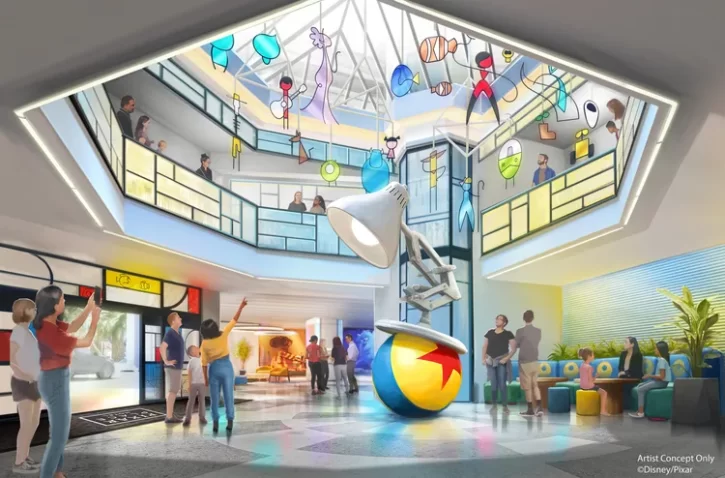 The re-do of Disney's Paradise Pier Hotel at the Disneyland Resort will soon be coming to an end. The property is being transformed into the Pixar Place Hotel and it will officially debut on January 30.
Pixar Place Hotel evokes the inspiration and humor that goes into every Pixar film, all while celebrating the artistic process. The hotel will showcase early sketches to finished designs. The art and decor that can be found around the resort will highlight Pixar stories, including some never-before-seen artwork.
Lobby
When the lobby is complete, Guests will be greeted by the iconic Pixar Lamp balancing atop its ball. In addition, there will be an imaginative mobile of beloved Pixar characters floating from the bright skylight above. The mobile will depict the beginning stages of Pixar filmmaking, when animators create the characters' designs with their most basic shapes and colors. The characters we'll see are at the beginning of their journey, just as the Guests who step into the lobby begin their own story at the Disneyland Resort!
Guest Rooms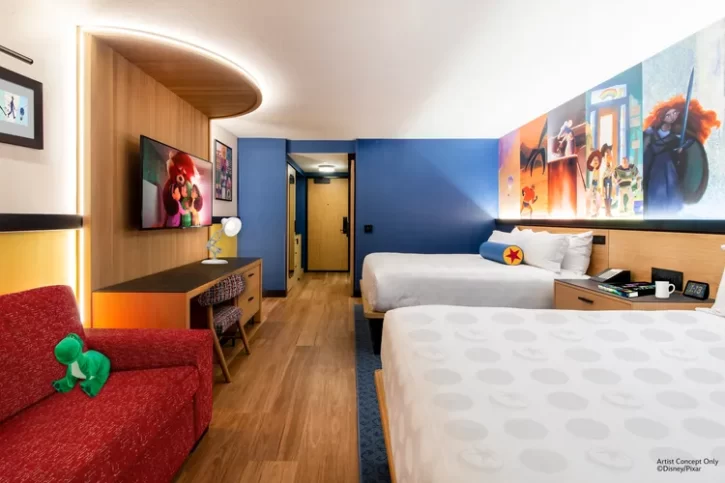 From pillows inspired by the Pixar Ball to lighting reminiscent of the Pixar Lamp, there will be whimsical nods to the animation studio throughout. Some of the art was even created by Pixar Animation Studios artists expressly for Pixar Place Hotel! The headboards consist of concept art from a variety of Pixar features. These will include "The Incredibles," "Toy Story 3" and more.
Great Maple Opening
Opening in November, ahead of the official Grand Opening will be the Great Maple restaurant. This dining establishment will offer upscale comfort food for breakfast, lunch, and dinner. Dishes will include the Cajun Shrimp & Cheddar Biscuit Benedict, Soda Pop-Braised Baby Back Ribs, Charred Cauliflower Hummus, Maple Pecan-Crusted Salmon, Market Fish, a variety of inspired salads, and the Buttermilk Fried Chicken & Maple Bacon Doughnuts!
In addition, Guests will find a brand new coffee shop in the lobby called Sketch Pad Café. This grab-and-go spot will offer assorted pastries accompanied by a selection of coffee and tea. There will also be an all-new menu at the rooftop pool bar, which will be named Small Bytes. Offerings will include salads, wraps, assorted cheese plates and more which you can enjoy with signature beverages.
Recreation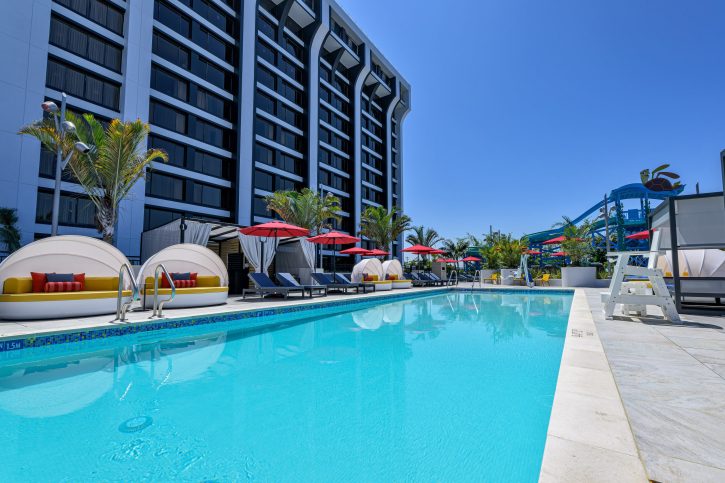 Guests can already dive in to the new "Finding Nemo"-themed splash pad and pool area. This rooftop oasis features Pixel Pool, which is lined with relaxing loungers. There's also Nemo's Cove pop-jet splash pad, and Crush's Surfin' Slide, a 186-foot-long waterslide inspired by the sea turtle.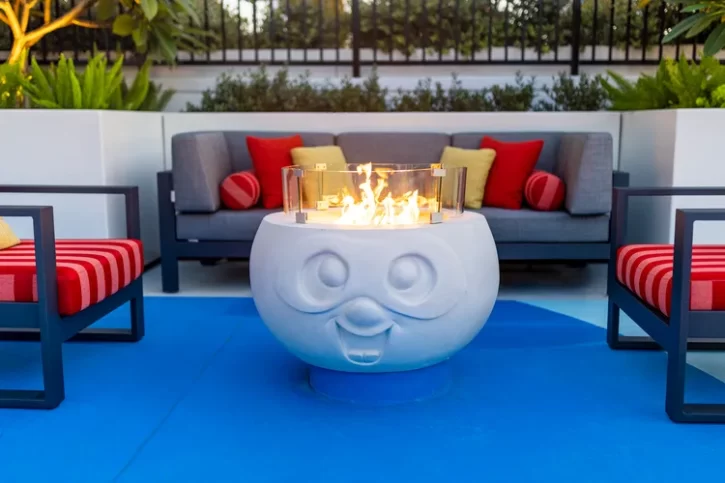 Near the pool, gather with friends on comfy couches surrounding firepits. Characters that can be found in this area include Jack-Jack from Pixar's "The Incredibles" and Anger from Pixar's "Inside Out."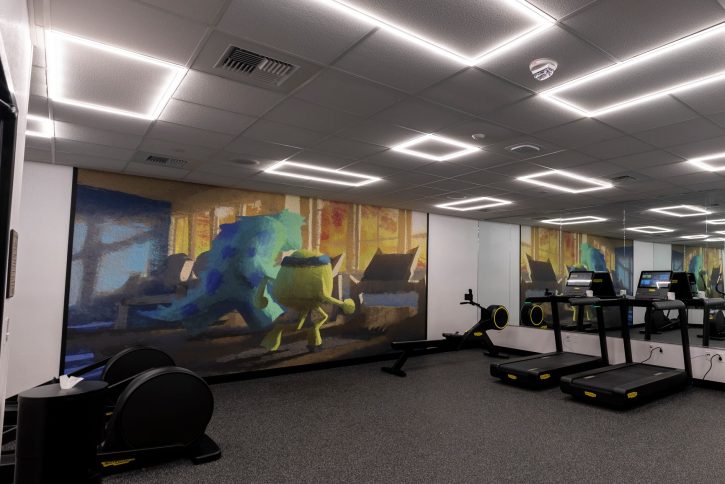 Plus, a new and expanded fitness center recently opened, offering treadmills, free weights and more. These are complimentary for hotel guests. Keep an eye out for a mural of Mike and Sulley running on a treadmill, inspired by Pixar's "Monsters University."
More Pixar Place Hotel Fun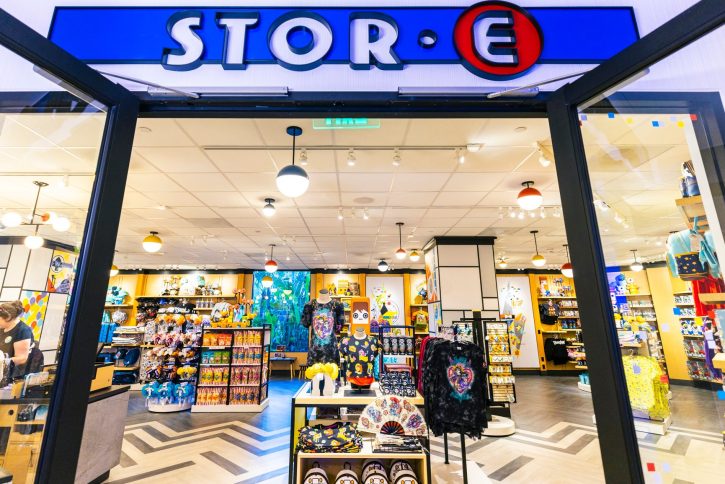 Back in the lobby, Guests will be able to browse through the new gift shop STOR-E — a playful take on the Pixar film name "WALL-E". This store features Pixar-themed apparel and toys, plus more Disneyland Resort souvenirs and sundries.
Want to book your next Disneyland vacation? Our friends at The Magic For Less Travel can assist. Get a quote now.
Follow The Mouse For Less for more information about the latest Pixar Place Hotel news.
For more Disney news and trip planning advice, follow The Mouse For Less on Facebook, X, Instagram, Threads, YouTube, or TikTok.