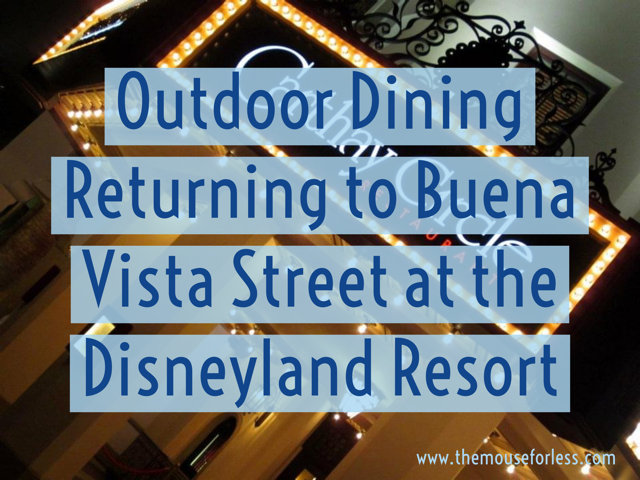 Guests will once again be able to dine outdoors at the Disneyland Resort! Beginning February 5, some favorite spots will reopen on Buena Vista Street, which is an extension of the Downtown Disney District. Guests will once again enjoy Carthay Circle Lounge with its Alfresco Dining. Carthay Circle will feature a seasonal menu and unique dining environment on Buena Vista Street. Carthay Circle Lounge – Alfresco Dining will feature Mediterranean-California fare. Dishes will include things like tortilla soup with grilled chicken, harissa-roasted lamb and the Carthay shrimp roll. There's something for the kiddos too! Kids will find the orange dragon chicken skewers. New on the menu is a double chocolate ice cream sundae with candied almonds!
The menu also features craft beers and cocktails, plus the Disney family of wines. (Do keep in mind that in alignment with current State of California guidelines, an alcoholic beverage may only be purchased in conjunction with an adult meal.) Guests looking to dine at Carthay Circle – Alfresco Dining should make a reservation.
If you're looking for quicker dining, you can enjoy the convenience of Mobile Order with the Disneyland mobile app. Beginning February 5, Mobile Order will offer the chance to order corn dogs and soft drinks at Award Wieners, or bacon cheeseburgers, chicken tenders, onion rings, waffle fries, kids' meals, and vanilla and chocolate shakes at Smokejumpers Grill.
In addition, there will be outdoor vending carts which will be selling ice cream, cotton candy, soft drinks and other food and beverage items.
It's exciting to see that dining is coming back once again to Buena Vista Street!