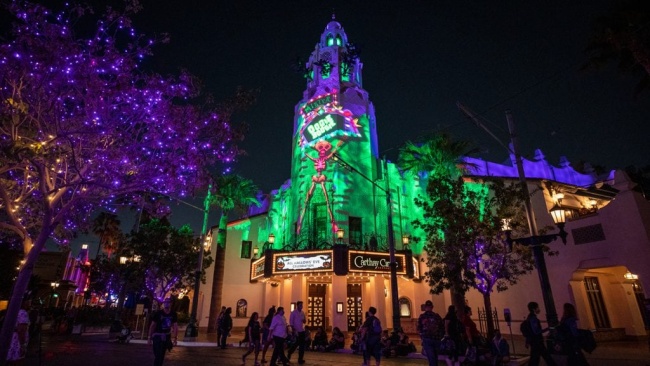 Well, it didn't go so well the first time, maybe the second time will be the charm. Oogie Boogie Bash tickets are slated to go back on sale on July 11. This separately ticketed Halloween event that is held at Disney California Adventure initially crashed Disney's website when tickets went on sale a few days ago. People waited hours in an online queue, only to be out of luck.
Tickets will go on sale no earlier than 9:00 a.m. PT.
Disney has apologized for the technical issues that were experienced previously.
Oogie Boogie Bash Activities
During the event, Guests will get to experience:
Immersive Treat Trails: Collect goodies along trails offering Halloween-inspired music, fun decor and the villains themselves.
Frightfully Fun Parade: This is a spirited masquerade cavalcade starring Mickey, Minnie and some of your favorite Disney villains!
Mickey's Trick and Treat: Watch Mickey Mouse and friends as they headline a live show filled with not-so-scary Halloween tales.
Villains Grove: In the Redwood Creek Challenge Trail Guests will see favorite Disney villains in ethereal scenes
Character Experiences: Meet some of Disney's most popular characters dressed in their Halloween costumes.
Special Decor and More: Enjoy unique decorations, lighting, music and effects
Carthay Circle: Clouds of black bats can be found around Carthay Circle's Bell Tower while effects transform the building.
Dates
Oogie Boogie Bash party nights are:
Tuesday, Sept. 5
Thursday, Sept. 7
Sunday, Sept. 10
Tuesday, Sept. 12
Thursday, Sept. 14
Sunday, Sept. 17
Tuesday, Sept. 19
Thursday, Sept. 21
Sunday, Sept. 24
Tuesday, Sept. 26
Thursday, Sept. 28
Sunday, Oct. 1
Tuesday, Oct. 3
Thursday, Oct. 5
Sunday, Oct. 8
Tuesday, Oct. 10
Thursday, Oct. 12
Sunday, Oct. 15
Tuesday, Oct 17
Thursday, Oct. 19
Sunday, Oct. 22
Tuesday, Oct. 24
Thursday, Oct. 26
Sunday, Oct. 29
Tuesday, Oct. 31
Best of luck to those trying to get tickets for a second time!
Follow The Mouse For Less for more information about the latest Disney Halloween news.
For more Disney news and trip planning advice, follow The Mouse For Less on Facebook, Twitter, Instagram, YouTube, or TikTok.